Before the great recession of 2008 every industry was experiencing unprecedented growth. Companies were bringing in record profits and were having trouble keeping up with growing demand. Thus they expanded, but when the great recession of 2008 hit all industries suffered. Economies around the world stagnated, even shrunk, while companies had orders placed to expand their businesses. This created a 'bubble' in almost every industry. All major industries saw multiple companies file for bankruptcy, and while the last 4 to 5 years have been some of the toughest in decades, there is a silver lining: no matter how bad it gets there will always be a recovery.
Today investors are looking for a sector or company that was hit hard by the great recession but has not yet fully recovered, and may even be at its lowest lows. As we dive in we see that sectors such as technology and manufacturing have recovered most of their pre-2008 levels. This can be seen in companies such as Microsoft (NASDAQ:MSFT) which hit a low of $15.28 in 2009 and has since recovered and surpassed prices in excess of $30. Other examples include Google (NASDAQ:GOOG), who saw its share price dip as low as $320 in late 2008, to 3M (NYSE:MMM) a producer of materials for the industrial and transportation sectors.
Even stalwart companies such as The Coca-Cola Company (NYSE:KO) have recovered from prices lower than $20 in early 2009 to the high $30s today. Additionally, the Dow Jones Industrial Average (NYSEARCA:DIA) has even recovered from a 2009 low of 6650 to over 13,300 today, a 100% gain. Overall most companies and sectors have seen gains of 50-150% since late 2008. While almost every sector has rebound generously since their lows in 2008 and are properly priced in the current market one sector has not recovered completely, the shipping sector.
2008-2009 Low

Low Date

2012

52 Week High

% Increase

MSFT

$14.87

6-Mar-09

$32.95

121.6%

KO

$19.05

6-Mar-09

$40.67

113.5%

GOOG

$247.30

21-Nov-08

$774.38

213.1%

DOW

$6,469.95

6-Mar-09

$13,661.87

111.2%

MMM

$40.87

6-Mar-09

$95.55

133.8%
Shipping Sector Background
Just like every other sector or industry the shipping sector was also caught blindsided. They were in an era of unprecedented growth and with the 2008 global recession demand for goods went to an all time low. One of the benchmarks for the shipping sector is The Dry Baltic Index which passed below 700 in early 2009. By contrast back before the great recession the index was experiencing exponential growth and passed above 10,000 not even a year prior. The combination of extreme growth with a bubble, a sudden lack of demand for goods, and large amounts of debt all derailed the shipping sector. On top of that shipping rates soon plummeted because of both a lower demand for goods and an oversupply of shipping vessels.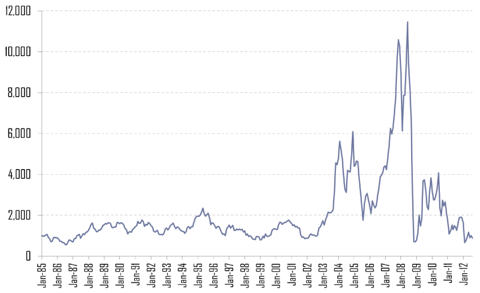 Four years later the waters have cleared, either shipping companies have defaulted due to their massive amounts of debt or they were able to restructure their debt, reorganize their fleet and are barely scraping by until the market fully improves. Now in 2013 the market has found its bottom. Companies with bad fundamentals have gone bankrupt and been bought up by the stronger companies. The goal is to find the companies poised to benefit the most from the shipping sector rebound and one of the best available is Global Ship Lease Inc. (NYSE:GSL).
Global Ship Lease Inc. (GSL)

GSL is a spinoff of CMA CGM, the third largest operator of containerships with a fleet of 400 vessels, with 17 vessels of its own that were all initially leased to CMA CGM. Being a spinoff of CMA CGM the parent company owns some 45% of GSL. Even with that large of a stake in the company CMA CGM does not have the right of first refusal for lease renewals. As of Q3 2012, thanks to this exclusive partnership GSL has an average remaining charter length of over 8 years and was able to charter their entire fleet with only 10 days of unplanned dry-docking off hire in the prior 9 months. There history also shows that dry-docking is not a problem with GSL having fleet utilization greater than 98% for any given year.
While most companies are barely scratching by, GSL has high charter percentages locked in for the next half decade. The only downside to this is that when the shipping sector recovers, GSL's charter rates could be much less than their competition due to signing agreements so far in the past when rates were at all time lows but for the time being there is not a more full proof strategy.
Before getting into the breakdown of GSL here are 8 major attributes taken into consideration when evaluating this stock:
Management Grade
Debt
Average Charter Rates
Charter Schedule
Average Charter Length
Average Age of Vessel
Earnings Per Share
Growth
Management, Debt, Dividend
As of closing on 1/7/2013 GSL was trading at $3.12, a -45.55% decrease from two years ago and a 77.27% increase from the prior year and over those two years GSL has made significant improvements. One of the major events to happen to GSL has been the failure to reinstate a dividend. The company's last executed dividend was in February of 2009, in the midst of the shipping collapse. Since then the company has always had steady cash flows but as part of its debt restructuring it had to meet a 75% loan to value test in order to even have the option of reinstating its dividend. On April 30th the company successfully met that standard of 75% yet in the Q1 2012 earnings conference call CEO Ian Webber did not reinstate a dividend, sending the stock into a spiral losing over 25% in one day. The expectation of a dividend and then the later realization that one will not be instituted has sent this stock on a ride of a few highs and lows.
While not reinstating a dividend can be seen as a negative it is actually a positive. Management is not concerned about current profits and influencing accounting sheets to make the company appear more valuable than it really is just to raise the stock price. Instead management decided to save that money to pay down future debt obligations sooner. What is really missed in all of this is that some of the money was originally going to be used for expanding its fleet by two ships for over $120 million, but the deal eventually fell through and now management has decided to use the cash to sure up its balance sheets instead of giving into investor demands.
Since Q4 of 2009 GSL has paid off $162.3 million, which means over the last 3+ years GSL has paid off over 28% of its debt. While this part of a company may be the hardest to grade it seems obvious to me that GSL is managed by solid minds that have the company's future in mind and with the Baltic Index nowhere to go but up, banking on the company's future over current profits is the correct strategy.
Ship and Charter Information
As mentioned earlier, GSL has what every shipping company wants right now, reasonable long-term charters. GSL has a fleet of 17 containerships with an average remaining charter length of over 8 years including two new charters over the next 5 years for Ville d'Orion and Ville d'Aquarius. On top of that the average weighted age of GSL's containership fleet is 9.5 years, with 13 built in 2000 or later. The overall picture for GSL with respects to charters is an A++. Not only does the company have an average ship age of less than 10 years but it also has an average remaining charter length of over 8 years. The most promising part is that GSL just renewed two leases way before they expired, proving to investors that future fleet utilization will stay above 98%.
On-The-Water-Fleet:

Size

TEU

Year Built

Time Charter Remaining (Years)

Ville d'Orion

4113

1997

5

Ville d'Aquarius

4113

1996

5

CMA CGM Matisse

2262

1999

4

CMA CGM Utrillo

2262

1999

4

Delmas Keta

2207

2003

5

Julie Delmas

2207

2002

5

Kumasi

2207

2002

5

Marie Delmas

2207

2002

5

CMA CGM La Tour

2272

2001

4

CMA CGM Manet

2272

2001

4

CMA CGM Alcazar

5089

2007

9

CMA CGM Chateau d'If

5089

2007

9

CMA CGM Sambhar

4045

2006

10

CMA CGM Jamaica

4298

2006

10

CMA CGM America

4045

2006

10

CMA CGM Thalassa

11040

2008

13

CMA CGM Berlioz

6621

2001

9

Average Weighted Age: 9.5 years

Average Weighted Remaining Charter Time: 8.1 years
Financials
Now we move onto the financial numbers. GSL has an EPS (ttm) of $0.63, implying a return of over 100% in just 5 years based on the closing price of $3.12. GSL has a book value per share of $6.53, net cash income of $34.67 million, total cash of $29.32 million, a trailing P/E of 4.98 and a fiscal year 2013 forward P/E of 6.26. These key numbers give GSL a price to book ratio of 0.48, and a price to sales ratio of 1.1. Even its profitability margins are stupendous with an operating margin of 41.52% and a profit margin of 22.12%.
Outlook
While GSL's key numbers are important it is also important to mention it does have a beta of 2.35. There have been multiple downturns with this company, mainly due to not reinstating a dividend each quarter but once it happens the stock will easily break $6 and most likely end up in the $8-9 range if not topping $10 on a post bullish sentiment. With its debt easily manageable the worst case scenario for GSL is riding the higher charter rates that will come in 2014 and 2015, and leveraging its partnership with CMA CGM with easy growth and very little risk.
On the other end the best case scenario is diversification of its fleet by making contracts with other shipping companies while maintaining its hugely beneficial partnership with its parent company and using it to help expand its fleet (parent companies are known for selling infrastructure at slight premiums to help the spinoff company). Bottom line is how can you pass up a company with its debt easily manageable, a price to book ratio of 0.48, obvious superior management, and tactical advantages with CMA CGM that literally no other shipping company has due to CMA CGM's large market value and global influence.
Future Article
The next article will be on GSL's reinstated dividend: when it may be reinstated and how much an investor could expect. This is an important factor because rivals such as Diana Containerships Inc. (NASDAQ:DCIX), Costamare Inc. (NYSE:CMRE), and Box Ships (NYSE:TEU) already have dividends but their fundamentals are not nearly are strong as GSL's.
Disclosure: I have no positions in any stocks mentioned, but may initiate a long position in GSL over the next 72 hours. I wrote this article myself, and it expresses my own opinions. I am not receiving compensation for it (other than from Seeking Alpha). I have no business relationship with any company whose stock is mentioned in this article.