We Survived The Fiscal Cliff Fiasco, Now What?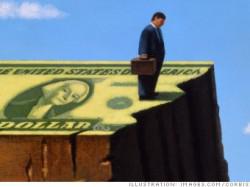 I suppose we should give a sigh of relief. After weeks of intense back-and-forth negotiations, our fearless leaders agreed to a mini meal deal to resolve the Fiscal Cliff.
Naturally, the problem our country faces is that our government spends far more money than it takes in. Interestingly enough, falling off "the Cliff" would have massively slashed government spending and given us what we needed. Although had we done so, the U.S. would have probably slipped into recession. Our economy is growing right now, but only slightly, and removing a large chunk of federal spending as well as consumer spending due to higher taxes, would have probably caused us to slip to a negative.
There is however, a real crisis brewing, and that is all about demographics. Congress made a weak attempt to reform Social Security and Medicare as a part of the Fiscal Cliff deal, but it never amounted to much. That is a real shame, because it merely postpones the day that we deal with this crisis as a country, which are the very issues discussed in Facing Goliath- How To Triumph In The Dangerous Market Ahead.
The Baby Boomers are no longer the spending force they used to be. They are in a different stage of life now, with saving for retirement being a higher priority than buying that new house, car, or large-screen TV they might have bought in years past. Meanwhile, millions of Boomers are retiring every year and starting to draw on the Social Security and Medicare benefits they were promised. Here lies the problem. We have a large generation leaving the workforce at a time when economic growth is weak and not looking to get stronger any time soon.
Investor Strategy
The market is being driven by stimulus spending and wants to go higher here. However, as we get close to the debt ceiling debate, let the warning bells ring. For now, growth investors should can buy high-quality tech companies with strong and growing market share. These would include: Apple (NASDAQ:AAPL), which is getting some bad press right now due to competition but which it always seems to come back from, Google (NASDAQ:GOOG), Intel Corporation (NASDAQ:INTC), Qualcomm (NASDAQ:QCOM), Microsoft (NASDAQ:MSFT), Cisco Systems (NASDAQ:CSCO), Yahoo (YHOO) and VMware Inc. (NYSE:VMW). The funds with more diversification and less individual company risk are also the ones to buy, like the SPDR S&P 500 (NYSEARCA:SPY), PowerShares QQQ Trust Series 1 (NASDAQ:QQQ), and iShares Russell 2000 (NYSEARCA:IWM). Commodities are still screaming buys with continued QE and federal stimulus, which is not going away anytime soon, such as Goldcorp Inc. (NYSE:GG), Barrick Gold Corp. (NYSE:ABX), SPDR Gold Shares (NYSEARCA:GLD), Power Shares Double Gold (NYSEARCA:DGP), Market Vectors Gold Miners ETF (NYSEARCA:GDX), Newmont Mining Corp. (NYSE:NEM), Freeport-McMoRan Copper & Gold Inc. (NYSE:FCX), plus Silver Wheaton Corp. (SLW), ProShares Ultra Silver (NYSEARCA:AGQ) and Fortuna Silver Mines (NYSE:FSM).
Disclosure: I have no positions in any stocks mentioned, and no plans to initiate any positions within the next 72 hours. I wrote this article myself, and it expresses my own opinions. I am not receiving compensation for it. I have no business relationship with any company whose stock is mentioned in this article.