Warren Buffett, the world's wealthiest investor alive, is well-known for his investments in insurance companies. The main reason for these investments is the "float." From wikinvest:
The float refers to profits earned by a financial institution on assets that do not belong to that institution, but are held in custody for a client or other purpose.
Insurance companies take money from their customers in the form of premiums and pay them out as claims or benefits. Between receiving the money and paying it out, insurers are free to invest it and earn an extra return to boost their earnings. That money that is available to invest is the so-called float. The float, however, isn't always cost-free.
An insurer must be disciplined when pricing its premiums because they must be sufficient to cover the claims and benefits the insurer must pay. If it manages to do that, then it has a cost-free pool of money to invest with and boost its returns. However, if the insurer fails to price its products correctly, the resulting losses will be like paying an "interest" on its float. As a result, the insurer's investments must generate higher returns than the float's "interest rate," or else the insurer will face operating losses or even bankruptcy.
So far, any insurance company Mr. Buffett has bought had consistent underwriting (i.e., pricing) discipline, and thus generated large amounts of cost-free float. And in this brilliant way, Mr. Buffett is able to use the float his insurance businesses generate to leverage his investments without borrowing money or paying interest.
Today, we are going to evaluate Unum Group (NYSE:UNM), an employee benefits provider, both from Mr. Buffett's (a potential majority owner) perspective and from our own (that of a potential minority shareholder).
Is Unum A Disciplined Underwriter?
Let's hear first what Unum's management has to say about its company's approach to underwriting. Excerpt from Unum's Annual Investor Meeting transcript, 17 Dec 2012 (emphasis mine):
Thomas R. Watjen - Chief Executive Officer, President and Director

[...] Even though we are talking about growth, I want to emphasize that we are still sticking to our knitting of staying disciplined. You sense, from Kevin's comments, a very sharp focus around the businesses that we want to grow, but also those that are more opportunistic. And so, therefore, even though these are difficult times and it continue to be difficult environment, we're not going to stretch for growth. We're not going to stretch for yield. We're going to continue to do the things that got us to where we actually are -- have been right -- where we sit here today. [...]
This is the managements approach, but are they really following it, or it is just talk? Unum has approximately $47 billion of float, but unfortunately, it hasn't managed to keep it completely cost-free. However, the "interest" it pays for it is small and quite manageable. In the table below, I have calculated Unum's cost on its float along with the investment returns it generates from its use. To find out how much Unum's float costs, I did the following calculations:
(Premiums & Other Income - Benefits, Claims & Expenses)/Float
I calculated Unum's investment returns on its float in a similar way:
(Investment Income Net & Capital Gains/Losses Net)/Float
As you can see, Unum has managed to keep its average float-cost at a mediocre 4%, and has a consistent record of over-performing it with its investments.
(Original data from Morningstar. Calculations, estimates and presentation by the author)
Does Unum Have A Moat Around Its Business?
It certainly seems so. Unum has high persistency rates across its segments, which means that it enjoys significant customer captivity. And this may be explained by the fact that Unum is a well-reputed insurance company with a strong financial position (debt is 50% of equity and EBIT are 10 times interest expenses) and high claimant satisfaction.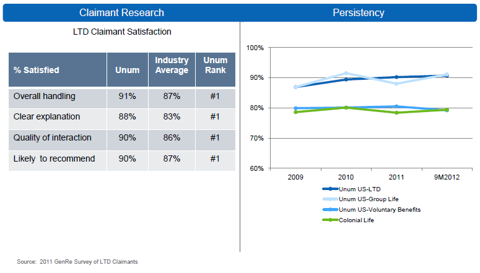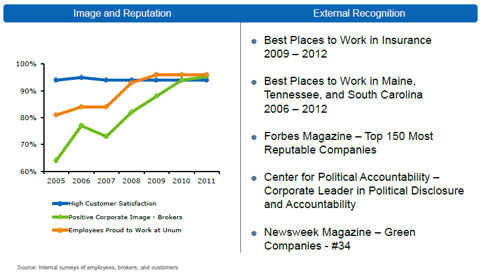 (Source: Unum's 2013 Investor Meeting Presentation)
Another indication that Unum enjoys significant customer captivity is that it is able to implement price increases without significant deterioration in its customer loyalty. More on this from Unum's Annual Investor Meeting transcript, 17 Dec 2012 (emphasis mine):
Kevin P. McCarthy - Chief Operating Officer, Executive Vice President, President of Unum US and Chief Executive Officer of Unum US

Well, I'll start with our experience here in the U.S. Back in -- from 2004 through 2008, we were placing rate increases in excess of 10%, 10% to 15% every year for those 4 years. We cranked up our renewal machine. We were willing to forgo non-performing business and let it lapse. We stuck with that discipline and all during that period of time, not only do we accomplish our rate increase goals but we did it with persistency consistently in the 85% to 87% range. We're planning that same machinery in the U.K. What's I think happening in the U.K. is we're placing, as I said, about 5%, give or take, rate increases in group income protection.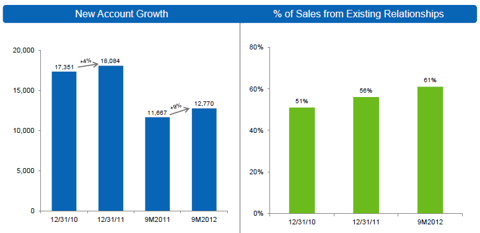 (Source: Unum's 2013 Investor Meeting Presentation)
Furthermore, Unum is constantly cultivating its relationship with its customers, deepening the "lock-in" effect on them every passing year, as you can see in the right chart above.
Summarizing, I believe that Unum has managed to create a moat around its business by focusing on customer satisfaction and providing customers with transparent, diverse and reliable products. As a result its customer loyalty is high, allowing Unum to increase prices when it needs to without the fear of losing business.
Valuation
At its current price level ($21.76 at time of writing), Unum is trading at a 30% discount to its $31.54 book value, while the industry's average is to trade at a 10% premium. That represents a 55% upside potential. Furthermore, Unum has a 10-year average return on equity of 5%, which equals an average7.2% annual return for those who buy Unum's stock at its current price.
An important fact about Unum's balance sheet is that it's low on intangible assets, which are only 28% of equity. If we discount them from Unum's equity, the remaining tangible NAV is $22.70 per share. I believe this should be an investor's maximum buying price, if he wants to have some margin of safety and make sure that he minimizes the possibility of a permanent capital loss.
For 2012, Unum's EPS are estimated at $3.09 and for 2013 at $3.24. At Unum's latest closing price ($21.61), it has a current P/E ratio of 7 and a forward one of 6.67. For reasons I'll discuss later in this article, I believe the appropriate multiple for Unum is a forward P/E in the 10 to 12 range. That gives us a $32 to $39 fair value range based on earnings.
Finally, we should take into consideration the two "bonuses" Unum gives to its shareholders: its 2% dividend ($0.52/share) and its large share buyback program, which has reduced Unum's shares outstanding 23% during the last five years.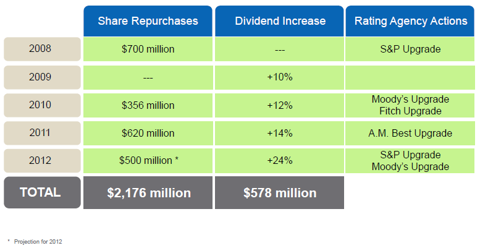 (Source:Unum's 2013 Investor Meeting Presentation)
But Why Is Unum So Cheap?
Mainly because of interest rates and uncertainty. In this extremely low-interest rate environment, an insurer's investment returns are compressed and as a result, its earnings are lower, too. Since no one knows for certain when the interest rates will start to rise again (Unum's management thinks sometime in 2014), no one can really say when this headwind will stop affecting the insurance industry.
The other reason is the uncertainty around Unum's Long-Term Care business and the possible reserve adjustments it might make in Q4 2012. This fear is based on the fact that last year Unum decided to exit this business because it was too difficult to project its future costs. This, along with some other more minor things, resulted in a big $1.84/share reserve charge that crippled its 2011 EPS.
From the 2011 Q4 earnings call transcript:
Thomas R. Watjen - Chief Executive Officer, President and Director

[...] Now turning to my second point, our decision to exit the Long-term Care business. [...] we have elected to discontinue selling any new group Long-term Care policies and place all of our Long-term Care business into a closed block, much the way we handled our older Individual Disability business back in 2004. While there is no doubt a tremendous market need for Long-term Care coverage, in an extended period of low-interest rates and at a relatively immature product with difficulty in projecting future loss costs, it simply does not have the risk and return characteristics we find so attractive in our other businesses. You can see from our release that we took a $561 million after-tax GAAP charge this quarter associated with this decision. [...]

Richard McKenney - Chief Financial Officer, Executive Vice President, Principal Accounting Officer and Chairman of Corporate Development & Capital Management Committee

[...] This decision recognized the difficult risk management characteristics of this product line, but also will allow us to concentrate resources on our businesses with more favorable growth, risk and return potential. LTC has been a small contributor to our overall earnings. [...] this reserve strengthening is reflective of areas where current conditions and future patterns have deteriorated. [...]
Catalysts
The main drag on Unum's earnings growth is the low-interest rate environment. The eventual interest rates increase is one of the main business catalysts that justify a 10-12 P/E ratio for Unum's stock.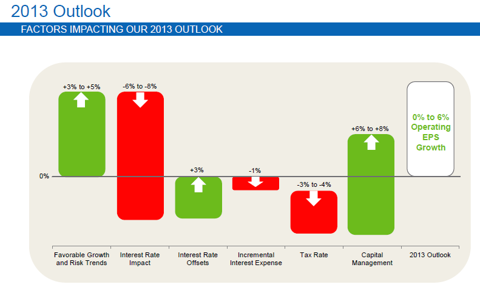 (Source: Unum's 2013 Investor Meeting Presentation)
However, Unum isn't just waiting for interest rates to rise, but it is also pushing for price increases across all of its products to offset this drag on earnings. And this is where things get interesting. When interest rates will eventually rise, Unum won't have to undo these increases, benefiting even more. From Unum's Annual Investor Meeting transcript, 17 Dec 2012 (emphasis mine):
Kevin P. McCarthy - Chief Operating Officer, Executive Vice President, President of Unum US and Chief Executive Officer of Unum US

I think the interesting part of our business is, if we're successful at sustaining those relationships, keeping persistency at 87, 88, 89, then that means those rate increases that we've placed, they continue, right, even though they're no longer catching up for those interest rates. So then you start to see some top line pop and some bottom line pop as a result of the continuity of those rate increases that no longer have interest rate drag to cover.
Given that Unum isn't exactly loved by the analyst community right now, we have the perfect opportunity to buy an unloved stock with solid fundamentals and a powerful earnings catalyst to unlock its full value.
(Source: TheStreet.com)
However, we haven't talked yet about our time horizon. Unum will start to benefit from price increases in late 2013 and 2014. As for the interest rates, I expect that the market will shift its expectations in 2013. The latest disagreement within the Fed could prove to be a nice warning sign that in 2014, interest rates may be at a higher level.
Concluding:
These are the reasons why Warren Buffett would like this company:
It has $47 billion of long-term investable float.
Its moat allows for price increases that can make its float cost-free. However this could result in slow or non-existent growth for the company, and would drive off some of its customers.
It's trading at a 30% discount to its book value and at a 40%+ discount to its earning power potential.
He can achieve greater returns on Unum's float than the current 10-year average of 5.8%.
These are the reasons why you should like it, too:
It's trading at a 30% discount to its book value (60% potential gain).
Increasing prices and the eventual interest rate rise will boost the company's earnings growth and justify a 10 to 12 P/E long-term ratio for the stock (an 80% potential gain).
If you buy it below the price of its tangible NAV ($22.7), you will enjoy a strong margin of safety and can enjoy a huge potential upside without significant risk of permanent loss of capital.
Disclosure: I have no positions in any stocks mentioned, but may initiate a long position in UNM over the next 72 hours. I wrote this article myself, and it expresses my own opinions. I am not receiving compensation for it (other than from Seeking Alpha). I have no business relationship with any company whose stock is mentioned in this article.