Two weeks ago I wrote an article suggesting that Sirius XM (NASDAQ:SIRI) had 370 million "bad ideas" on the short side. Within the article I hypothesized that the recently released short data showed that some shorts had made an error in judgment, or even used a complete lack of good judgment in entering these short positions.
When considering the current short interest in Sirius XM the outstanding short position certainly begs questions, and in my opinion it's questions about the short's sanity that should be asked.
Yes you read that correctly. 370,368,894 in short interest as of the close of December 11. This is an over 31 million increase in the short position as of November 27. Is it safe for investors to assume that these shorts know something that the average investor does not?

No. History proves that shorts have historically been wrong, over and over again, in recent history for Sirius XM.
So, when I look at the current short positions, I absolutely have to question the sanity of these shorts. It seems to me that this is virtual suicide, and with current share prices pushing on the $3 per share mark, nearly every single one of these shorts is likely under water. To put it simply, "bad idea."
These statements met with considerable opposition from some commenters who suggested that these shorts should be taken seriously, and that a wise investor always considers both sides of the coin. Some even took issue with my use of the word "sanity." Fair enough. Wise investors do consider both sides of the coin, but I would argue that wise investors also have conviction in the side of the coin which they choose. If I am long, I must question the sanity of those with a short position. If I do not, then I must question my own sanity in establishing a long position. You can't have it both ways, and riding the fence is no way to make money.
Consider that the 30 million increase in shorts to 370 million in the previous period was taken on average in the $2.70's, and before the payment of the $0.05 special dividend. Since this time 15 million shorts, which were either initiated or held in the $2.70's, covered at higher prices in the $2.80's and $2.90's. It appears in this case that sanity can be bought between $0.15 and $0.25.
And these 15 million who covered at a loss are the lucky ones. The rest? They're staring at prices around $3.15, a full $0.40 higher plus that pesky $0.05 dividend than just a few weeks ago. It's roughly a 17% loss. This is not a good position to be in, and I have to wonder where the breaking point is for the rest of these shorts?
Sirius XM has repeatedly and reliably squeezed the shorts since it began its bull run in July of 2012.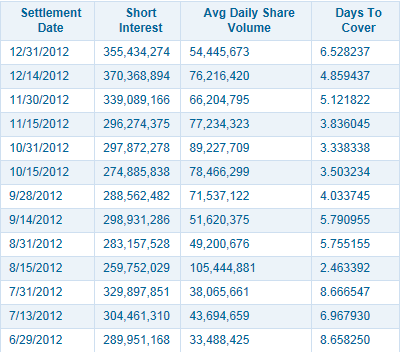 Judging by the data, and where it coincides with share prices, shorts have repeatedly been burned and shorts have repeatedly contributed to pushing the share prices higher as they rush to cover on their failed bets.
It's really very simple. Sirius XM has been under well publicized accumulation by Liberty Media (LMCA). You don't short into a big buyer's hands, and you certainly don't short a company which is performing so well. On top of this, Sirius XM will soon be under accumulation by Sirius XM itself as it begins a $2 billion share buyback program. This doesn't point to "lower prices" by any means, and I continue to believe that shorting Sirius XM here is virtual suicide for one's money.
I maintain what I said in my previous article :
The right side of Sirius XM is the long side, and this has been the case since the company made its turn around in 2009 on a bail out from Liberty Media, and I think that will be the right side to be on for the foreseeable future. Although I feel my advice to shorts will fall on deaf ears, I'll repeat what I have said continuously at lower prices.
And while it seems 15 million have listened, 355 million more is a long way to go.
Disclosure: I am long SIRI. I wrote this article myself, and it expresses my own opinions. I am not receiving compensation for it (other than from Seeking Alpha). I have no business relationship with any company whose stock is mentioned in this article.