At current valuations (forward P/E of 14x and P/B of 1.4x), compared to its peers, I believe American Electric Power (NYSE:AEP) is fairly valued. Moreover, with its low dividend yield of 4.35%, high debt to equity of 120% and modest growth rate of 3% as compared to its competitors, I recommend a neutral rating on the stock. I believe Duke Energy (NYSE:DUK), Exelon Corp (NYSE:EXC) and The Southern Company (NYSE:SO) offers better investment opportunity than AEP at current valuations.
AEP is amongst the largest electric utilities companies in the U.S. It operates in 11 states in the U.S, serves more than 5 million customers and has a generational capacity of almost 38,000 MW. AEP has significant exposure to regulated operations; more than 85% of the earnings for the company are generated from regulated operations.
Due to sluggish conditions, demand for electricity is expected to grow at a low rate. Analysts are expecting a 5 year annualized growth rate of 3%. Given the weak economic conditions, capital spending has decreased over the years. The graph below displays the capital spending trend as a percentage of net sales.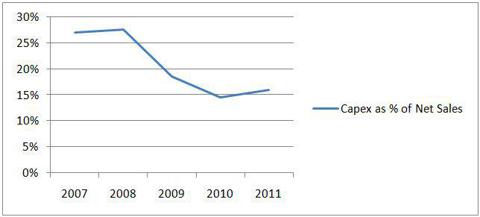 Source: Annual Reports
Financials
AEP has delivered satisfactory financial performance in the past. In 3Q'12 AEP reported revenue of $4.2 billion, down 2% YoY. Adjusted earnings per share for the quarter were $1.02 missing analyst estimates by 1 cent. Lower electricity demand due to slow economic activity and storm related costs negatively affected most recent quarterly results. Following are the financial metrics of AEP for the past recent years.




Source: Annual Reports
The company offers a dividend yield of 4.35%. Currently AEP has a quarterly dividend of 47cents. It has increased its dividends at 4.1% per year in last seven years. Below is the quarterly dividend schedule of AEP. Given the decreasing CAPEX trend, modest payout ratio of 60% and strong dividend history, I believe the company will keep on increasing its dividends at a healthy rate in the upcoming years.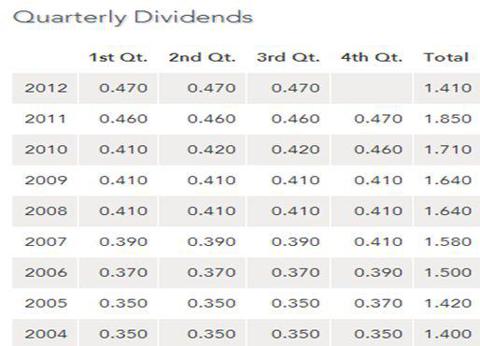 Source: aep.com
AEP's balance sheet strength has been increasing over the years. It currently has a debt to equity ratio of 120% and interest coverage of 3.1x. Credit statistics (FFO interest coverage 4.8x and FFO to total debt 19.9%) also displays a healthy picture if we compare actual numbers with that of target numbers. Following are the total debt/total capitalization and credit stats for AEP.

Source: Investors Presentation
AEP holds a "BBB" credit rating assigned by S&P and Fitch. From 2013 through 2017, $6.21 billion worth of debt is expected to mature for the company.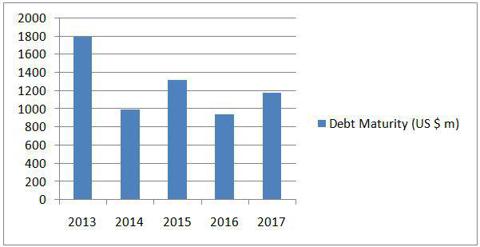 Source: Investors Presentation
Recent News
AEP is seeking a 2% rate increase for repairs due to storms during recent summers. The electric system of AEP was affected due to a storm earlier this year in June, which led to its customers losing power supply for a week. AEP wants its Ohio customers to pay $61.8 million for damage caused by the storm.
The company also has plans to eliminate jobs under its corporate reorganization plan and it has started sending notices to employees in this regard. AEP currently has approximately 19,000 employees. It will be decided next month (February) on the exact number of layoffs.
Conclusion
| | | | | |
| --- | --- | --- | --- | --- |
| | AEP | Southern Company | Exelon Corp | Duke Energy Corporation |
| Forward P/E | 14x | 15.6x | 11.5x | 14.8x |
| PEG | 4.7 | 3.3 | - | 5 |
| Five years growth rate | 3% | 5% | - | 3% |
| P/B | 1.4x | 2x | 1.1x | 1.1x |
| ROE (TTM) | 9.7% | 12% | 8% | 5% |
| D/E | 120% | 110% | 90% | 95% |
| Dividend Yield | 4.3% | 4.5% | 6.9% | 4.7% |
Source: Yahoo Finance.com
AEP has delivered a healthy financial performance over the past years. However, given its low dividend yield of 4.3% and high debt to equity of 120% as compared to its peers, I believe DUK, SO and EXC offer better investment opportunities.
Risks
A significant proportion (more than 85%) of earnings for the company are generated from regulated utility business which exposes it to regulatory risk; which includes approval of rate cases. Also, unfavorable weather and economic conditions can have a negative impact on AEP's financial performance.
Disclosure: I have no positions in any stocks mentioned, and no plans to initiate any positions within the next 72 hours. I wrote this article myself, and it expresses my own opinions. I am not receiving compensation for it (other than from Seeking Alpha). I have no business relationship with any company whose stock is mentioned in this article.