After again getting it right recently, with my renewed call for short term natural gas (NYSEARCA:UNG) weakness, it's time to update my opinion in this market.
The short-term
In the short term, natural gas fortunes will continue to be dictated by weather. For natural gas to move up requires cold weather because natural gas going up also drives substitution for coal in power generation. That is, if natural gas goes up, less gas gets used to produce electricity with more coal being used. This means that short-term for natural gas to have a sustained move up, it needs the increased demand from favorable weather to compensate the decreased demand from power generation.
At this moment, natural gas sits mostly at the very threshold of where this phenomenon is strongest (though in reality, the phenomenon is progressive with relative pricing).
This will eventually be corrected by stagnated or reduced production - but that takes time, so it's not a factor in the short-term. Which brings us to the main dish today: the long term.
The long-term
We know that present natural gas pricing is driving less drilling for it. Such is evident from the much-lowered rigs numbers, even if these numbers can be somewhat deceiving because of the shift to horizontal drilling and the increased rig productivity. Still, even the number of drilled wells has been going down, so some negative impact in production over time is unavoidable (Source: EIA).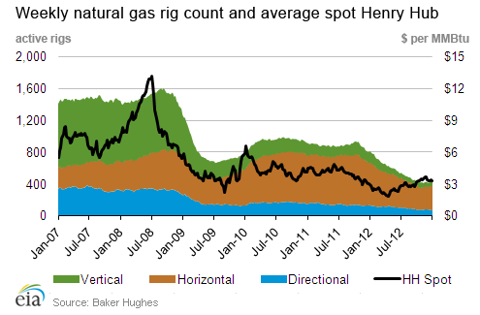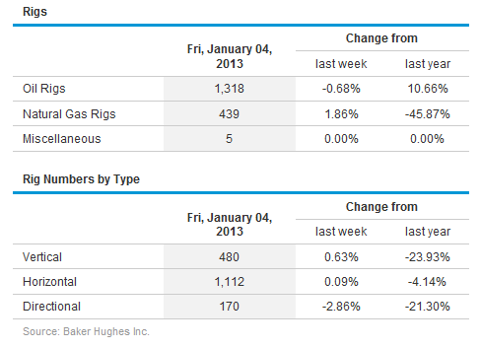 At the same time, as the production shifts towards shale gas, the production decline rates are much steeper than they were historically (and with this, one needs to keep in mind that even conventional wells had pretty steep decline rates when compared to, say, crude oil). Below are typical decline curves for Barnett shale wells, the decline curve varies between shales but is always aggressive. (Source: The American Oil & Gas Reporter, "Study Assesses Shale Decline Rates", Schlumberger.)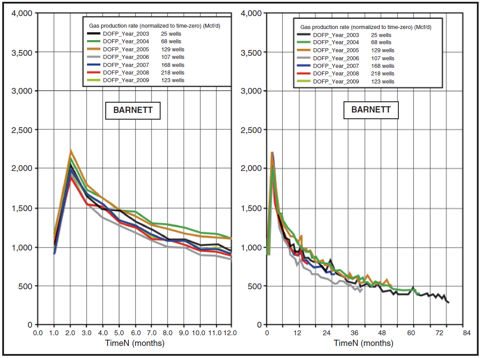 Then, the U.S. pricing for natural gas is much lower than what it fetches in the international markets, say Europe or Japan. This has meant some investment in export facilities such as those being developed by Cheniere Energy (NYSEMKT:LNG). These facilities take time to build, LNG's are expected to come online during Q4 2015.
Finally, there are some trends towards greater natural gas usage. Some speculative, like massive usage in transportation; some realistic like greater industrial usage due to sustained low pricing; and some ongoing, like the ever-greater share of power production going towards natural gas.
What does this mean, when put together? It means that although short-term pricing is now at a rather unpredictable point, long-term pricing seems destined to go up through a combination of lower production and higher demand. So investment alternatives should be sought that can gain from this longer term trend.
One obvious way would be to buy longer-term natural gas futures. As I type this, the last fixing for December 2016 is $4.632 and for December 2017 it is $4.865. Other contracts have significantly cheaper fixings along the seasonal curve that natural gas always presents. Although this might seem "expensive" when compared to the front month (February 2013) trading at $3.15, these prices should ultimately prove to be decent entry points.
Conclusion
Natural gas short-term pricing is in a rather unpredictable state right now after having offered many trading opportunities during 2012, many of which I correctly called. At this point, what seems more predictable is that long-term natural gas pricing will be higher than what the present natural gas futures curve discounts, the main problem being the incredibly low liquidity on those futures.
Still, other ideas to take advantage of this are welcomed.
Disclosure: I have no positions in any stocks mentioned, and no plans to initiate any positions within the next 72 hours. I wrote this article myself, and it expresses my own opinions. I am not receiving compensation for it (other than from Seeking Alpha). I have no business relationship with any company whose stock is mentioned in this article.
Additional disclosure: I have been trying to buy longer-term natural gas futures and will continue to try doing so.