The saying goes that "You can't teach an Old Dog new tricks." I'm not sure that is true. I think you just need to be able to provide that "Old Dog" with a level of incentive that motivates him to learn.
At Chesapeake Energy (NYSE:CHK), the "Old Dog" is free-spending, debt-accumulating and big-living CEO Aubrey McClendon. And call me crazy, but I think this is one Old Dog who has changed his ways.
Why do I think that? Because Chesapeake's new Board of Directors have essentially chained this dog to a fence, and his two options were to change or lose his job.
For years, McClendon was a pioneer in the unconventional revolution that has grasped the American Energy industry. McClendon saw this revolution coming, and aggressively stuffed Chesapeake with a massive portfolio of unconventional gas and liquids acreage. He bought, and bought big, using a large amount of debt to do it.
This year with an unexpectedly warm winter crushing natural gas prices (and Chesapeake's cash flow), that debt caught up with Chesapeake and McClendon. With the company struggling to fund an aggressive drilling campaign to move Chesapeake to a more balanced liquids and gas weighting, shareholders finally revolted against McClendon's free spending ways and took control of the company.
New directors were put on Chesapeake's Board, and McClendon was stripped of his role as Chairman.
To his credit, McClendon has handled these changes gracefully, and seems to have embraced the new company line. That new company line is a focus on three major goals:
1) Transform Chesapeake's production base to have a better balance between natural gas and liquids
2) Improve Chesapeake's balance sheet to reach the point where the company has investment grade ratings
3) Monetize non-core assets and focus on the "core of the core"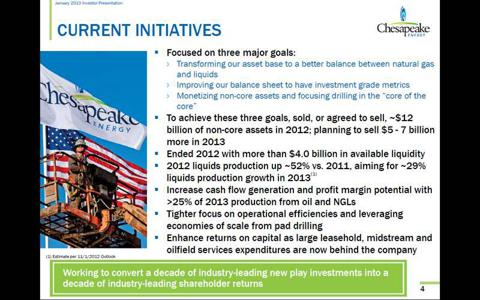 Goal 1 - Achieve Better Balance Between Liquids and Natural Gas Production
When you are the second largest producer of natural gas in the entire country and your starting point is a production profile that is only 10% weighted towards liquids, making a transition to the point of having some "balance" is not an easy task.
As can be seen in the slide below, taken from Chesapeake's most recent presentation, the company has gone from under 10% liquids in 2010 to 20% today, headed for 30% by the end of 2013.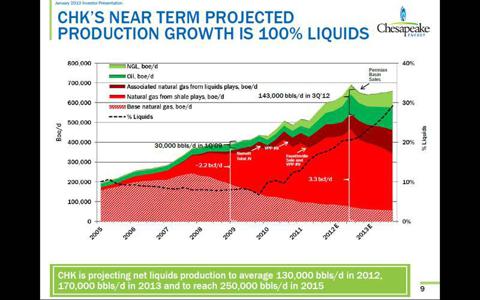 That transition is happening, but it hasn't been easy with very low natural gas prices crimping cash flows, and an already highly leveraged balance sheet, making additional non-dilutive financing impossible.
Goals 2 and 3 - Deleverage the Balance Sheet and Focus Only On Core Properties
Monetizing non-core assets (which is goal 3) will be the main catalyst for achieving Chesapeake's goal of deleveraging. Chesapeake currently has $13.9 billion of net debt, and is targeting a debt figure of $9.5 billion.
That is going to require another $4.4 billion of debt reduction, which is roughly what Chesapeake will generate in operating cash flow in 2013.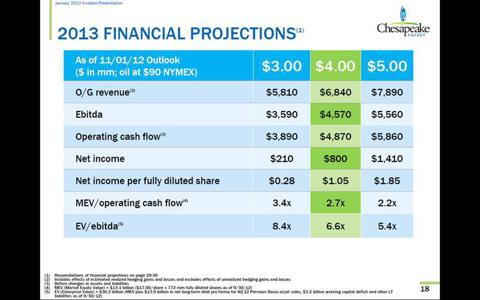 All of that internally generated cash flow has to go into drilling in order to make the transition to liquids, which means that more asset sales are going to be required. For 2013, Chesapeake is targeting another $5 billion to $7 billion of asset sales.
Evidence That the Company Is Serious About Achieving Its Goals
The goals that Chesapeake has laid out in front of it aren't going to be overnight fixes. It is going to take time to ramp up liquids production, and it is going to take time to sell-off assets at the best prices possible. That is going to require patience from investors and from Chesapeake's management. The good news is that with new Board of Directors in place and McClendon's "land machine" in lockdown, investors can finally trust that Chesapeake is serious about getting its balance sheet in order.
And we have seen evidence of just how serious the New Board of Directors is about changing course at Chesapeake. Some actions directed at improving costs announced this past week include:
- No bonus for McClendon in 2012
- Significant reduction in executive perks, including limitation of McClendon's personal use of corporate aircraft
- Changing executive compensation structure to be tied to company performance
According to a recent Forbes article, SouthEastern Asset Management, which was the large shareholder that enacted change at Chesapeake, said shares could eventually triple if natural gas normalizes around $4 per mcf and oil trades at $75 per barrel. With McClendon in check and a long time horizon, that may just be possible.
Disclosure: I have no positions in any stocks mentioned, and no plans to initiate any positions within the next 72 hours. I wrote this article myself, and it expresses my own opinions. I am not receiving compensation for it (other than from Seeking Alpha). I have no business relationship with any company whose stock is mentioned in this article.