I had earlier written an article explaining my reasons to short gold. I believe that gold is going to face a lot of headwinds in 2013, especially poor demand, increased supply, low inflation, a strong dollar, and competition from equities. Interested readers can find the details in my article titled, Short Gold in 2013.
As I had mentioned in that article, the key targets to short are the SPDR Gold Trust ETF (NYSEARCA:GLD), the Market Vectors Gold Miners ETF (NYSEARCA:GDX), and the Market Vectors Junior Gold Miners ETF (NYSEARCA:GDXJ). Let's examine how these have done in the past 3 months.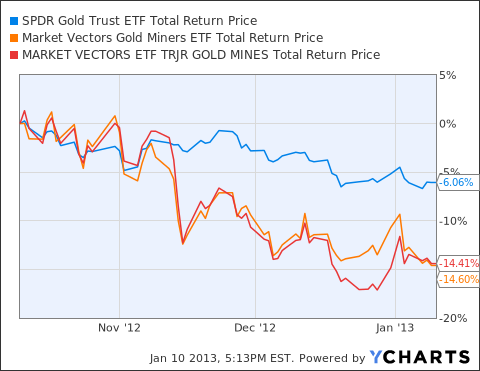 As the chart shows, while gold prices are down 6%, the miners are down 14-15%. This is curious, because one may expect the miners to move lockstep with gold. Unfortunately, that has not been the case in the past 5 years. Even as gold appreciated 82%, miners have dropped 12%.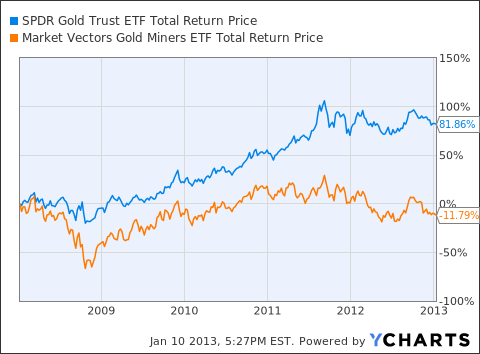 Why is this the case? The main issue is that the extraction cost for the miners have increased a lot as gold prices gone up. Reports the Economist:
As mines age, extracting gold gets harder and costlier. Ores give up less of the metal-average grades have fallen by 30% since 1999 according to GFMS, a consultancy. And ore must be hauled up from ever greater depths. Fuel is pricier. So, too, are labour and equipment, since the global minerals boom has driven up demand for miners and drills. A decade ago the average cost of extracting an ounce of gold from the ground stood at a little over $200. In 2010 it hit $857, says GFMS-though this figure depends in part on the gold price. When gold was $200 an ounce, nuggets that cost $800 to extract stayed buried.
As the cost to extract gold has gone up, the miners have to spend more and more on exploration to find new mines. This is an expensive matter. Some miners have turned to M&A to increase their footprint, but that also has increased their debt load and CapEx. To get stability in prices, many miners also routinely hedge the forward price of gold. This gives them stability in terms of cash flow and earnings, but also doesn't allow them to participate in any future rise in the price of gold.
Of course, if the gold price drops, the miners will do even worse, as it is hard to get out of CapEx costs immediately. It is pretty clear, then, that the best way to short gold is to short the miners.
There are many ETFs that track gold miners. The one that is of key interest to me is the Direxion Daily Gold Miners Bull 3x Shares ETF (NYSEARCA:NUGT). Let's examine how this has done over time.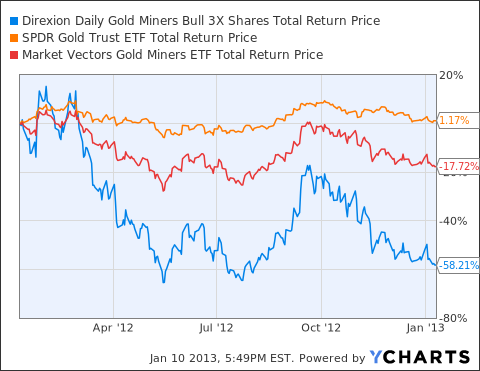 I think we have found a gold mine here. As the price of gold has stayed flat in the past year, the miners are down 18%, and NUGT is down 58%. This is expected, as NUGT is triple leveraged on the miners, plus, being a leveraged ETF, it loses some amount from volatility.
The Jan 2014 strike 10 put on NUGT has bid/ask of 2.85/3.10. NUGT is currently at $10.23, after a big rise today. I expect gold to drop by 5-10% in 2013, which means the miners will likely drop by 20%+, and NUGT will drop by 65%+, to less than $4. That would make for 100%+ gain on the put. More adventurous souls can go further out of money and aim 2x-3x return, however, I will be content with simply doubling my money.
Disclaimer: This is not meant as investment advice. I do not have a crystal ball. I only have opinions, free at that. Before investing in any of the above-mentioned securities, investors should do their own research, consult their financial advisors, and make their own choices.
Disclosure: I have no positions in any stocks mentioned, but may initiate a short position in NUGT over the next 72 hours. I wrote this article myself, and it expresses my own opinions. I am not receiving compensation for it (other than from Seeking Alpha). I have no business relationship with any company whose stock is mentioned in this article.