We've been profiling undervalued and/or oversold high dividend stocks in our recent articles over the past few weeks. As with some of the previous stocks we've been covering, this week's stock is also listed in our High Dividend Stocks By Sector Tables.
In fact, with its 13%-plus dividend yield, Aes Tiete, (OTCPK:AESAY), sits atop our Utilities Sector table.

(There's a 2-year dividend payout history near the end of this article)
Company Profile:
AES Tietê is Brazil's second larger private generation companies with a park comprising 12 hydroelectric plants with installed capacity of 2,658 megawatts, which represents 2.2% of Brazil's Total Installed Capacity. That complex involves 9 hydroelectric plants and one Small Hydro Plant, with installed capacity of 2,651 MW and physical guarantee of 1,275 average MW, located on rivers Tietê, Grande, Pardo and Mogi-Guaçú, in central and northeastern São Paulo State. (Source: AES Tiete website)
AESAY trades on the Pink Sheets, and was punished by the market in 2012, after the Brazilian government announced a provisional measure for reducing the cost of energy, which will fall 20.2% on average for the final consumer. The Brazilian Government said the cuts in rates for residential and industrial consumers would be, respectively, 16% and up to 28% cheaper, and that the rate reductions will apply from 2013 to the price of electricity.
However, the bad news may already be mostly baked into the stock, which is less than 10% above its 52-week low.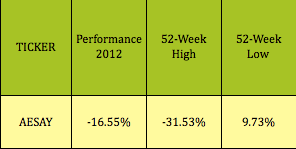 Earnings: AESAY has a major contract with AES Eletropaulo, that doesn't expire until 2029, and nearly all of AES Tietê's assured energy is contracted for the long-term (2015) through a bilateral electric energy purchase and sale agreement with AES Eletropaulo. The Brazilian government regulatory agency ANEEL gave AES a 5.41% rate increase in July 2012. The company also buys and sells energy on the spot market.
AESAY posted 6.9% earnings growth, and 4.4% revenue growth in its 3rd quarter, (June-September 2012), and had stronger EPS growth for the first 9 months of 2012. Overall Sales climbed 20.59% for the first nine months of 2012. (The company breaks out its EPS figures by class of shares):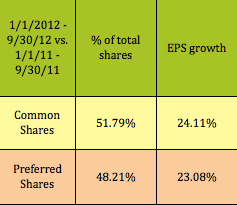 But Utilities aren't usually growth stocks are they? Given the tepid growth forecast for 2013, one can't say that this stock is undervalued for 2013 growth. However, its ongoing EPS looks stable, and it also has the cash-generating ability to sustain its dividend, which is a key point to consider when analyzing utilities as possible investments. (The figures below are in USD, and are based upon EPS past history and analysts future EPS estimates for the common shares):
Dividends: This is a 2-year history of AESAY's dividend payouts to its ADR shareholders, which increased slightly, up $.045 in 2012: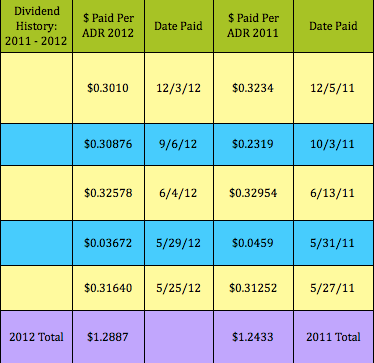 Financials: AESAY's management efficiency ratios are impressive, and its debt load is below that of electric utility industry averages, which range upwards of 1.51: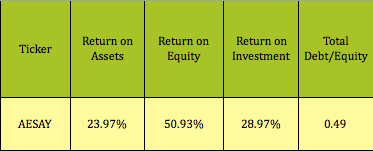 Disclaimer: This article isn't intended as investment advice. Readers should exercise their own due diligence prior to investing.
Disclosure: I am long OTCPK:AESAY. I wrote this article myself, and it expresses my own opinions. I am not receiving compensation for it (other than from Seeking Alpha). I have no business relationship with any company whose stock is mentioned in this article.