Over the last couple of years, we've seen a fair share of large cap technology companies start to pay dividends as their growth has slowed down. In 2009, Oracle (NYSE:ORCL) started paying a dividend, Cisco Systems (NASDAQ:CSCO) started paying a dividend in 2011, and Dell (DELL) started paying one in 2012. All of these companies had a sizable cash position, and decided it was in their best interests to return cash to shareholders. Last year, Cisco raised their dividend quite substantially, and until a recent rally, Cisco shares were yielding over 3% annually.
But the biggest elephant in the room was obviously Apple (NASDAQ:AAPL). In 2012, Apple announced it would start paying a dividend again (yes, it used to pay a dividend several years ago). Apple also announced it would start buying back some stock, in an effort to return $45 billion to shareholders over a three-year period.
During the quarter that just ended, Apple was expected to start its buyback program. Now that Apple is paying a dividend, yielding over 2% currently, and buying back stock, it raises an important question. When does Google join this parade? Today, I'm going to analyze Google's current situation and determine if Google (NASDAQ:GOOG) should start returning cash to shareholders.
Recent Financial Performance:
It was an interesting year for Google in 2012. January did not start off good as the company missed Q4 estimates, sending shares lower. During the second quarter of the year, the company completed its acquisition of Motorola Mobility. That acquisition provided Google with a huge revenue stream that has boosted the company's revenue growth rate. However, Google's margins have significantly taken a hit. From Q1 to Q3 of 2012, Google's GAAP gross margins declined from 64.41% to 53.52%, and GAAP net profit margins plunged from 27.15% to 15.43%. In 2013, Google will be looking for a margin rebound.
The peak of negativity came after Google's Q3 report, which completely missed estimates. In addition, an early release of the company's report made investors panic, sending the stock sharply lower over a couple of weeks. The margin numbers I mentioned above were one of the main culprits. With revenues missing estimates and margins falling, Google missed on the bottom line as well.
Now, Google has not reported Q4 and full-year 2012 numbers just yet, and we'll get those numbers on January 22nd. However, even with the margins coming down, Google is still a profit monster. The following table shows some key income statement numbers over the past four quarters (ending with 2012's Q3), in billions. Since Google reports its numbers on a GAAP and non-GAAP basis, I've included both numbers.

So in that four-quarter period, Google had a GAAP profit of more than $10 billion dollars. That's not exactly small.
Growth numbers are slowing:
Overall, Google's internal growth numbers are slowing down. I put together a chart to show Google's non-GAAP growth numbers in the past couple of years. For 2012 and 2013, the numbers are the current estimates. I'm using non-GAAP numbers here because that is what the analysts provide their estimates on. Google provides revenues on a GAAP basis without deducting traffic acquisition costs "TAC." After those are subtracted out, you get a non-GAAP revenue number. Additionally, the following statement describes how Google calculates its non-GAAP earnings per share, taken from their most recent report.
Non-GAAP operating income and non-GAAP operating margin exclude stock-based compensation (SBC) expense, as well as restructuring and related charges recorded in our Motorola business. Non-GAAP net income and non-GAAP EPS exclude the expenses noted above, net of the related tax benefits.
Since analysts use the non-GAAP numbers, I can use them to show how Google's growth is slowing.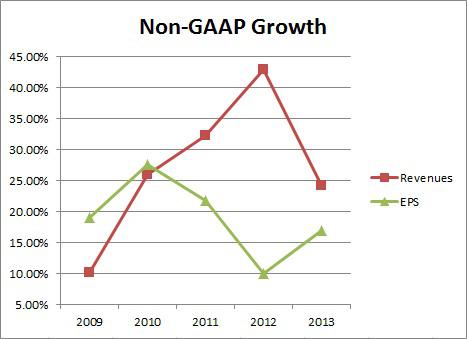 Now you may ask how Google's growth is slowing down. Well, it all has to do with the Motorola Mobility acquisition. If you take out the acquisition, revenue growth is definitely slowing. If you look at the GAAP numbers, because that's where we get the Google/Motorola breakdown, total revenues were up 35.28% for the first 9 months of 2012. But if you take out the Motorola benefit, Google's revenues were only up 21.28%. Again, these are the GAAP numbers, and the percentages in the chart above are non-GAAP. But the Motorola acquisition accounted for 40% of the growth, and that's a lot. Once we hit the second quarter of 2013, you won't have the added benefit of the acquisition.
Now, analysts do expect earnings per share growth to accelerate next year, but the 2013 estimate for growth would still be below the growth numbers of 2010 and 2011. Again, analysts are assuming Google's margins will rebound. If they don't, earnings growth won't accelerate.
Strong balance sheets:
I showed you above that Google is a very profitable company, and profits are expected to increase going forward. The company isn't exactly in poverty, as its balance sheet is flush with cash. In fact, Google has one of the best balance sheets around, especially when compared against other large cap tech names. The following table shows some key cash and balance sheet data for Google against Apple, Microsoft (NASDAQ:MSFT), and Cisco Systems. I used those three names because they are basically the three biggest tech names when it comes to balance sheet size. All dollar amounts are in millions, and are as of their most recently reported quarters.

*Includes cash, cash equivalents, short and long-term investments.
Google said in its most recent 10-Q filing that of its $45.7 billion of cash, cash equivalents, and marketable securities (my number above includes long-term as well), approximately $29.1 billion was held by foreign subsidiaries. This is not uncommon, as we know that Apple, Microsoft, and many others have a large portion of their cash piles located outside the United States. Google has the lowest debt (liabilities to assets) of the group, and all of these names have tremendous financial flexibility.
The key takeaway here is that Google has about $17 billion of its cash pile located within the United States. That is key, because that is the money that is available for potential dividends and stock buybacks. Google's domestic cash pile is quite large. In fact, at the end of their previous quarters, Microsoft had less than $9 billion domestically and Cisco had about $7.5 billion. Like Google, those numbers do not include the long-term investments I included above. Apple had more than $38.6 billion in domestic cash, which includes long-term investments, since that's where Apple stashes a majority of its cash.
Why pay a dividend or buy back stock?
As Google's growth slows down, investors are going to want a dividend and buyback. Additionally, Google is so flush with cash, that it could easily pay a dividend and/or buyback stock, and still have plenty of cash to make acquisitions if it wants. I don't think Google will be making any huge acquisitions anytime soon as they continue to digest the Motorola Mobility acquisition, so the cash pile will likely grow even more.
But look at the following table as well, which compares Google versus the other three. The growth numbers are all for each company's current fiscal year. For Google, that is calendar 2013. Apple's fiscal year ends in September, Microsoft's ends in June, and Cisco's ends in July. The P/E number is based on Thursday's closing price and the current expectation for fiscal year earnings.

*Apple growth adjusted to normalize prior year's 53-week period to regular 52-week period.
So let me get this straight. Google doesn't provide a significant amount of growth over Apple, doesn't pay a dividend, isn't buying back stock, and yet it trades at a significant premium to Apple. Now, you can understand part of the premium to Microsoft and Cisco for the extra growth, but at least those companies are paying dividends and buying back stock. You can make the case that these other names are undervalued, but eventually, most will argue that Google is overvalued.
This is why I believe Google should start returning cash to shareholders. At this point, with the valuation being a bit unreasonable in my opinion, I think that starts with a dividend. Google has a little under 330 million shares outstanding, so you can roughly figure that for every $3 they pay, it will cost them about a billion dollars. Google's cash pile, as I calculated it above, rose by $1.37 billion in the first 9 months of 2012, and that includes the huge purchase of Motorola Mobility. Since they won't be spending that much on acquisitions each year, they can produce enough cash to pay a decent- size dividend.
So what should they start it at? Well, to be competitive with the rest of the names out there, you would think a $3 quarterly dividend, or $12 a year, would make sense. That would currently cost the company about $4 billion per year, which they could easily afford. Based on Thursday's close, that would represent a 1.62% annual yield, which would be extremely respectable considering they are still mostly a growth company. Google produced $11.95 billion in operating cash flow during the first 9 months of 2012. They can easily do this.
Summary - it's just a matter of time:
Google is one of the most profitable companies out there, and the company's growth is starting to slow down. The company still trades at a huge premium to other names in large cap tech land, and many of those names pay dividends and buy back stock. Google doesn't pay a dividend or buy back stock.
As Google continues to digest the Motorola Mobility acquisition, people will see the growth numbers come down a bit, and they will want more from Google. Google has a large cash pile and is producing billions in cash each quarter. The company has a ton of financial flexibility, and a dividend and or buyback seem inevitable. Google could easily pay a $3 quarterly dividend right now, which would give back to investors, and compensate for the premium they are paying. It's only a matter of time, and I think we'll hear something on this front during 2013.
Disclosure: I have no positions in any stocks mentioned, and no plans to initiate any positions within the next 72 hours. I wrote this article myself, and it expresses my own opinions. I am not receiving compensation for it (other than from Seeking Alpha). I have no business relationship with any company whose stock is mentioned in this article.
Additional disclosure: Investors are always reminded that before making any investment, you should do your own proper due diligence on any name directly or indirectly mentioned in this article. Investors should also consider seeking advice from a broker or financial adviser before making any investment decisions. Any material in this article should be considered general information, and not relied on as a formal investment recommendation.