Introduction
With many industries diversifying their products to gain a competitive advantage, many have stepped outside their core businesses to generate additional revenue. While new conglomerates pop up every day, a few old-timers continue to hold their own in today's fast-moving market. General Electric (NYSE:GE), Siemens (SI) and E.I. DuPont de Nemours & Company (DD) have been providing the global marketplace with an array of products, from jet engines and light bulbs, to paints and food ingredients. In this article, I subject these three industrial conglomerates to a fundamental and valuation test to recommend the best risk/reward stock for an investor's portfolio.
Tracking Financials
Here are the three companies for our analysis:
| | | | |
| --- | --- | --- | --- |
| Indicator | | | |
| Market Cap | $222 bil | $95.1 bil | $43.1 bil |
| Trailing P/E | 15.68 | 14.89 | 15.50 |
| Price/Book | 1.8 | 2.3 | 4.2 |
| EPS Growth (3 Yr Avg) | -10.6 | 24.2 | 18.7 |
| Dividend Yield, % | 3.63 | 2.60 | 3.70 |
| Debt/Equity | 1.9 | 0.5 | 1.0 |
| ROE, % | 10.8 | 14.3 | 28.1 |
| Current Price | $21.17 | $111.08 | $46.19 |
| Estimated Fair Value Range | $24-$36 | $120-$166 | $49-$60 |
| Stock Valuation | Undervalued | Undervalued | Undervalued |
| Upside Potential (Premium) to Reach a Fair Stock Value | 14% | 8% | 6% |
Data from Morningstar and Financial Visualizations on January 11, 2013
The discounted earnings plus equity model, developed by EFS Investment Partners and applied to the three conglomerates, suggests that currently, all stocks are undervalued. In addition, EFS' fair stock price valuation indicates that General Electric is trading at the most attractive discount.
What Does 2013 Have In Store For These Titans?
General Electric's share price is the most accessible for investors, while SI and DuPont could be considered more expensive stock options. GE's three-year earnings average shows a negative result due to the difficulties of 2008 and 2009. While the company is not back to pre-financial crisis levels, I expect GE to have a strong 2013 as the share buyback program and increased dividends continue to pay investors. The company is making progress on multiple fronts as it is swiftly closes in on oil services and drilling companies, while simultaneously expanding its conventional portfolio by acquiring suitable bolt-on companies such as Avio. GE's debt/equity ratio is still beyond a sustainable long-term debt solution, but this issue can be solved by improving margins in 2013. Additionally, the company's dividend yield is the lowest of its competitors at 3.34%.
Siemens, on the other hand, is a very expensive stock option, though it has shown steady growth in earnings for the past three years. The company's EPS has also grown significantly on an annual basis, as have dividends. With plans to restructure Osram, of the acquisition Invensys' rail automation business and the displacement of 1,100 jobs in Germany, Siemens is making bold moves to increase its profitability. Furthermore, it has the most favorable debt/equity ratio amongst its peers, which shows long-term stability and financial prowess for the future. Investors provide great weightage to debt levels of a stock priced as high as Siemens.
At 210 years old, DuPont is beginning to diversify its business by adding food and agriculture supplies to its paint line, ensuring a more stable forecast for the company's future. As announced towards the end of 2011, the company has initiated a $1 billion share buyback program. DuPont has a very promising ability to generate profit from its employed capital, as suggested by the ROE numeric, while its dividend yield is also the highest amongst its competitors, showing the company's willingness to give back to its investors. Last year, more than a third of the company's profits came from a popular pigment titanium dioxide which helped it to continue its strong run of earnings.
Stock Performance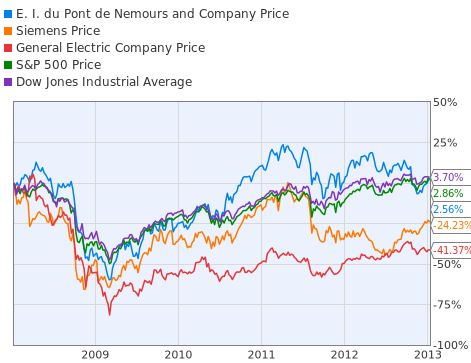 The graph above illustrates the past five-year performance of the three companies under question. They are also compared to the S&P 500 and the Dow Jones Industrial Average to provide a benchmark against the market's performance, which is particularly useful for long-term investors who are looking to build a strong portfolio of stocks. GE has been trailing the market since 2009 and has struggled to keep up with its competitors. In 2012, DuPont outperformed both Siemens and General Electric, though its results were not as promising as expected.. The company's stock performance did not reflect such disappointment, however, and its recent buyback program has also aided a bull run on the stock market.
GE, on the other hand, also announced a dividend increase and a buyback program for investors. Although its stock remains flat, GE's resurgence should not be doubted as the company is up on its price by 12.50% since last year. SI, however, is recovering from a nosedive which ended in June 2012. While the stock has since shown positive growth, there is a lot of uncertainty surrounding the company's latest moves and its profit margins for Q1 of 2013. Both SI and DD are currently setting new upper limits for their 52-week range.
Make or Break for Investors
The pick of the three stocks is General Electric due to its swift recovery since 2009 as it enters new markets. With Jeff Immelt now at the helm, GE seems to have its future sorted out as the company churns out strong results and acquires business-relevant companies. With the tide turning fast, now is a good time to latch onto this profiting stock. Aside from their business ventures, GE also boasts traditional fundamental strengths like a 3.34% dividend yield and a P/E ratio of 15.6. With consistent growth and improvement becoming quickly apparent for the once lost giant, GE might just be the investor's dream stock in 2013.
Morningstar expects SI to top out soon and dip below its current price level. Rather than providing a buy rating for the stock, 3/4 analysts on the site instead gave it a 'hold' rating while one opted for a 'sell'. For GE, 3/5 gave a 'buy' rating while the remaining two gave an 'outperform' and 'hold.' In the case of DD, 1/5 suggested a 'buy', while the remaining 4 gave a 'hold' rating.
Bottom Line
General Electric is run in a very prudent manner to ensure cash flow availability. With growth in 2013 inevitable due to the steps taken over the past 3 years, Jeff Immelt may finally be turning the company into the investor-loved stock it was over ten years ago.
Disclosure: I have no positions in any stocks mentioned, and no plans to initiate any positions within the next 72 hours. I wrote this article myself, and it expresses my own opinions. I am not receiving compensation for it (other than from Seeking Alpha). I have no business relationship with any company whose stock is mentioned in this article.