Introduction
The American economy is showing signs of recovery, and Saudi Arabia continues to provide assurances about the supply of oil - all of which bodes well for oil services companies. But if this is true, then why are the big wigs missing targets and showing next to no growth in earnings? In this article, I take a look at the challenges facing Schlumberger (NYSE:SLB), Halliburton (NYSE:HAL) and Baker Hughes (NYSE:BHI).
Tracking Financials
Here are the three companies for our analysis:
| | | | |
| --- | --- | --- | --- |
| Indicator | | | |
| Market Cap | $96.0 bil | $33.5 bil | $18.6 bil |
| Price/Earnings ttm | 17.9 | 11.8 | 13.7 |
| Price/Book | 2.8 | 2.2 | 1.1 |
| EPS Growth (3 Yr Avg) | -7.4 | 3.9 | -9.2 |
| Dividend Yield % | 1.50 | 0.99 | 1.39 |
| Debt/Equity | 0.3 | 0.3 | 0.2 |
| ROE ttm | 16.9 | 20.9 | 8.7 |
| Current Price | $73.25 | $36.90 | $43.02 |
| | $93-$119 | $67-$83 | $86-$125 |
| Stock Valuation | Undervalued | Undervalued | Undervalued |
| Upside Potential to Reach a Fair Stock Value | 27 % | 81% | 100% |
Data from Morningstar and Financial Visualizations on January 11, 2013
The discounted earnings plus equity model, developed by EFS Investment Partners and applied to the three rivals, suggests that currently, all stocks are undervalued. In addition, EFS' fair stock price valuation indicates that Baker Hughes is trading at a considerable discount.
Schlumberger, the world's largest oilfield-services provider, fell the most in more than a year after forecasting earnings per share to fall by 5% to 7% because of contractual delays and slowing activity of its onshore drilling in the U.S. and western Canada. The company's strong Q3 2012 was supported by international drilling activities, which have now died down due to uncertainty around world economies, such as Europe, Russia and Africa, witnessing a slowdown in activity. The P/E of 17.9 for Schlumberger seems somewhat high, especially after preparing investors for less than rosy results for its Q4 2012. While earnings have shown resurgence over the past two years, the three-year average reflects a negative growth for the company. SLB offers the highest dividend of the remaining competitors in this analysis and has virtually very little debt, especially when one considers the scale of its operations. At about $73, it is also the most expensive stock of the three under consideration.
The demand for services in natural gas fields has declined compared to drilling in expensive, oil-rich areas. While memories of 2010 Deepwater Horizon continue to surround Halliburton, the company now has new problems to ponder. The world's second largest oil field services provider, the company is now embroiled in a $200 million bribery scandal with Nigerian officials. Despite the thickening political tension surrounding Halliburton, the company's operations do not seem to be taking a hit from it. Compared to its peers, it is performing better with regards to earnings due to its high margins. Halliburton's gross margin stands at 17.25%, operating margin at 16.3% and net margin at 10.2%. Like SLB, the company has minimal debt and can finance growth via loans if demand for its services picks up, in addition to the company's strong cash flows. Further emphasizing the company's margins and operating efficiency is the ROE of 20.9. The stock is cheapest of the lot at about $36, but is also the least yielding.
Baker Hughes, the world's third-largest oilfield services company, is expecting its current-quarter margins and revenue to be below earlier expectations. The company's rig counts have been weaker than anticipated in Brazil, Colombia, North Sea and Iraq, and it expects its operating profit margin to lie between 8.5% and 9.5%. BHI has been experiencing close to a 100% increase in its earning per share, but the three-year average is marred by the drop in earnings during the global financial slump from 2009 to 2010. With a P/E of 13.7, the company is fairly valued, but investors should expect BHI to rise significantly in 2013 despite the cut back on expected quarterly results. Compared to 2009-2010, the company is returning to its former strength.
Stock Performance
The graph below illustrates the stock performance of SLB, HAL and BHI over the past 5 years, including the year of the oil slump. Additionally, the S&P 500 and Dow Jones Industrial Average have been included in the comparison in order to gauge the recovery. Compared to pre-2009 price levels, the three companies are still some way off, but their recovery has been heavily influenced by demand shocks. Since the companies operate in the international market, stability in one region is not enough to ensure smooth sailing on the stock market. While Baker Hughes is 44.46% down on its price 5 years ago, Halliburton has clawed its way back to being only 1.87% off its price on the stock market 5 years ago. On the other hand, Schlumberger, the leading oil services provider of the world, has not been able to see similar growth.
While drops in rig counts and cut downs in expected earnings are prevalent across the industry today, Halliburton has a head start over its primary rivals for recovery and growth in 2013.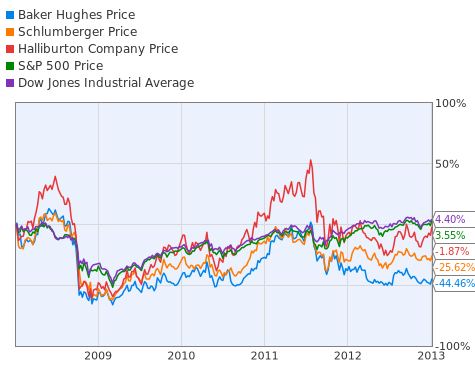 Make or Break for Investors
Due to the nature of the industry, the margins for all three companies will depend heavily on how the global demand and output growth is for 2013. With oil and gas being the primary drivers, prices for both commodities will determine the earnings for the three drilling service providers. Given the sustained levels of free cash flow generation, both Schlumberger and Halliburton are likely to raise their dividends in 2013. Perhaps some investors would prefer waiting for the prices of oil stocks to dive a little lower before they deem it suitable to venture into a buy, which would undoubtedly be a prudent move.
Morningstar analysts provide a 6/6 buy rating for SLB. For HAL, 5/7 analysts provide a buy rating while 2/7 rated it as a hold. BHI has the analysts divided with 3/7 offering a buy rating, 1/6 suggesting outperform and 3/7 rating it as a hold.
Bottom Line
Schlumberger is indeed an expensive stock at a time when the services sector hangs in balance. However, for a long-term investor, SLB is potentially the soundest oil services stock due to the stability the company has shown over the years. While Halliburton has outperformed Schlumberger in the past, it has been very volatile overall and I do not see it as having the potential to outdo Schlumberger in 2013.
Disclosure: I have no positions in any stocks mentioned, and no plans to initiate any positions within the next 72 hours. I wrote this article myself, and it expresses my own opinions. I am not receiving compensation for it (other than from Seeking Alpha). I have no business relationship with any company whose stock is mentioned in this article.