Samsung's (OTC:SSNLF) recent announcement that later in the year it will begin selling smartphones using the Tizen operating system just made Microsoft's (NASDAQ:MSFT) and Research in Motion's (RIMM) smartphone dreams a little more tenuous.
By arriving late to the smartphone party, both Microsoft and RIM had already expected to be fighting an uphill battle to capture share in the hotly contested mobile space. Now, with the world's largest smartphone manufacturer supporting a new mobile OS; the two company's could find it even more difficult to attract developers to support their fledgling platforms. And without developers, a mobile operating system does not stand a chance.
The Big Hurdle?
The "Catch-22" of the maturing mobile market: To capture smartphone market share, you must have a broad and deep inventory of Apps for users to buy; but, to have a broad and deep inventory of Apps, you must first have smartphone market share.
The pressing issue of developer ambivalence for tertiary OSs is highlighted in Google's (NASDAQ:GOOG) announcement that it has no plans to create Apps for Windows 8, citing lack of demand. And while Microsoft can boast over 120,000 apps for it's storefront, the company has been berated by press for the paucity of popular favorites. Perhaps in a worse position, RIM is starting from scratch with BlackBerry 10. Legacy Apps created for RIM smartphones will not be able to run on the new OS, and given RIM's recent track record with smartphones, capturing the attention of developers is likely to be an issue.
In the maturing smartphone market, content is king, the Online Publishers Association estimates smartphone users, in the past year, download 36 apps per user. And with each download, the smartphone user becomes more tightly invested into their current smartphone ecosystem increasing platform switching costs.
As competing technology begin to reach a point of parity, purchase decisions will be increasingly driven by customer ecosystem preference/loyalty. Microsoft and RIM now face the hurdles of ever increasing switching costs of smartphone owners as well as the high expectations of a demanding and sophisticated app user base.
Too Late in the US?
In the maturing US smartphone market, with product penetration recently eclipsing 50%, it is quickly becoming a two horse race in mobile platforms, with Android and Apple's iOS (NASDAQ:AAPL) accounting for 85% of the market.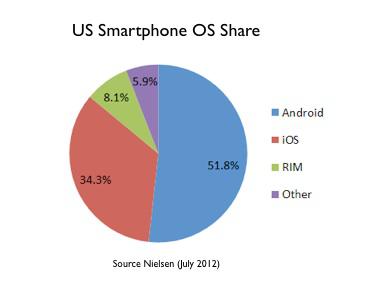 Without adequate content from developers, Redmond and Waterloo are facing increased risk of being relegated to niche players in the US mobile market - a position neither company, or their shareholders, will be comfortable with.
Samsung: A Growing Allergy to Android?
Ironically, Microsoft and RIM are simply collateral damage in the high stakes battlefield on display as Apple, Google and Samsung duke it out for smartphone supremacy. Samsung's "Tizen Test" is clearly targeted at deleveraging the Android behemoth.
The graph below highlights Android's dominate the Worldwide smartphone OS space. The acquisition of Motorola by Google last year has clearly rattled Samsung - the worlds largest manufacturer of Android devices. Google's entry into handsets via Motorola has left Samsung scrambling to remove some of Google's leverage in mobile, hence Samsung's plans to test Tizen OS.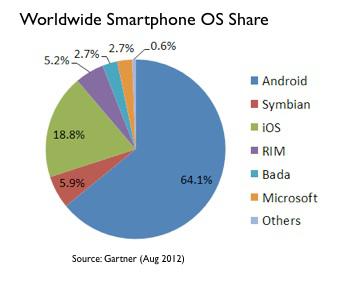 Having transformed itself into a smartphone juggernaut with the Galaxy S III and Galaxy Note II line of smartphones, Samsung currently manufactures over 30% of the world's smartphones. The company's plans to support Tizen will surely capture the attention of the world's app developers, shifting much needed focus away from Microsoft's and RIM's smartphone platforms.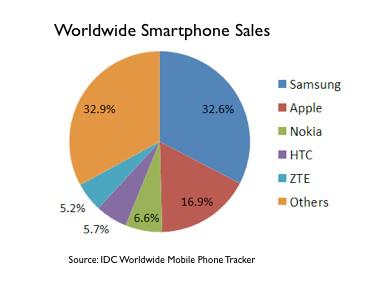 The Bad News for Microsoft and RIM? There is no Good News.
Unfortunately for Microsoft and RIM investors, whether Tizen succeeds or fails in the marketplace may be irrelevant. Simply having another mobile platform for developers to focus on will sap the momentum of the both the company's ongoing smartphone efforts.
More mature smartphone markets, like the US, are now made up of market leaders (Android and iOS) and tertiary players. Platform switching costs and user app expectations continue to increase, creating formidable obstacles to Microsoft and RIMs mobile efforts.
While opportunities may still exist in emerging markets for Microsoft and RIM, you can now expect Samsung to be leading the charge in these markets with Tizen.
Given the competitive advantages that exist for Android and iOS and Samsung's apparent strategy to support Tizen, investments in Microsoft and RIM's mobile strategies appear to be showing increased downside risk.
About Tizen
The Tizen Association formed last year, is backed by Samsung, Intel (NASDAQ:INTC), NTT DoCoMo (DCM) and Vodafone Group (NASDAQ:VOD), to support an open source ecosystem for multiple device categories including smartphones, tablets, in-vehicle infotainment and smart TVs.
More by Shamblin:
Why Apple will Maintain Table Share: A lesson from the iPod
Disclosure: I am long AAPL, GOOG. I wrote this article myself, and it expresses my own opinions. I am not receiving compensation for it (other than from Seeking Alpha). I have no business relationship with any company whose stock is mentioned in this article.