We are looking for a quiet day into the close of the week and would be happy to take our gains into the weekend. With the recent gains we are looking to diversify some of our positions and trade out of others which appear to have run their course. We will need to look over these this weekend but might make an exit should certain levels get hit.
With Japan's spending plans, we could see electricity consumption increase in the coming months and that would be good for uranium which we highlighted yesterday. Commodities in general would do well with a Japan focused on growth and requiring the importation of nearly every commodity needed in today's world.
Commodity prices this morning are as follows:
Gold: $1668.70/ounce down by $9.30/ounce
Silver: $30.65/ounce down by $0.268/ounce
Oil: $93.13/barrel down by $0.69/barrel
RBOB Gas: $2.7551/gallon down by $0.0382/gallon
Natural Gas: $3.259/MMbtu up by $0.066/MMbtu
Oil & Natural Gas
This morning we want to highlight a company we have been doing some preliminary research into over the past few weeks in our free time. Many readers who have joined us in the Gulfport position have exposure via that holding to the company but may want to use a direct investment in order to diversify the oil and natural gas portion of your portfolio and gain added exposure to oil. The company we are talking about is Diamondback Energy (NASDAQ:FANG) which recently went public and purchased Gulfport's Permian assets.
The shares have been on a hot streak lately with new 52-week highs (and consequently new all-time highs) being set as this story gets out. The company is exactly what you want in an E&P right now, a decently leveraged player with a production growth profile with little exposure to dry natural gas and production and exploration heavily skewed towards oil. Unfortunately the company does not yet have a website up (how is that possible in this day?) so we will need to call investor relations to get the last bit of data we are seeking. For those who like to do their own research however, we wanted to highlight this idea.
Rare Earths
Over the years we have taken beatings when pointing out hot stocks which were rising incorrectly or had issues ahead which market participants could not see due to the blindness created when bull market euphoria sets in. There are some signs that pop up in the resource market which are recurring and that seems to have been the issue with Molycorp (MCP) yesterday. Getting production up and running is never easy, in fact, most companies have production hiccups when ramping up production, and this is a portion of Molycorp's issue.
They announced yesterday morning that they are fully operational and ready to go, however, the nasty surprise was that the company announced that sales and cash flow for 2013 are now expected to be lower than previously discovered. Also, they are putting on hold Phase II until market conditions warrant production, however they do already have most of the materials on site to complete Phase II.
Pretty strange stuff, especially when one considers that the company could have just thrown the kitchen sink at investors back when they forced CEO Mark Smith out and at least paved the path to announce this little bit of good news after they had flushed out all the bad. How, and maybe more importantly why, this was not considered or even carried out is beside us but it might just highlight another short coming in the overall management of the company. Investors were not pleased, to say it politely, as shares closed at $8.34/share after falling $2.45 (22.71%) on heavy volume. Glad we told investors to get out before this latest fiasco.
Precious Metals
The precious metals had a nice day yesterday with gold grabbing the headlines. Not to get too cute, but gold in Yin terms will probably be in a bull market for some time, at least until the economic stimulus ends and longer should the stimulus work in boosting growth.
We were happy to see Yamana Gold (NYSE:AUY) rise $0.98 (5.94%) to close at $17.49/share and doing so on healthy volume of 9.4 million. Yes, we are off of the yearly highs, but we also bounced off of a bit of support and for those looking for exposure to gold via a producer rather than physical holdings we think this is a logical choice. We do not have any in our portfolio as we are geared towards some explorers, but when we rotate out of those positions and should we still require exposure to gold this would be one of the first places we would look.
The other one would be AuRico Gold (NYSE:AUQ) which we have now been bullish on for a couple of months. It is always great to be able to buy on overreactions to news, especially when you know the value is literally in the company's properties. We led readers into this and many have done well according to your emails we receive. We did receive this question the other day from Rick:
Hi Matthew,

I have been enjoying your articles for about a year and have profited handsomely! Thank you for highlighting GPOR and AUQ. I took a position in PZG at the same time I purchased AUQ, to diversify against company specific risk. Since then, PZG has underperformed AUQ. I am thinking of liquidating PZG and rolling it in to AUQ. Thoughts?

-Rick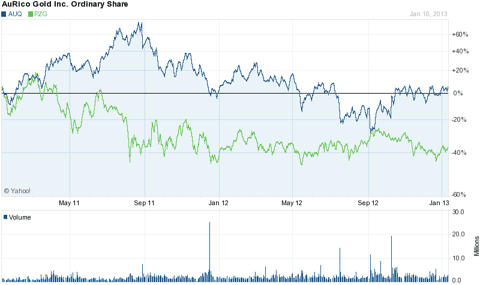 Chart courtesy of Yahoo Finance.
For trading purposes (if you wanted to have core positions with trading positions on the side) one could look at when AUQ is underperforming vs. PZG as a buying opportunity for AUQ and a selling opportunity for PZG. That is a trend which has held true for quite some time.
We appreciate the question, and from time to time moving forward we will answer some of these in the daily articles. So if you have anything pertinent or general comments send us something via our Seeking Alpha message center, email, or Twitter (@theinvestar) which we prefer because our phone is always on us.
To address your question Rick, we like both companies. As you stated you purchased the Paramount (NYSEMKT:PZG) in order to diversify against the company specific risk which is inherent in resource investing, especially mining and that is one of our number one rules. No matter how great the project looks or what the geology says via drill results and geological mapping, no one ever truly knows until the ore begins to be mined and processed. Out of the two we like AuRico better at this time due to the production, the company's proven ability to monetize assets and the overall size.
However, we like the upside that Paramount Gold & Silver has with their projects which continue to add resources via drilling which is both infill and step-out. Keep in mind the cycle that these resource companies go through from capital raisers, to explorers, to developers and finally producers. It is a long journey which requires a lot of capital and patience on investors' part. The company either develops this asset themselves or they simply get bought out by their neighbors. Also, there are some who think that this should rise every time they have a new resource report out and continue to spout that. Do not buy into that because after the first report all the rest have minimal impact in our experience.
So to summarize, if it was us we would keep both as AuRico should lead you higher in the short-term and Paramount is a really cheap call option if the company gets bought and simply a nice long-term play should they go it alone and develop everything in-house.
Hope that helps!
Disclosure: I have no positions in any stocks mentioned, and no plans to initiate any positions within the next 72 hours. I wrote this article myself, and it expresses my own opinions. I am not receiving compensation for it (other than from Seeking Alpha). I have no business relationship with any company whose stock is mentioned in this article.
Additional disclosure: I do own Gulfport Energy (NASDAQ:GPOR) shares and that company owns a large position in Diamondback Energy (FANG).