There have been numerous articles written lately referencing various market share data on Apple (NASDAQ:AAPL). Like most things in life, the proper interpretation of the data depends on understanding the details and context of the data. In the case of Apple and handsets, it depends on whether the market share refers to worldwide or just U.S., total revenue or number of units sold, and smartphones or all handsets (both smartphone and feature phones). This article attempts to consolidate all of the various market share information into one place so that it's easier for Apple investors to reference and interpret. This article also may be helpful for investors of other handset manufacturers, including Samsung (OTC:SSNLF), Nokia (NYSE:NOK), Google/Motorola (NASDAQ:GOOG), Research In Motion (RIMM), HTC (OTC:HTCKF), and Sony (NYSE:SNE).
There will be very little qualitative commentary, mostly raw data and graphs (I'll leave the interpreting to you). Also, please pay attention to the title of each graph so you fully understand the context of the data. Data has been compiled from various sources, including Wall Street Research report (from December 2012, so it's recent), Strategy Analytics, comScore, Kantar, and various press releases and news articles. I hope you find this helpful.
Global Handset (Smartphone and Feature Phones)
Let's start high level first and look at the global handset market (smartphone and feature phones). We'll look at how the total market has grown in the past few years, both in terms of revenue ($289.4 billion in 2012E) and units sold (1.9 billion units in 2012E). As you can see, and probably expected, smartphones have dramatically taken market share from feature phones over the years, and now comprise of 83% of the global market by revenue (40% by units).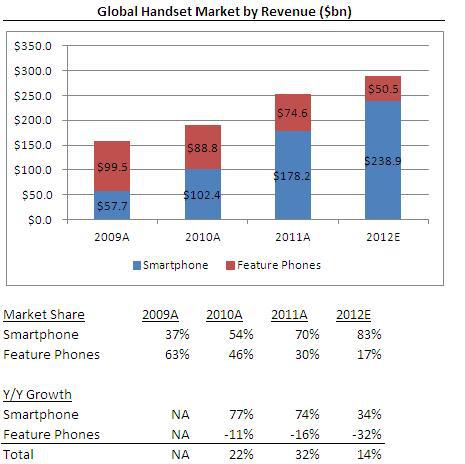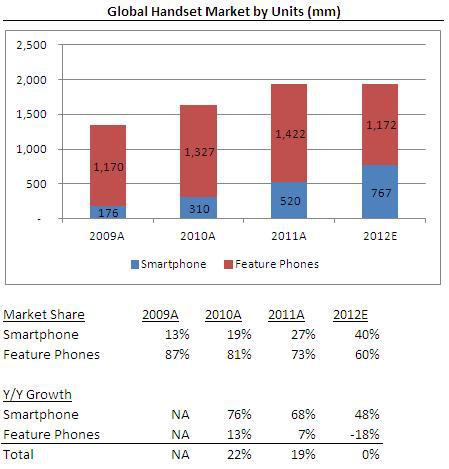 Now let's look at how much market share (smartphones and feature phones) that each major brand has globally, both in terms of revenue and units sold.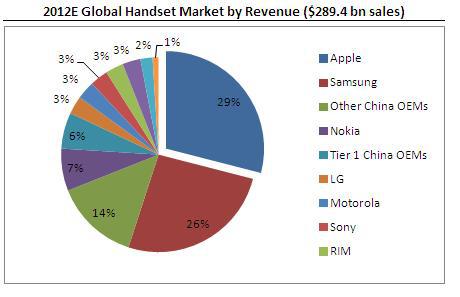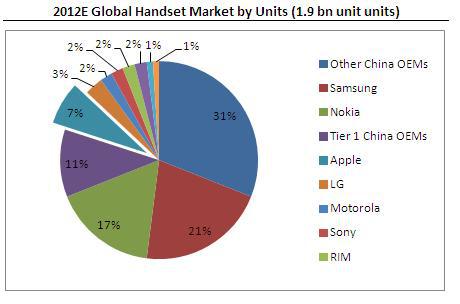 Next, let's look at the average selling price, or ASP, of each brand. This helps explain why Apple's share of global handset revenue is 29%, but only 7% of global handset units (Apple charges $618 per phone vs. the average of $149, given most feature phones are priced below $50).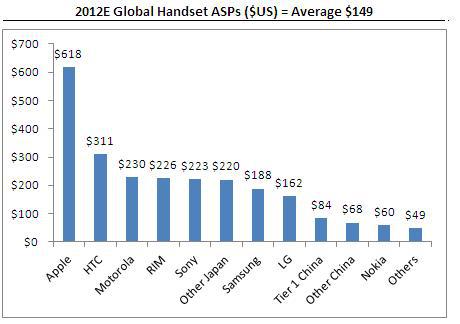 Finally, let's look at the global handset revenue growth of each brand from 2009-12. Not surprisingly, brands positioned in the smartphone category (Apple and Samsung) have taken market share from traditional manufacturers that have both feature phone and smartphone products (Nokia, Sony, and RIM). HTC went on a pretty wild roller coaster ride (the revenue growth looks similar to its stock price during that time as well).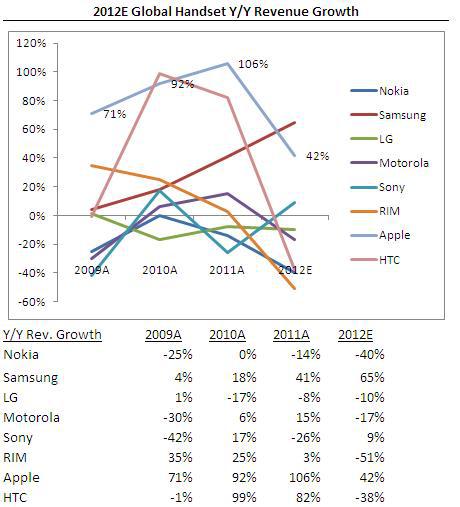 Global Smartphone Only
Now let's turn our focus to just the global smartphone category (excluding feature phones). Again, we'll look at data by revenue and by units.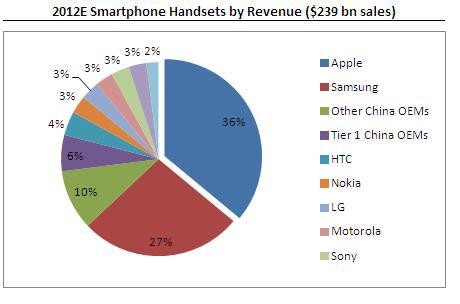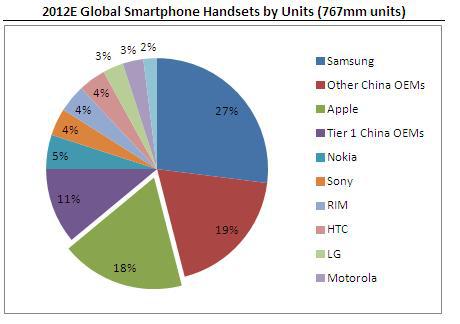 Again, we'll show ASP by each brand, to help better understand the difference between Apple's global smartphone revenue market share (36%) and unit market share (18%). Note that the average ASP is around $311 USD (compared to Apple at $618).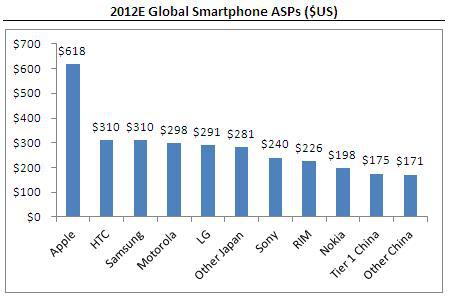 Global Feature Phones Only
I don't want to spend too much time on the feature phone category, given that it's getting phased out and replaced by smartphones, and is down to just 17% of global handset revenue. I'll just cover the market share by revenue (China OEMs dominate, followed by Nokia and Samsung) and reference that the average selling price for feature phones globally is around $40-$45 USD.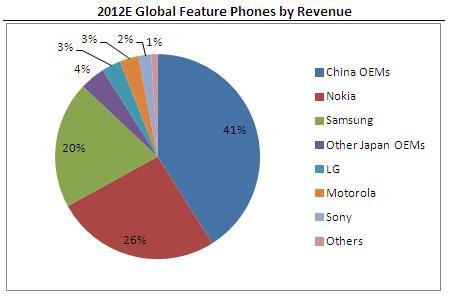 United States Only
As it relates to the United States only, for smartphones and feature phones, as of November 2012 Apple has 18.5% market share, according to comScore.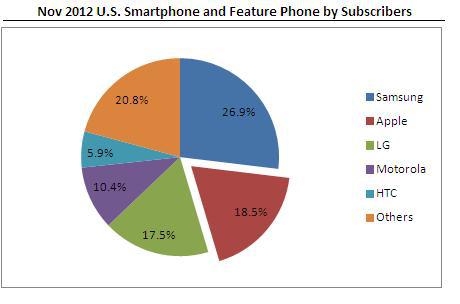 For just smartphones in the U.S., as of November 2012 Apple has 53.3% market share, according to Kantar Worldpanel ComTech.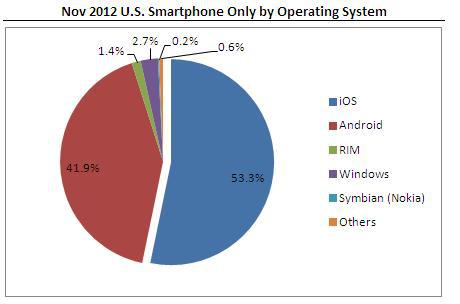 Conclusion
Hopefully this article was helpful in clarifying and framing key metrics and market share statistics in the global handset industry. The devil is in the details as they say, so always understand the context of the data that gets quoted or referenced. Finally, note that all of these graphs were based on revenue or units sold. If you want to look at market share of profits, you would need to look at the gross margins each manufacturer makes (which is hard to get). By the way, if you're interested in my previous two articles on Apple, click here and here (the gross margin article took a good amount of digging to compile as well).
Disclosure: I am long AAPL. I wrote this article myself, and it expresses my own opinions. I am not receiving compensation for it (other than from Seeking Alpha). I have no business relationship with any company whose stock is mentioned in this article.