PotashCorp (NYSE:POT) common stock is likely to perform well in the next two years due to the following factors:
strong fundamentals and favorable valuation based on a number of metrics,

a new potash export deal with China's Sinofert for 1,000,000 tons of potash in the first half of 2013 at $400 per ton, and

continued increase in demand for fertilizers, caused by higher crop prices, rising population, and higher living standards in developing countries.
While PotashCorp is down by about 1% (compared to a flat performance for the S&P 500) since my last discussion of the company on September 17, 2012, this decline is likely only temporary (see graph). The decline was largely driven after the company reported a slightly lower than expected quarterly results for the three months ending September 30, 2012. However, longer term, PotashCorp's common stock should be able to make up for this slip in earnings as the company remains the leading potash (as well as phosphate and nitrogen) seller.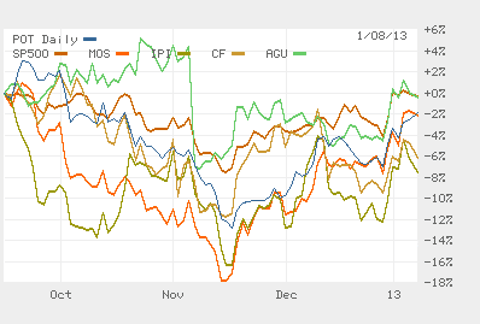 Fundamentals and Valuation
PotashCorp has about 865 million shares outstanding for a market capitalization of $36.8 billion and an enterprise value (EV) of $40 billion at the time of this writing. The company is clearly the largest of the largest North American fertilizer companies such as Mosaic (NYSE:MOS), Agrium (NYSE:AGU), CF Industries (NYSE:CF), and Intrepid Potash (NYSE:IPI) who have market capitalization of $25.4, $15.6, $13.6, and $1.7 billion, respectively. While PotashCorp is the largest company, it also commands one of the largest earnings before interest, tax, depreciation, and amortization (EBITDA) margins of 43.3% compared to an EBITDA margin of 27.9%, 15.1%, 55.9%, and 42% for Mosaic, Agrium, CF Industries, and Intrepid Potash, respectively. Below are some other fundamentals and valuation measures for PotashCorp and how they stack up with its major North American competitors:
| | | | | | |
| --- | --- | --- | --- | --- | --- |
| | POT | MOS | AGU | CF | IPI |
| Potash as a % of sales (latest quarter) | 44.6% | 30.8% | 2.7%* | n/a | 92.0% |
| Annualized dividend yield | 2.0% | 1.7% | 1.9% | 0.8% | nil |
| 2013 Est. Price to Earnings ratio | 13.2 | 11.6 | 10.6 | 8.4 | 16.1 |
| Beta | 1.1 | 1.3 | 1.6 | 1.2 | 1.3 |
| Price to Book (tangible) | 3.9 | 2.3 | 3.4 | 4 | 1.8 |
Source: Reuters, SEC Filings, author estimates.
*Includes only wholesale potash.
PotashCorp has the lowest beta and this implies that the stock moves in closest unison with the general market. In addition, PotashCorp has one of the highest dividend yields at 2.0%. Another common characteristic that most of these companies share is that they are expanding potash exploration and mining. For example, Mosaic is building its K3 mine scheduled for completion in 2017, Agrium is expanding its Vanscoy mine, and Intrepid Potash is developing two new potash solution mines. PotashCorp is the company with the largest expansion underway, expected to increase PotashCorp capacity by 5+ million tons by 2016, from about 11 million tons in 2011. Since most of the expansion activity is happening in Saskatchewan, Neptune Terminals, the major exporting point to Asia and South America for potash mined from Saskatchewan, is also increasing its capacity. Neptune Terminals expects to build up its annual capacity to 11.5 million tons of potash by the end of 2013, up from 6 million tons in 2011.
The Winds Blow East
One of the most significant events and catalysts for the potash industry in the past few months was PotashCorp's deal with Sinofert. The deal was for 1,000,000 tons at $400 per ton to be delivered in the first half of 2013 and is one of the largest such deals of all time in term of quantity to be delivered in less than a year. While this pricing was lower by $70 per ton than the last deal signed in March 2012, it removes uncertainty surrounding Chinese purchase of potash. Also, industry observers noted that this could serve as a floor price when PotashCorp negotiates with India, another large customer that has been postponing potash purchases. Finally, the $400 per ton price still leaves a gross margin of $240 per ton for PotashCorp and it is still much higher compared to the price of $160 per ton only ten years ago.
Secular Demand
One of the best examples for the rising demand for fertilizers is the Woods Farm in Tennessee. Instead of giving up farming in 2012 due to the drought, Bill Woods, the owner of the farm, took advantage of the warm weather. By using fertilizers, including potash, he and his helpers were able to grow two crops in one season - DEKALB corn followed by Asgrow AG2931 soybeans.
As the weather patterns around the world change (usually for the worse) and demand for food increases (the annual world population net growth is 75 million) it is even likelier that farmers will continue using fertilizers. Additional uses of potash, such as for farm animal feed and in industry completely different from farming such as plastics, recycling of aluminum, and oil-well drilling fluid, are likely to contribute for a stable and perhaps rising price of these potassium salts.
Conclusion
While PotashCorp will likely have lower earnings in 2012 and 2013 due to lower potash prices, the company remains a unique investment opportunity in the potash area. It is one of the most efficient potash producers operating primarily in Saskatchewan, which has the largest potash deposits in the world (among only a handful of other places). The recent deal with Sinofert should provide some clarity and spark more demand from large buyers such as India. With demand of potash (and its price) likely to increase, PotashCorp has one of the best risk/reward ratios in this area.
Disclosure: I have no positions in any stocks mentioned, and no plans to initiate any positions within the next 72 hours. I wrote this article myself, and it expresses my own opinions. I am not receiving compensation for it (other than from Seeking Alpha). I have no business relationship with any company whose stock is mentioned in this article.