On January 2, 2013, the Seaway Crude Oil Pipeline Company LLC announced final preparations for an increase in the pipeline's capacity from 150,000 to 400,000 BPD. The 500-mile long 30-inch diameter pipeline is expected to resume operations at full rates by the end of this week.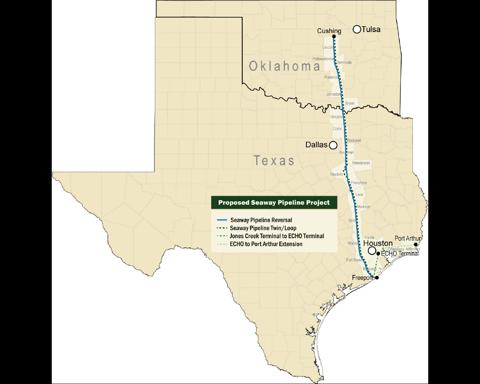 The Seaway Crude Pipeline Company LLC is a 50/50 joint venture owned by affiliates of Enterprise Products Partners (NYSE:EPD) and Enbridge Inc. (NYSE:ENB). The pipeline transports crude oil from Cushing, OK, to the Gulf Coast. The Seaway system includes a terminal and distribution network in Texas City that serves refineries locally and in the Houston area. The Seaway system also includes dock facilities at Freeport and Texas City.
During a binding open commitment period held January 4, 2012 to February 10, 2012, shippers executed long-term, crude oil transportation agreements that provided the support necessary to move forward with construction of a "twin" of the Seaway Pipeline. The new pipeline will be laid parallel to the existing right-of-way from Cushing to the Gulf Coast. It is expected to more than double Seaway's capacity to 850,000 BPD by first-quarter 2014.
For now, the additional 250,000 BPD capability will certainly help alleviate the bottleneck at Cushing, OK, which is, in part, responsible for the large spread between Brent and WTI prices. This is bullish not only for the pipeline owners, EPD and ENB, but also those producers of crude that stand to profit from higher realized prices for their product.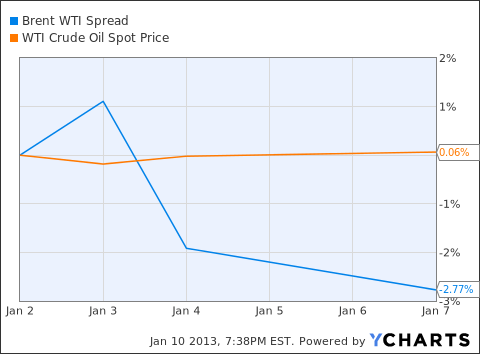 Brent WTI Spread data by YCharts
Indeed, since the expansion announcement at the beginning of the year, the Brent/WTI spread has fallen by -2.8% while WTI prices are essentially flat. I would expect the trend in the spread to continue as the pipeline becomes operational and brimming supplies in Cushing can finally begin to drain to the Gulf Coast a little faster. That said, with production increases from the Canadian oil sands and the Bakken throughout 2013, the extra 450,000 BPD in capacity from the Seaway "twin" pipeline (expected to be operational by Q1 2014) will likely be maxed out.
Still, the additional 250,000 BPD of capacity coming online this week is a welcome development for Canadian oil sands producer Suncor Energy (NYSE:SU). Suncor's stock has done little the past year as realized prices for its heavy crude have struggled with pipeline bottlenecks in the U.S. and as competition with light-sweet Bakken crude has intensified. Luckily, SU was able to benefit from the Brent/WTI spread in its downstream refining business. The downstream segment had record profits in Q3 2012, reinforcing the value of SU's integrated model.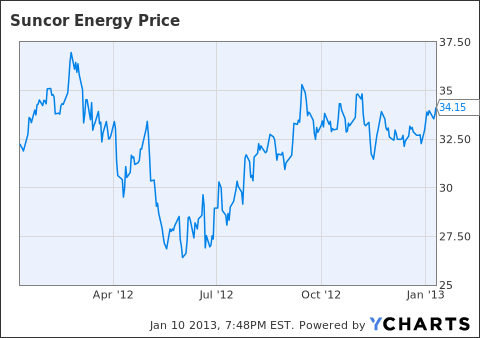 SU data by YCharts
SU = $34.15
Mkt Cap = $52.3 billion
P/E ((ttm)) = 10.9
EPS ((ttm)) = $3.12
Div (Yield) = $0.52 (1.5%)
Some analysts expect Canadian heavy to take up a majority of the new Seaway pipeline capacity. After all, refineries on the Gulf Coast configured for heavy crude can only adapt to run light-sweet shale crude (from the Bakken, Permian and Eagle Ford) by reducing their throughput considerably or undergoing expensive alterations. Canadian heavy is therefore more attractive to those Gulf Coast refiners. There is greater Gulf Coast capacity for heavy crude. It is more efficient and economic for those refineries to run heavy rather than light-sweet shale oil, which commands a price premium.
BP's Whiting Refinery Will Increase Canadian Heavy Feedstock
BP (NYSE:BP) is updating its Whiting refinery in northwest Indiana, to increase throughput by 15% and handle more heavy crude. BP plans to increase Canadian oil sands feedstock at Whiting from 30% to 80%-90%. Whiting is the largest refinery in the Midwest region, the biggest inland refinery in the U.S., and the third-largest refinery in the country. It processes approximately 405,000 BPD of crude oil into petrol, diesel, aviation fuel, propane and 10% of the asphalt used in the U.S.
Increased Seaway capacity and increased oil sands crude utilization at Whiting are two bullish developments for Suncor Energy in 2013. A third catalyst for SU would be approval of the Keystone XL pipeline.
Meantime, SU has made excellent operational improvements. The Q3 2012 earnings report can be found here and the conference call transcript can be read here. Steve Williams, Suncor President and CEO, had this to say:
During the third quarter, we achieved a number of operational milestones. We set a new Oil Sands production record, cash operating costs were under $35 per barrel, and we reached full capacity at Firebag Stage 3 facilities.
Oil Sands production (excluding Suncor's proportionate share of production from the Syncrude joint venture) contributed an average of 341,300 bbls/d in the third quarter of 2012, compared with third quarter 2011 production of 326,600 bpd.
At Firebag, average bitumen production in the third quarter of 2012 increased to 113,000 bpd from 95,800 bpd in the second quarter of 2012 and 54,800 bpd in the third quarter of 2011. Stage 3 central processing facilities reached full design capacity during the quarter, and production rates exiting the third quarter were approximately 120,000 bpd. First oil for Stage 3 was brought on-stream in August 2011 and, with the application of infill well technology, the ramp up of production has exceeded previous expectations.
Suncor Energy: Focusing on Shareholder Returns
Suncor has transitioned from a company making huge capital outlays to increase production to a company now focused on shareholder returns. Suncor returns cash to shareholders through dividends and share repurchases. The company completed its initial $1.5 billion common share repurchase program during Q3 2012 and, in September, announced a new program that is authorized for up to $1 billion of additional share repurchases. The company increased its quarterly dividend 18%, to $0.13 per share from $0.11 per share, in Q1. Listening to the CEO on the earnings conference call, I expect further increases in the dividend in 2013.
The complex Gulf Coast crude supply/demand situation is difficult for crude traders and analysts to predict. Recent developments seem to benefit Suncor Energy. However, the WTI discount to Brent is tied to many factors besides the level of crude stocks at Cushing. The spread will not resolve itself overnight through one or two new pipelines but will play out over the next couple years as additional pipelines battle it out with increasing production. I think the spread will gradually decline and end up around $8-12/barrel in 2015. Along the way there will be plenty of surprises caused by demand fluctuations, crude quality issues, and a potential supply surplus on the Gulf coast.
Disclosure: I am long SU. I wrote this article myself, and it expresses my own opinions. I am not receiving compensation for it (other than from Seeking Alpha). I have no business relationship with any company whose stock is mentioned in this article.
Additional disclosure: I am an engineer, not a CFA. Please do your own research and contact your investment adviser. I am not responsible for investment decisions you make. Thanks for reading and good luck!