It should seem readily apparent that for the next several years, Google (NASDAQ:GOOG) and Amazon.com, Inc. (NASDAQ:AMZN) will be fighting for control, if not outright dominance, of the worldwide Internet user. From their rather tightly defined beginnings in online search (for Google) and online retailing (for Amazon), both companies have expanded their reach into a variety of segments, from video streaming to mobile hardware and cloud services. As Reuters noted in December, the two companies appear set on a "collision course" this year, as Amazon and Google compete on new frontiers well beyond their original target markets.
Despite the companies' convergence into similar markets, and the lack of any other substantial competition -- trailing twelve-month revenue at Yahoo (YHOO) and Facebook (NASDAQ:FB) is roughly one-tenth that of Google, and one-twelfth that of Amazon -- the companies' valuation profiles couldn't be more different:
AMZN v GOOG
| | | |
| --- | --- | --- |
| Company | Amazon | Google |
| Market Cap | $120.2B | $243.6B |
| TTM Revenue | $57.3B | $47.5B |
| Operating Margin | 0.93% | 27.00% |
| Forward P/E | 152.5 | 16.0 |
data courtesy finviz.com
Of course, this isn't necessarily news -- Amazon's ability to maintain its high P/E ratio has been widely known and hotly debated. Nor do the numbers require some sort of regression toward the center, where the multiples are more similar. (Though GOOG longs certainly wouldn't mind; given Amazon's current multiple, Google's market cap would be $2.32 trillion.)
But what has been somewhat overlooked is the dissonance in the logic that the market uses to justify the vastly different multiples. In Amazon's case, the bull thesis has been that Amazon's margins essentially don't matter, at least not yet. Amazon CEO Jeff Bezos made the point in a widely publicized interview last weekend with the Harvard Business Review:
ADI IGNATIUS: At what point will the goal change from lowering margins, building market share, to making a bigger profit?

JEFF BEZOS: Percentage margins are not one of the things we are seeking to optimize. It's the absolute dollar-free cash flow per share that you want to maximize, and if you can do that by lowering margins, we would do that. So if you could take the free cash flow, that's something that investors can spend. Investors can't spend percentage margins.
Bloomberg BusinessWeek noted that Bezos' comments were nothing new:
Bezos has been reliably saying this sort of thing for years...[He] is more concerned with driving cash flow than making money because he believes the opportunity offered by the Internet, and by e-commerce, is massive and still largely untapped. To him, it's still a land grab. So he's prepared to cut prices to the bone and add all those freebies to cultivate customer loyalty and drive sales growth. Then he reinvests it all in more low prices and further expansion, driving additional customer loyalty.
Whether this strategy is correct for the company is unclear (and whether it is best for the stock is perhaps an entirely different argument) but, what is clear is that the market, for the most part, has bought into Bezos' strategy;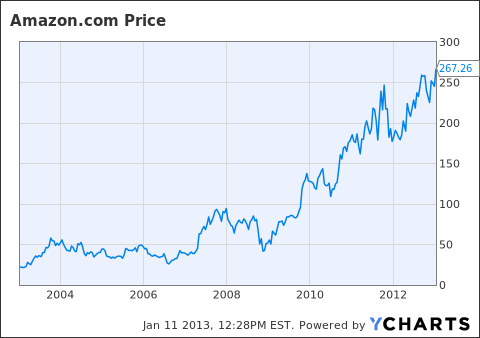 AMZN data by YCharts
In short, Amazon's continued investment in new fulfillment centers, the sold-at-cost Kindle line of devices, a streaming video service to rival that of industry leader Netflix (NASDAQ:NFLX), and other ventures are designed to increase market share. That increased market share will increase future profits at a rate greater than the loss of current profits. Thus, Amazon stock should be measured on its earnings power, rather than its actual earnings -- or so the theory goes.
Again, I'm not interested in speculating whether that theory is correct or not. I can certainly understand Bezos' motivation -- and I do respect his determined lack of interest in Wall Street's opinion, though its long-term acquiescence to his vision has no doubt made his road far less bumpy. I'm also sympathetic to investors who have little interest in owning a stock that trades at a triple-digit multiple and offers a free cash flow yield below one percent.
What I do find interesting, however, is that Google is treated so differently from Amazon, despite sharing many aspects of its rival's strategy. Like Amazon, Google has made myriad attempts to expand its reach. It is investing in projects such as self-driving cars, renewable energy and "augmented reality head-mounted displays." It is also tackling more conventional ways to expand its market share, through its purchase of Motorola Mobility, by competing with Amazon's touted Amazon Web Services in cloud computing, and by expanding its retail reach and potentially offering same-day delivery.
Yet while Bezos is lionized for his hard-charging, revolutionary management style -- indeed, the Harvard Business Review interview was held in conjunction with Bezos being named its "greatest living CEO" -- Google's investments seem ignored, even derided. Its investments -- at least those that are more publicized, such as the automotive and "Project Glass" initiatives -- seem too geeky, the result of engineers getting free lunches and 20 percent of their time to goof off and dream up complicated but impractical schemes.
But the fact remains that Google is competing every bit as hard as Amazon to become the dominant player on the Internet. The company's acquisition strategy recently has been more aggressive relative to that of Amazon, and its own investments have been more significant as well:
R&D Spending, Google and Amazon
| | | | | |
| --- | --- | --- | --- | --- |
| Year | Google R&D | % Sales | Amazon R&D* | % Sales |
| 2011 | $5.162B | 13.6% | $2.909B | 6.1% |
| 2012** | $5.035B | 13.6% | $3.219B | 8.1% |
* -- Amazon categorizes R&D spending as "technology and content" spending, which consists " principally of technology infrastructure expenses and payroll and related expenses for employees involved in application, product, and platform development, category expansion, editorial content, buying, merchandising selection, and systems support, digital initiatives, as well as costs associated with the compute, storage and telecommunications infrastructure used internally and supporting [Amazon Web Services]," according to the most recent 10-K.
** -- first nine months
Yet it is Amazon that is lauded, and its share price supported, for its aggressive expansion of its business, while Google sits in value stock territory -- the stock trades, ex-cash, at about 13x forward earnings -- and its own margins are constantly scrutinized.
Granted, the increasing move to mobile usage is a key headwind for Google, and in terms of dominating the Internet Amazon has been winning of late; its revenue will rise 153% between 2009 and 2012, based on current analyst estimates. There are certainly myriad reasons for the sharp divergence in earnings multiples between the two companies.
Yet, at the same time, it's not as if Google is simply fading into the background. Its three-year revenue growth should total about 75 percent; not quite at Amazon's levels, but certainly a strong rate for a company with a far lower earnings multiple. And if Amazon is judged off its potential earnings power, why isn't Google? If Google decided to do what so many have urged Amazon to do, and focused simply on near-term results, it could expand its earnings tremendously. Simply lowering its total R&D spending to that of Amazon would juice 2013 earnings by somewhere in the range of 15 percent; matching its R&D spend as a percentage of revenue would provide an even greater boost. Google's dominant market share in search surely gives it pricing power, which it could easily use to boost near-term margins, in the same way many investors wish Amazon would.
Google management is unlikely to take those steps, as it intends to -- indeed, has to -- fight Amazon (and, potentially, Facebook) across the Internet. That strategy -- foregoing near-term profits for long-term market share gains -- has made Amazon a Wall Street darling, but done little for Google's own share price: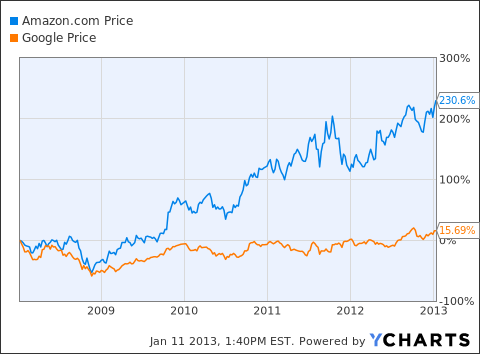 AMZN data by YCharts
It seems strange. Unless Jeff Bezos is simply that good, or Google simply that bad, both companies seem set to carve out a good-sized portion of worldwide Internet revenue for themselves. Admittedly, it's impossible to predict who will come out on top, and to what extent. What is apparent, though, is that, despite embarking on a very similar path, Google is being treated very differently from its rival. And as the valuation gap between the two companies continues to grow, it makes less and less sense.
Disclosure: I have no positions in any stocks mentioned, and no plans to initiate any positions within the next 72 hours. I wrote this article myself, and it expresses my own opinions. I am not receiving compensation for it (other than from Seeking Alpha). I have no business relationship with any company whose stock is mentioned in this article.