I spent most of December sharing ideas about beaten up stocks that could enjoy a big bounce as the calendar flipped. While this theme has certainly played out successfully, it's time to change the approach. Rather than focusing on beaten up stocks that were due for a bounce for technical reasons but likely only a trade because of challenging long-term fundamentals, this is the time to think about longer-term prospects.
Last week, I shared my thoughts about some investment themes to consider as we pass the fiscal cliff. I have addressed two of these more in depth recently (emerging markets and small-cap), but I want to focus today on the third, which is growth. 2012 was a tough year for growth, as it was hard to find due to the slow economy. Many of the companies that did grow benefited potentially from "crowding in", which is when investors focus on the narrow group of companies growing sharply and exceeding expectations. The problem with this strategy is two-fold. First, watch out below when the stock no longer qualifies. Second, if the universe of companies that are "meeting or beating" grows, your expensive stock can become a "source of funds".
As I suggested, 2012 wasn't very friendly to "growth". S&P provides "growth" and "value" indices, and December and all of Q4 saw a huge outperformance by "value". This action left "growth" in the dust across all market caps: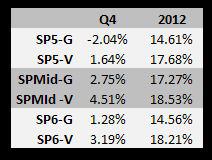 Note that this was 3 for 3 in both Q4 and all of 2012: "Value" dominated "growth". The returns for the S&P 500 (NYSEARCA:SPY) were -0.38% in Q4 and an even 16% for the full year. Certainly the strength in Financials and the late-year weakness in Technology played a role.
Looking ahead, I am expecting that 2013 could prove to be a better year with respect to economic growth than the economists forecast. I don't blame anyone for disagreeing by the way! If you do agree, you might want to read on. If not, my strategy is likely not going to work.
I mentioned the "crowding in", and I have only limited interest in the stocks that have benefited from that phenomenon. I think a better use of capital right now is to identify companies with strong long-term growth potential but that perhaps had a tough 2012. There are plenty of good companies that can have bad years. Anyone ever look at the history of the largest stock in the S&P 500 (hint: I am talking about Apple (NASDAQ:AAPL)).
There are lots of reasons investors don't stick with companies. The most dangerous one if you want to bet on a recovery is that they figure out that the rear-view mirror shows a better picture than looking through the windshield. None of us knows the future, and there are all sorts of things that can derail companies, like competition, new solutions or changing demand.
There are other reasons too, though, and this is where I become interested in these fallen angels. Some are obvious, like a short-term event. For example, poor execution in a single quarter can shake out momentum-oriented investors. Some are fairly obvious, like a big problem with a small part of the business. For example, if a company derives a significant portion of its sales from defense-related applications, macro concerns in the intermediate-term can lead investors to move to the sideline, perhaps overcompensating for a fairly well-known challenge.
Some are totally hidden, and these are potentially the best. Here, there are many examples, too many to list and probably a good topic for another article if not even a book. One that comes to mind is a dilutive acquisition that builds long-term value but that messes up earnings momentum models. Likewise, sometimes a company disposes of assets that are slower-growing but enjoy higher than corporate-average margins, which can make growth look bad. Another might be similar to the issues I raised in the prior paragraph but representing more than a single quarter of disappointment but still finite.
If you agree with me that investors, who are already showing signs of returning to the market, could become more optimistic, it might make sense to search for growth stocks that might be underappreciated. Let me give you a mathematical example of what I see as a double-whammy of growth stocks returning to favor:
Assume the stock trades at 16X 2013 EPS, below the median of 20X over the past decade.
Assume 2013 EPS are projected to grow 14% and that 2014 EPS are projected to grow just 12%
In my example, there are two ways to win. First, the multiple can expand. This happened to some degree to the overall market last year as the forward PE expanded from about 12.5X to 13.5X on the S&P 500. This will obviously boost the total return.
The second way to win is that earnings surprise to the upside. In my example, if this company produces 20% growth instead of 14% growth and the 2014 estimate is expected to rise 15% instead of 12%, then the price return of the stock assuming it holds a 16PE will be 21%.
Let me walk through the math. Let's assume the stock was expected to earn $1 in 2013. From the assumptions, it was expected to earn $1.12 in 2014. A year from now, assuming 16PE still, one would have expected the stock to appreciate to 17.92 (1.12*16), representing 12% growth (i.e. the 2014 expected growth over 2013).
Now, in my scenario of better earnings and constant PE, the stock appreciates a lot more. The 2014 projected EPS, instead of $1.12, rise to $1.21. This represents 2012 EPS of .877 with 20% growth and then 15% growth. Multiplying the EPS by 16 leads to a price a year from now of 19.36 (a 21% increase). Not bad in the land of ZIRP.
It gets better in this optimistic analysis. Presumably, investors get excited about this better-than-expected growth and pay more for it. I said previously that the median PE has been 20X. If we assume a move from 16X to 18X, which is still below median and seemingly in line with the current growth rates, the stock rallies to $21.78 (1.21*18). This works out to a 36% return (21.78 / 16.00). Yowsa! This is 3X the base-case assumption of 12% assuming the stock holds its multiple and just achieves the expected earnings.
So, the math I have shared is obvious, but useful only if the stock can do what I am describing. This is one side of the coin, and the price of being wrong can be great. The math here is simple: Cut the PE ratio by 20% and the future earnings by 20%, and you have a 28% loss. I get this by taking the 1.12 and changing it to .90 (20% worse) and the PE to 12.8 from 16 (20% worse). This leads to 11.52, a decline of 29% (11.52 / 16).
I think that the challenging economy will likely remain so - maybe we don't get the earnings upside, but I think that it may become a little less challenging. On the other hand, multiple expansion may continue to play out in the scenario of status quo. Perhaps we get both, in which case this strategy will pay off nicely if executed properly.
The bottom-line is that "growth" stocks that haven't been performing well deserve our attention. Better growth and/or higher valuations can lead to powerful price moves. If you agree, you may want to focus your efforts on finding companies that are growing but that haven't performed well. You might want to begin by reading my follow-on piece that discusses a screen I ran to identify some potential candidates.
Disclosure: I have no positions in any stocks mentioned, and no plans to initiate any positions within the next 72 hours. I wrote this article myself, and it expresses my own opinions. I am not receiving compensation for it (other than from Seeking Alpha). I have no business relationship with any company whose stock is mentioned in this article.