Facebook (NASDAQ:FB) has gotten a lot of press and hype recently, but is it an investable stock? When I ask is it investable I don't mean can I recommend it as an investment, but is there enough information for me to make an intelligent decision on the stock's value. Up until now all we had were news stories and the hype press releases by the Underwriting group who we all know has a mission to sell an IPO for whatever the market will bear. Let's go through the information we now have and you make your own decision on it's worth.
I'd like to see how the stock's price has been acting and what are its recent trends. I use Barchart to draw a simple 20, 50 and 100 day moving average graph to see that: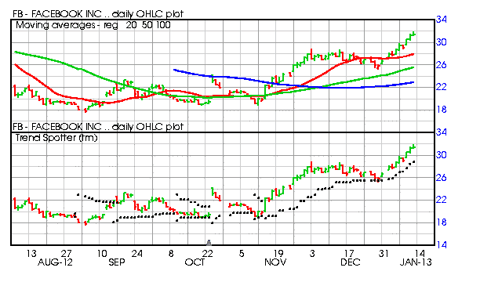 Next I use a graph that compares the stock's percentage gain or loss against my proxy for the market -- the Value Line Arithmetic Index of 1700 stocks: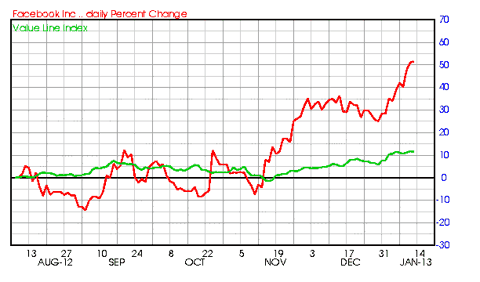 Usually those 2 graphs will tell me if I even want to investigate the stock further. If I do then I look at the Barchart technical indicators:
Barchart technical indicators:
100% Barchart technical buy signal
Trend Spotter buy signal
Above its 20, 50 and 100 day moving averages
7 new highs and up 11.87% in the last month
Relative Strength Index 71.79%
Barchart computes a technical support level at 29.84
Recently traded at 31.33 with a 50 day moving average of 25.61
Fundamental factors:
Wall Street has released 28 reports on their projections for the stock
Analysts project the revenue will grow 35.40% this year and another 30.10% next year
Earnings are estimated to grow by 20.90% this year, 25.00% next year and continue to grow annually by 28.78% for the next 5 years
If their consensus earnings projections of 0.465 for the coming year is correct the stock is selling for an estimated P/E of 67.74 while the average stock is around a 15 P/E
Analysts look for around a 20% total annual return for investors over the next 5 years
Financial Strength B+
Recently analysts' largest concern was if the company could make a profit selling ads for viewing on mobile devices and they now think the company can do that.
Investor interest:
Wall Street analysts have issued 18 strong buy, 2 buy, 8 hold and no under perform or sell recommendations to their clients
The individual investor got burned on the IPO and over on Motley Fool, 1,561 have voiced their opinion and only 55% think the stock will beat the market
Short sellers appear to think the stock's initial downward price trend is over. In July they sold 56 million shares short, which was about 4.69 days trading volume while recently (after more share were released) they were short 26 million shares which is currently about 1 days trading volume
How is the stock holding up against other "social media" stocks who make their revenue in a similar way by selling ads? In the past 6 months Facebook was up 52%, Google (NASDAQ:GOOG) up 16%, Linkedin (LNKD) up 11% and Biadu (NASDAQ:BIDU) down 14%: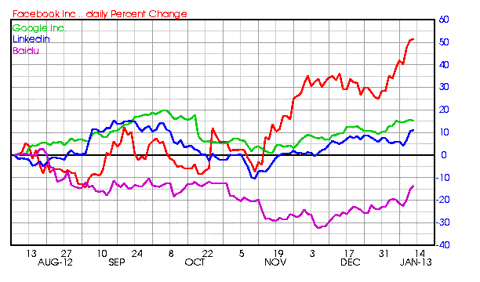 Conclusion: At this point I'm not making a recommendation to long term investors to buy the stock but nimble speculators might find an opportunity here. You are not buying a pig in a poke like the suckers who bought in on the IPO. I think we all know they over paid and only had the Underwriting group's hype to go on. You now have enough information to evaluate the stock's merits. If you want to speculate you can buy in at this time and watch the moving averages and turtle channels to see when the recent upward price momentum has run its course: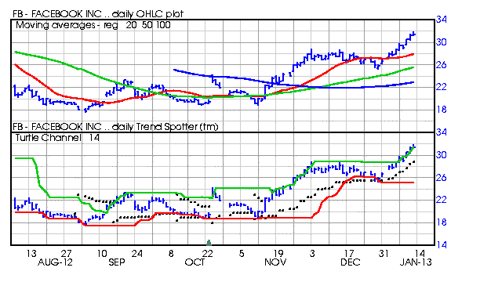 Disclosure: I have no positions in any stocks mentioned, but may initiate a long position in FB over the next 72 hours. I wrote this article myself, and it expresses my own opinions. I am not receiving compensation for it (other than from Seeking Alpha). I have no business relationship with any company whose stock is mentioned in this article.