Overview
No longer threatened by the prospect of bankruptcy, American Capital Ltd. (NASDAQ:ACAS) is over its scramble to recover from the liquidity crisis. The firm has strengthened its balance sheets tremendously: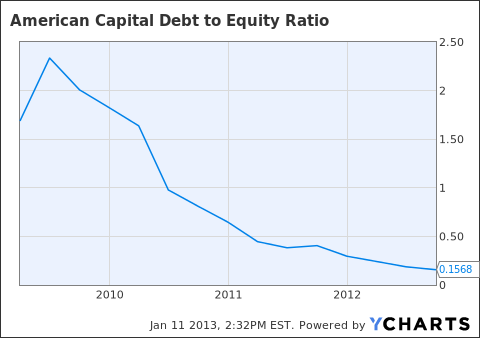 Management has shown American Capital can obtain credit in arms' length transactions with third parties free to choose whether to extend credit or not, rather than relying on a bankruptcy threat to secure new terms as it did in 2010. That normalcy has returned to ACAS' operations is illustrated not only by the successful post-crash growth of its managed funds business - and its growth in associated fee income - but by the new investments the firm is making with its own capital.
Wisely investing in what it knows, management has not only invested in its own publicly-traded funds but in follow-on acquisitions to strengthen its portfolio companies. ACAS seeks new business as well, having launched the energy infrastructure investment manager American Capital Infrastructure. The continuing discount to net asset value ("NAV") that has affect the firm's share price since '08 is no longer justified by plausible concerns of collapse: the firm is not only profitable and growing and successful, but getting back to business as usual. ACAS isn't in emergency mode any more, it's back in the business of building businesses. Here's why it's a buy.
ACAS In A Nutshell
American Capital Ltd. makes its money the same way investors do: it invests money. Revenues come from two major sources. First, American Capital Ltd. manages money for fees. Although it has several funds under management, its two highest-profile are publicly-traded investment vehicles that qualify as real estate investment trusts by investing in mortgages secured by real estate. American Capital Agency Corp. (NASDAQ:AGNC) is the older of the two; launched before the crash of '08 at an IPO price of $20, it now trades closer to $30; its high dividend has attracted investors in a series of follow-on offerings. The more recent is American Capital Mortgage Investment Corp. (NASDAQ:MTGE), which is free to invest in mortgages not backed by a federal agency when underwriting identifies an attractive investment. Both these firms pay American Capital Ltd. a management fee based on net assets. The performance of American Capital with its own funds continues to attract funds under management; the company announced last year plans to launch a half-dozen new funds.
American Capital's success with its own funds under management brings us to the company's biggest source of SEC-reportable income. As a business development company ("BDC"), American Capital Ltd. invests its own money. An unusual example of American Capital's investment of its own funds is its 2011 investment of $40,000,000 in American Capital Mortgage Investment Corp. , its most recent publicly-traded fund. The unusual thing about this investment is that it is liquid: there is a readily-accessible market for the shares and their price at a given moment is not subject to much debate. Since those shares have paid a double-digit dividend while growing share price to $25, ACAS and its shareholders have done well.
Despite ACAS' association with mREITs through its managed funds, ACAS isn't an mREIT or a proxy for mREIT performance or mREIT risks. Rather, it's a highly diversified basket of portfolio companies ordinarily unavailable to investors unable to afford entire middle-market companies on the private equity market. In the aftermath of the liquidity crisis of 2008, ACAS made relatively little investment in new business as it focused on its recovery. Under the debt agreements that existed until late 2012, its debt facilities were a one-way street under which the company could not borrow any funds it repaid in advance of due dates: if it wanted to have cash available for any purpose, ACAS had to pay interest despite having cash on-hand with which it could have temporarily reduced debt.
ACAS' new credit agreements include a revolving credit facility that restores the flexibility management enjoyed before the crash. The company is free to repay debt to reduce interest in the confidence it can borrow the cash back at leisure for the company's essential purposes. After ACAS' August debt refinance, it's had a busy season. For example, December's one-stop-buyout of Cambridge Medical Laboratories Inc. expands ACAS' portfolio of healthcare businesses with a substantial investment exceeding $200 million. Much of ACAS' investment recently has leveraged existing businesses' expertise to identify follow-on investment opportunities such as December's expansion of its catalog-based marketing business with the acquisition of bedding botique Cuddledown Inc. December also saw follow-on investment by ACAS and its affiliates in the women's health device firm Halt Medical Inc. Another announcement of a December acquisition involved Remuda Ranch, which expands ACAS' portfolio company The Meadows by adding eating disorders to the family of addictions addressed by the firm.
There's no question ACAS is back in the business of buying and building businesses. ACAS isn't a post-bankruptcy restructuring story, it's a business development company doing business again: by carefully investing in businesses ACAS and its managers already understand, the company allows shareholders to access otherwise unavailable market segments with the assistance of managers expanding their existing successes in the same field.
Valuation
This author prefers to look at NAV as an indicator of management's performance, but where does that number come from?
Each quarter, the business development company ("BDC") must value each of its assets held for sale - in this case, illiquid portfolio companies. Since there is by definition no liquid market for illiquid portfolio companies, ACAS engages third-party valuation experts to systematically value its holdings. Berkshire Hathaway (NYSE:BRK.A)(NYSE:BRK.B) doesn't do this, nor is it required to: its portfolio companies aren't held for sale (Buffett's preferred holding period is "forever"). But American Capital must continuously place a price on its portfolio companies. As a BDC, ACAS' strategy is to develop and then sell firms. That valuation work involves intense examination of each portfolio company's particular business, accounts receivable, accounts payable, personnel overhead - details that don't appear on a company-specific basis in ACAS' firm-wide reports. ACAS' NAV isn't the same as the "book value" reported by some firms, which are driven in many cases by things like depreciation schedules rather than market value of assets. At ACAS, the "book value" reported by YCharts is its NAV, and corresponds to the NAV of a mutual fund (except that unlike most mutual funds, ACAS' holdings are generally illiquid). Until the period just before the crash, ACAS traded at a premium to NAV: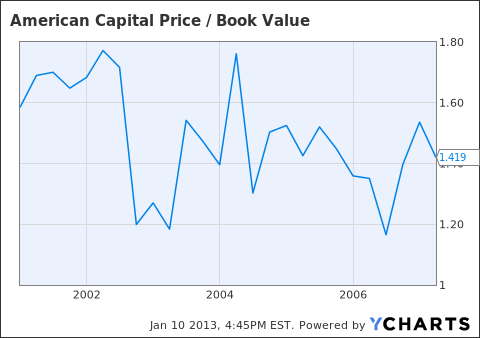 In 2007, Jim Cramer was quoted expressing concern about ACAS' opacity but still recommended it as a buy. But as 2008 approached and the accounting rules were being changed to require mark-to-market valuation, ACAS' opaque asset-valuation and business model drew critics. (The crash's real impact on valuation isn't to be ignored, of course, but the discussion here is about price/book rather than book.) Such critics still recommend avoiding ACAS.
Are the critics right? ACAS isn't obliged to sell portfolio companies at the FAS-157-compliant "fair value" reported in the firms quarterly valuations; it can sell for more (sometimes much more, even to the extent of making winners of apparent losers). Or, as the critics warn, less. This author certainly understands the skepticism of onlookers who disdain use of model-based prices instead of market-supplied prices, but where portfolio companies are privately held, models driven by things like comparables sales are ACAS' only alternative for compliance. (By contrast, "book value" at a non-BDC like Berkshire Hathaway is less useful to ascertaining enterprise value.) Accusations of inaccuracy seem severely overstated in light of actual sales of ACAS portfolio companies turning out to average near their last-reported "fair value" figures (check out Slide 34, ACAS' 3Q2011 shareholder presentation (PDF)).
To lack access to financial data specific to each portfolio company is an understandable irritant to value investors. However, the situation hasn't led to apparent inaccuracy or to evidence of dishonesty. But the bad rep coming off the liquidity crisis of 2008 has led to prices well below the NAV premium enjoyed before the crash: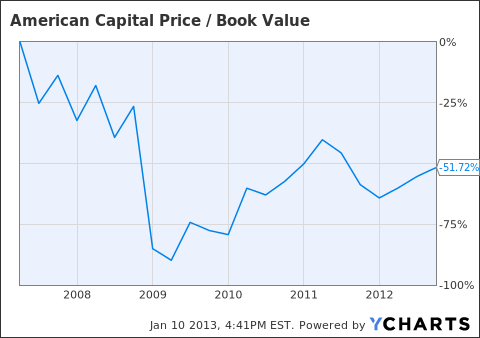 This chart doesn't mean that shares trade 51.72% below NAV, but that they trade that much below the Price/NAV enjoyed by ACAS before sentiment turned against the company as 2008 approached. Half-off is a sale by any standard. But even if the former NAV premium is lost to yesteryear and never more to be seen, current prices yield a discount exceeding 20% to the fair value of the company's holdings: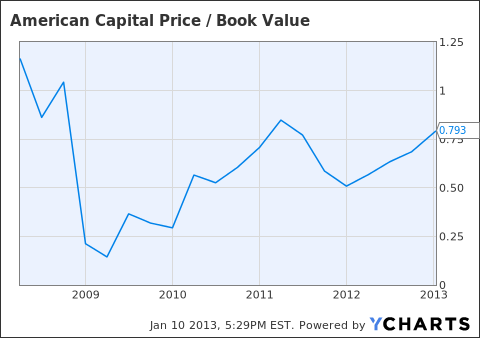 The future holds several things for ACAS and its investors. First, the tax-loss carry-forwards won't last forever. When the loss carry-forwards are consumed, management's incentive to keep its current tax structure will cease and one would expect management to qualify the BDC once more as a RIC for tax efficiency. When that happens, ACAS will be driven by its tax status to issue dividends. At that time, the company's NAV discount should be replaced by a valuation reflecting the company's ability to generate a return on its investments, approaching or surpassing NAV.
Not only have assets been growing since the crash, but below-NAV share buybacks have been concentrating more NAV in each share (and at a discount). Moreover, the company's access to tax assets to prevent current taxation has made this effectively tax-free to post-crash investors.
Even without a dividend, ACAS' share repurchase program and its portfolio stewardship have given good returns to investors since the quarter announcing the existing dividend/buyback policy: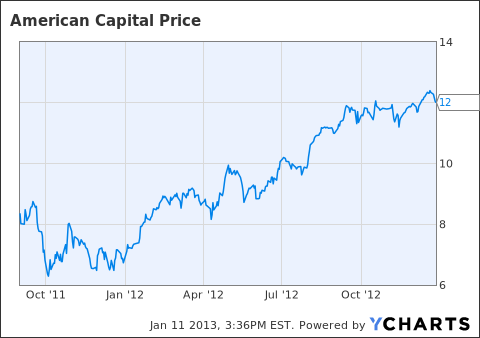 Thesis & Catalyst For American Capital
Since suspending its dividend at the end of 2008, American Capital Ltd. has traded substantially below the fair value of the assets it owns. Historically, the company paid a dividend due to its status as a registered investment company ("RIC"); like real estate investment trusts ("REITs") pays no income taxes provided it distributes at least 90% of its taxable income to investors. Historic investors owned ACAS because of its substantial dividend, and when that dividend was cancelled they bailed in droves. More bailed from fear the firm would not survive the fallout of the crash of '08.
With shares trading dramatically below the value of the firm's net assets per share ("NAV"), American Capital's management repurchased shares at sale prices to increase the NAV per share by magnifying the per-share impact of the company's improving returns. That share repurchase continues, along with the fire-sale pricing of the shares. Near the end of December, for example, ACAS announced repurchasing 8.8 million shares over the then-ending quarter, or 2.8% of the shares outstanding at the quarter's open. Since the third quarter of 2011, the company has retired 52.4 million shares, or 15.2% of its outstanding equity. Since the shares were taken from the market at prices well below the NAV they represented, the effect has been with each repurchase to increase shareholder's per-share assets.
If the underlying investment in American Capital were a loser, this might not be very exciting. However, the shrinking share count has been matched with an interesting circumstance: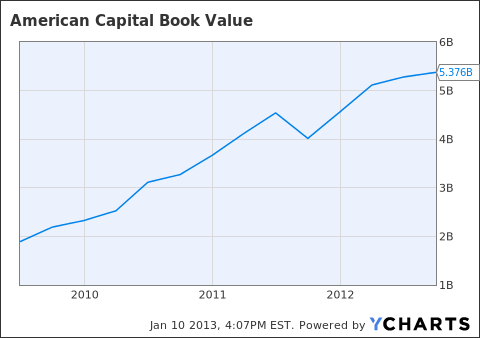 Although its share count has been reduced since 3Q2011 by below-NAV buybacks, the company's assets - not per-share, but firm-wide - have increased. When the numerator increases while the denominator shrinks, good things result: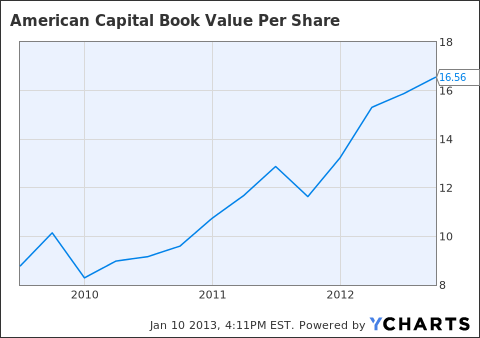 By focusing exclusively on period following the start of ACAS' buybacks, one can observe the effect of buybacks on magnifying the per-share impact of improving returns: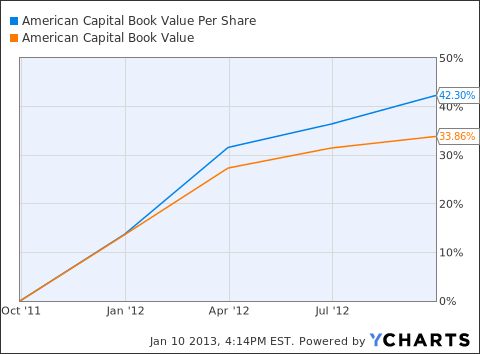 These graphs do not include the results from 4Q2012, which have not been announced, or the effect of last quarter's 2.8% share buyback. At the time of publication, YCharts lacked the current share count and the (as-yet unannounced) fourth-quarter asset value.
Revenue & EPS Outlook
American Capital is required to report as income unrealized gains/losses resulting from changes in the values of assets. "Earnings" reporting to comply with SEC rules is thus vastly different than tax-driven "income" reporting. "Income" is recognized at disposition of assets, not every quarter while prices fluctuate. Investors should be alert to the enormous difference at a firm like ACAS between SEC-reportable "earnings" and "income" subject to taxes. Looking at "earnings" that are swamped with the effects of unrealized changes in portfolio value isn't a particularly insight-producing measurement of how ACAS or its portfolio companies are doing.
The bulk of ACAS' value derives from the fair value of its investment portfolio rather than the "earnings" reported to the SEC as the portfolio's value's fluctuations combine with operating income and debt expense. Therefore, this author views changes in NAV to represent the best way to assess the success of ACAS as an investment. NAV necessarily includes both the results of retained income and the performance of the portfolio. Moreover, NAV isn't impacted by the company-specific sentiment that drives stock price, and it's carefully calculated for compliance purposes by managers uninterested in prison. Further, ACAS' history - even predating the "mark-to-market" rule established by FAS 157 - shows that its actual exits are generally close to reported values. The author specifically called ACAS to ensure that "exits" included firms written to zero and never sold, and that there is no third category other than (1) current holdings and (2) exited holdings whose price at disposition is figured into the exit price statistics.
NAV isn't completely foolproof, though. As discussed last year, ACAS' assets include some tax effects that reduce future tax debt, but cannot be invested by the firm to produce returns for shareholders. Nevertheless, the best yardstick over time for this asset manager is the growth of its assets. As depicted in the YCharts graphs above, ACAS has raised NAV/share over 42% since 3Q2011, on firm-wide asset growth over 33%. Not bad.
Another measure of management's success consists in measuring ACAS' ability to live off the earnings of its portfolio companies rather than sinking into debt to maintain operations.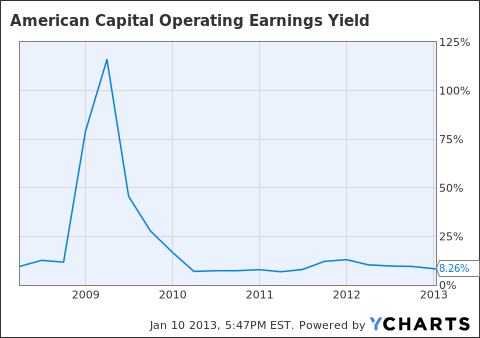 Operating income as a yield sits near 8%, rather better than bond yields. (The spike in early 2009 accompanied the shares' plummet to $0.57 each. Such "performance" is unlikely without panicked headlines proclaiming imminent bankruptcy.) Assuming ACAS intends re-qualifying as a RIC to avoid corporate-level income taxes, and to re-institute paying 90% of earnings as a dividend in compliance with its restored tax status, the company would have a better dividend yield than generally obtained from the S&P 500.
ACAS, formerly a member of the S&P 500, is now larger than some current members of that index.
Variant View
The downside to ACAS is the risk that its returns turn lackluster. The whole reason to buy illiquid portfolio companies is to enjoy investment in assets whose sellers can't get the pricing that would exist on an open market for registered securities. If ACAS' management fails in the outstanding underwriting hoped for by shareholders, but buys badly-behaved dogs instead, the NAV discount might make good sense.
Company-specific risks exist, as well. If something dramatically bad were to happen to ACAS' publicly-traded managed funds AGNC and MTGE, the valuation of ACAS' asset manager might suffer. The asset manager is a substantial component of ACAS' holdings, and changes to its valuation could be material to ACAS. If ACAS isn't successful in growing its managed funds business, the value of its asset manager could be adversely affected by the factors supporting repurchases by its managed funds, which theoretically reduce assets under management and thus threaten fee income streams that factor in the valuation of ACAS' asset manager.
Another risk is that the crash of '08 and its aftermath may leave such a stink in the air that investors avoid the firm or its management regardless their demonstrated performance. In this case, recovery of the NAV discount may not occur, leaving investors with the prospect of receiving dividends. Since dividends will either be paid as a portion of taxable income in accordance with RIC standards, or will be based on the non-RIC dividend policy that caused over 15% of the firm's net asset value to be repurchased over a year and a quarter, shareholders might not suffer too badly living with this last risk.
Conclusion
American Capital Ltd. is a BDC and asset manager, not an mREIT. ACAS' exposure to mREITs is primarily as an asset manager with access to permanent capital that can't be withdrawn without its own election to repurchase shares. Risks to mREITs aren't risks to ACAS.
ACAS' NAV has improved steadily over the last few years. While the shares' discount to NAV has narrowed slightly, the shares represent a substantial discount to the value of the assets American Capital holds and invests for shareholders. ACAS has great prospects for a return magnified by a consistent and proven program of below-NAV share buybacks. ACAS is a good firm on sale.
Disclosure: I am long ACAS, BRK.B. I wrote this article myself, and it expresses my own opinions. I am not receiving compensation for it (other than from Seeking Alpha). I have no business relationship with any company whose stock is mentioned in this article.