It seems that I was the only one impressed with Jen Hsun Huang's presentation at CES. Maybe I was up too late, or perhaps I was still slightly euphoric about the fairly large paper gains I had on shares of the company, but I actually came away from the CES presentation fairly impressed.
It's late once again, but I'm sobered by the fact that the paper gains have all but evaporated. I watched the presentation again and have been trying to put myself in the shoes of a short seller to understand the fairly massive decline in Nvidia's (NASDAQ:NVDA) share price since the keynote. I believe that there are a number of catalysts that have helped to drive the share price down, even as the majority of tech stocks have rallied over the last several days.
Is Project Shield A Waste Of Time And Money?
I'm no expert on the economics of game consoles, but as far as I know, it is extremely rare to find a consumer electronics company that actually makes money off of any sort of dedicated gaming device. The traditional business model is to sell the hardware at-cost (or even at a loss) and then focus on milking the software ecosystem around the product. Nvidia actually has the unenviable task of trying to actually profit off of the hardware. Can it pull it off? Only time will tell.
The next snag that I see is that most Android games are designed for the touch-screen interface. Sure, there are "hard-core" games that could be well suited for the game controller, and it absolutely makes sense to have a controller for trying to stream modern PC games onto a portable device, but I'm not convinced that it will actually be the optimal solution for Android-specific titles. That being said, the hardcore gaming population that Nvidia serves has generally tended to buck the trend of the mainstream. I mean, believe it or not, despite having ultra-super powerful smartphones, people actually still buy big honking graphics cards for their desktop PCs -- in droves!
From an economic standpoint, we need to see two things:
"Project Shield" needs to be priced appropriately to sell in decent volume
There needs to be actually be a market for these things in the first place
I don't really know enough to make a definitive analysis at this point, so investors will just have to wait and see how the initial sales numbers look. The market hates uncertainty, though, so even the mere possibility of this being a "money sink" is enough to bake in some negativity into the stock.
Where Are You, Grey?
It seems that CES attendees were quite aware of the roadmap that the company had offered with respect to its "Tegra" mobile line of products. I present it here for the reader's convenience: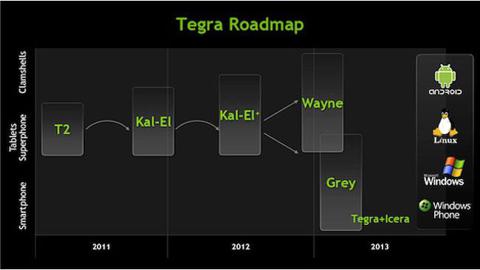 The announcement of Tegra 4 (previously codenamed "Wayne") was expected around the CES 2013 timeframe, and so investors were likely not surprised with the announcement. However, while Nvidia has traditionally enjoyed immense success in the Android tablet space, it has seen limited success in the smartphone segment, which is typically dominated by Qualcomm (NASDAQ:QCOM) because Qualcomm currently holds all of the cards when it comes to 4G/LTE. However, Nvidia's acquisition of Icera, which gave the firm leading edge baseband/modem/RF technology, should allow it to be a competitive player in the high end smartphone/superphone market, especially as it rolls out its Icera i500 LTE-capable modem.
However, a big advantage that Qualcomm has in the mainstream is that it actually integrates its baseband with its applications processor on a single chip. Nvidia, as seen in the above roadmap, had planned to release its "Grey" chip, which is supposedly a Tegra 3-class apps processor with Icera i500 integrated on-die. The roadmap states that the chip would be available roughly in 1H 2013, but CEO Jen Hsun Huang did not even mention the part in his CES keynote. What's going on here?
According to the presentation at the JPMogan CES conference, the "Grey" part is "essentially done" (meaning that the SoC taped out, as Jen Hsun Huang said the company was aiming for at the last conference call) and that the part was "on-track". The company expects some shipments during 2H 2013, but it won't really be hugely accretive to revenues in 1H 2014.
This perceived "delay" to the high volume smartphone system-on-chip means that Nvidia's "Tegra" efforts will be limited to Android tablets, high end smartphones with discrete i500 modem, Windows RT devices (which look to be losing steam quickly), the Project Shield device, and in-vehicle infotainment systems.
That's not to say that there won't be growth in the Tegra segment -- there probably will be as Nvidia rides the Android tablet wave -- but smartphones are the fastest-growing, highest-volume markets for these mobile system-on-chip products.
The Technical Picture
I am not convinced that the move in the share price is entirely based on fundamentals. In fact, I'll whip out some handy technical analysis (fair warning: I'm not a professional chartist) to try to add some color to the price action: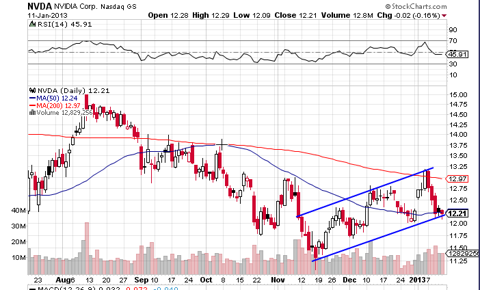 It looks as though the stock has been trading in an upward channel since mid-to-late November when it bottomed out at the $11 level. Simply put, the stock has been making a series of higher highs and higher lows over this time, and has been behaving very nicely from a technical standpoint.
The stock managed to break out over the 50 day moving average ("50 DMA") and even punch right through the 200 day moving average ("200 DMA") in anticipation of CES, but has since fallen back down though the 200 DMA and actually closed just under the 50 DMA of $12.24. Investors with a bit of a trader inside of them need to watch carefully to see if the stock can reclaim the 50 DMA on decent volume.
Now some good news: the upward channel (higher highs, higher lows) is actually still intact. It was critical for the stock to close above the $12.10 level to keep that pattern afloat. While the stock briefly dipped under this level during the 1/11 trading session, it very quickly rebounded to close at $12.21. Not quite the 50 DMA, but holding above that $12.10 support was critical. Watch this level in future trading session should the stock continue to trade sideways for a while.
Actionable Takeaway
I like Nvidia from a fundamental standpoint for the following reasons:
Leader in their core business (GPUs for gamers, workstations, and HPC) and gaining market share
Quickly growing in an adjacent business and taking market share (Tegra)
Strong cash position of $3.43B against a market capitalization of $7.63B
Negligible debt
P/E of 15.11, which is roughly in-line with market multiples, but looks much cheaper on an ex-cash basis
Decent dividend of $0.30/share per year (~2.5% yield)
If you are a trader, I would watch the $12.10 level and buy on a conviction bounce. If you are a long-term holder, I would give the same recommendation, although you can be a little more relaxed about the timing and actual price (since you are a long term investor, after all).
Some things to watch for before Nvidia's earnings report on February 14th that can catalyze the stock:
Intel's (NASDAQ:INTC) earnings report. If this is good, then the street will likely view this as a positive as Nvidia's GPU products attach directly to Intel's
AMD's (NASDAQ:AMD) earnings report. If the company reports strong discrete GPU sales, then it is likely that the segment is outperforming the traditional PC market (which shrank 3.2% Y/Y in 2012) and could lead to upside for Nvidia as well
Apple's (NASDAQ:AAPL) earnings report. Now that Apple uses Nvidia's GPUs for its MacBook Pro 15" and iMac Retina products, any uptick in sales there is a positive for Nvidia.
Disclosure: I am long INTC, NVDA, AMD. I wrote this article myself, and it expresses my own opinions. I am not receiving compensation for it (other than from Seeking Alpha). I have no business relationship with any company whose stock is mentioned in this article.