PepsiCo (NYSE:PEP), a leader in the beverage industry, has for a long time populated the crosshairs of many income-oriented investors. This beverage behemoth has not only been paying handsome dividends but it has also been increasing its yield reasonably over the years. In fact, PepsiCo presents one of the least volatile investments in the current market. Its predictability, coupled with the cushioning it provides through dividends, makes it a good pick. Nonetheless, there have been worries that a point will come when PepsiCo will be unable to sustain its strong yield, which currently comes in at 3.1%.
While these worries are rational and completely sensible, I am inclined to believe that PepsiCo will maintain its solid reputation as a dividend stock.
Expected earnings growth paints a rosy picture
Analysts expect PepsiCo earnings to grow at a decorous rate of 4.3%, or more, each year for the next half decade. I am, however, inclined to believe that earnings will grow at a much steeper rate over the years, partly because of PepsiCo's inherent knack for beating estimates and mainly because of the slant that the beverage titan has taken toward emerging markets and global operations. Let's take a sneak peek at PepsiCo's operations as far as global markets are concerned.
Owing to the saturation in the U.S. market, PepsiCo has made major advancements in global markets, more so emerging markets. Toward the fall of last year, it opened its largest resource center in China. Being the world's most populous nation, China presents a host of opportunities for PepsiCo. Not only will the beverage maker have a chance at gnawing into Coca-Cola's (NYSE:KO) market share but it will also have a chance of creating the largest beverage company in China. The opening of this resource center was accompanied by a strategic alliance with Chinese company Tingyi, allowing the two to have a 1.5 -1.6 point lead in market share.
Moving over to Japan, another potent emerging market in Asia, PepsiCo has yet again made significant inroads into this market. By introducing a new product called Pepsi Special, the beverage heavyweight stands to gain a lot in the event that this product penetrates the market. This product will have a direct leeway into the market as it will ride on the tailwinds of health-conscious foods. Pepsi Special will have Dextrin, a component that is said to block fat by preventing the digestive system from digesting it. Considering the rapidly growing obesity issue, I am inclined to believe that this product will grasp the Japanese market by storm.
In addition to these Asian markets, more focus has also been taken away from the congested developed markets and directed toward Latin America, the Middle East and other smaller but promising markets. All this is part of a wider plan aimed at repositioning the beverage maker's product portfolio. I have conviction that this strategy of bringing innovation and development to the global space will positively impact PepsiCo's bottom line, translating into a steep earnings growth rate for the next decade.
Sustainable yield
Another reason why I am convinced that PepsiCo will remain a top pick for income-oriented investors is its ability to sustain its yield. In spite of PepsiCo's seemingly unsustainable yield, the beverage maker's coffers usually remain significantly bulky after dividend payments. In simple terms, PepsiCo's yield is more than sustainable, suggesting that its continued dividend growth will span into the long haul. If you take a look at PepsiCo's cash flow from operations in contrast with the dividend, you will note that, over the past several years, the beverage behemoth has not had to dip significantly into its pocket to keep its investors happy.
The chart below offers a deeper read on the same: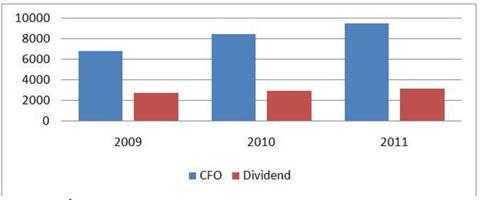 From the chart it is evident that Pepsi's cash flow from operations has been increasing at a steeper rate than its actual yield.
This factor, coupled with the expected gain in earnings, greatly brightens the outlook. I am convinced that this dividend guru will continue paying a decent dividend for a significant part of the foreseeable future.
While critics may choose to argue that Coca-Cola offers a better option, I believe that this argument is stale. Both these beverage makers are highly competitive and offer great returns. Dr Pepper Snapple (NYSE:DPS) is perhaps the competitor that is reasonably behind. Its financial muscle cannot be compared with that of PepsiCo and its footprint in the market is eclipsed by bigger competitors.
Disclosure: I have no positions in any stocks mentioned, and no plans to initiate any positions within the next 72 hours. I wrote this article myself, and it expresses my own opinions. I am not receiving compensation for it (other than from Seeking Alpha). I have no business relationship with any company whose stock is mentioned in this article.