Dividends were certainly a focus in the fourth quarter of 2012. One reason for this was the anticipated higher dividend tax rate associated with going over the fiscal cliff. Standard and Poor's reports extra dividends in Q4 were the most since 1955. The below chart shows positive dividend actions in Q4 totaled 1,262 versus 649 in Q4 2011, a 94% increase.
On a calendar year basis the strength in positive dividend actions has been evident since the height of the financial crisis in 2009 when positive actions reached a low of 1,191.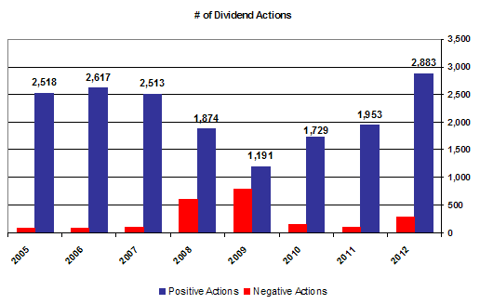 From The Blog of HORAN Capital Advisors
In regards to cash payments and payout rates, Howard Silverblatt, Senior Index Analyst for S&P Dow Jones Indices notes,
Dividends had a great 2012 with actual cash payments increasing 18% and the forward indicated dividend rate reaching a new all-time high. Payout rates, which historically average 52%, remain near their lows at 36%. At this point, even with many January payments paid in December, we should see 2013 as setting another record for regular cash dividends.
Source: Fourth Quarter 2012 Dividend Rate Increases $8.4 Billion