1. The S&P Homebuilders ETF (NYSEARCA:XHB) rallied Friday and closed at the highest level since August 2007, more than five years ago (see chart below). Over the last year, the major homebuilder ETF has increased by more than 50% as the housing sector recovers and continues to lead the U.S. stock market higher in 2013. Shares of another key housing market indicator, the iShares Dow Jones US Home Construction ETF (NYSEARCA:ITB), closed on Wednesday at the highest level (22.33) since April 2008 before falling slightly today to 21.96 (see chart). Since January of last year, this key construction ETF has delivered a whopping 68.6% annual return.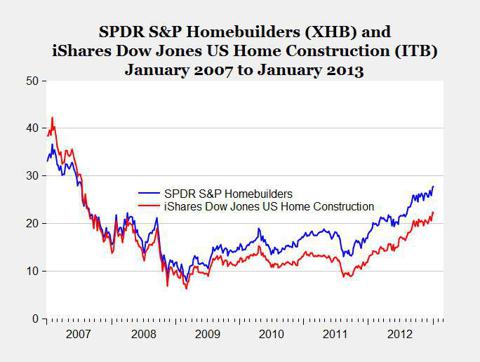 2. Reflecting strong demand from homebuilders and construction companies, lumber prices rallied Friday to their highest level since the fall of 2005, more than seven years ago (see chart below).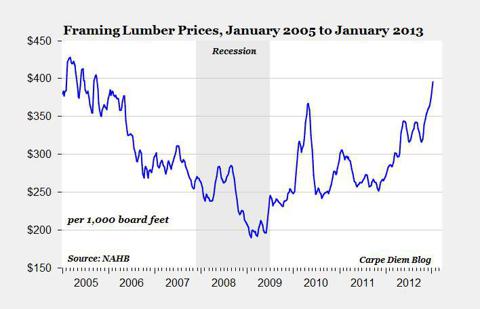 Update 1 (by special request): Adjusted for inflation in 2012 dollars, lumber prices in January were at the highest level since May 2006, more than six years ago, see chart below.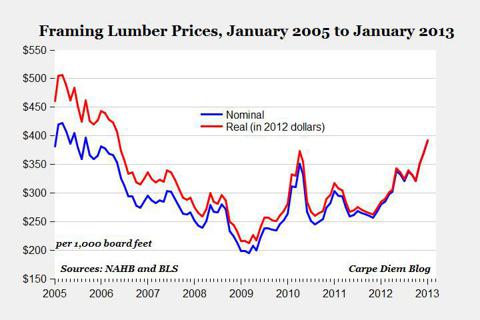 Update 2: DQNews reported Thursday more double-digits gains for both national home sales and median sales prices during the first week of January, with home sales increasing 12.1% and median prices increasing by 10.6% for the 30-day period ending January 10. DataQuick's national housing data covers 98 of the top 100 metro markets,
More evidence from the stock market, commodity market, and national sales/price data that the U.S. housing market has entered a new cycle of recovery and growth, with the potential this year to make a significant contribution to U.S. economic growth.