Apple Inc. (AAPL) announced that it hired Luca Maestri, the current Chief Financial Officer at Xerox Corp. (XRX) as Apple's new corporate controller. Maestri was the CFO at Nokia Siemens Networks before joining Xerox in February of 2011. Xerox announced it will conduct an external search to replace Maestri, who will leave Xerox on February 28.
While the move from CFO to controller is a move down in title, Apple's more substantial business makes it no step downward. Moreover, this hire may indicate that Apple is preparing a succession plan for its CFO, Peter Oppenheimer, who has held the role since 2004. Oppenheimer was initially Apple's controller for the Americas, after leaving Automatic Data Processing Inc. (ADP) to join the tech giant.
Maestri may also be in indicator of coming increases in share repurchasing and/or dividends. Apple continues to hold a sizable cash horde. According to Ben Reitzes of Barclays (BCS), "Maestri is a champion of shareholder return." Given Apple's recent downturn in share valuation, an increase in its repurchase plan may help buoy shares and even prompt a new leg up. See a recent performance chart for Apple: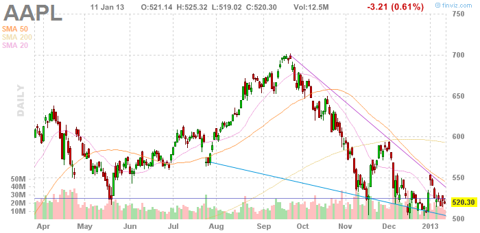 In March of 2012, Apple announced plans to initiate a dividend and share repurchase program. In the second half of 2012, which includes Apples' fourth quarter of its fiscal 2012 and the first quarter of its fiscal 2013, Apple paid out two quarterly dividends of $2.65 per quarter. The company also authorized a $10 billion share repurchase program that was to be commenced in Apple's fiscal 2013, which began on September 30, 2012.
The repurchase program was to be executed over three years, with the primary objective of neutralizing the impact of dilution from future employee equity grants and employee stock purchase programs. Increasing the repurchase program and/or hastening it may also help accelerate Apple's earnings growth on a remaining per share basis. "Combining dividends, share repurchases, and cash used to net-share-settle vesting RSUs, we anticipate utilizing approximately $45 billion of domestic cash in the first three years of our programs," commented Peter Oppenheimer, at the time the plan was announced.
In the second half of 2012, Apple made some substantial changes to its management. Over the summer, Apple noted that its last controller, Betsy Rafael, would retire in October of 2012. Then on October 29, Apple announced that Tim Cook, Apple's CEO, had ousted two of its most senior executives: Scott Forstall, the head of Apple's mobile software products group, and John Browett, Apple's retail chief that was hired around seven months before his departure.
John Browett was hired as Apple's SVP of Retail Operations after Ronald Johnson chose to leave Apple and run J.C. Penny (JCP). Browett came to Apple from Dixons Retail, a British merchant. Apple's CEO, Tim Cook, noted of Browett that he was hired for his excellence in customer service, stating that "Our retail stores are all about customer service, and John shares that commitment like no one else we've met."
Despite this apparent commitment sharing, he did not last three quarters of a year at Apple. Browett's departure was apparently based upon his making Apple Store employees unhappy through cutting their hours and/or that he did not sufficiently address Apple's retail expansion in China, Apple's highest growth market. More recently, Tim Cook has taken a more direct role in Apple's expansion within China.
Mr. Forstall was a far longer lasting and influential employee at Apple. Forstall came to the company in 1997 along with Steve Jobs, when he returned to the company and had Apple acquire Next. Forestall is one of the engineers that designed Next's operating system, which then developed into Mac OS X. Forstall was later named Senior Vice President of iPhone Software.
While the precise reason for Forstall's ouster was not stated, two primary theories emerged. One is that he refused to apologize for the failures of Apple's Maps app that was designed to replace the mapping service from Google (GOOG) upon which prior incarnations of iOS were dependent. The other is that Forstall and other top Apple executives did not get along, and that there was a power struggle developing that Forstall lost, much like how Steve Jobs was ousted years earlier following a power struggle with the company's then CEO, John Sculley.
There was also some indication that Forstall may have been intending to leave Apple on his own, as he sold the majority of his Apple shares in the spring of 2012. Nonetheless, whether Cook forced out Forstall or Forstall decided on his own that it was time to leave, the move is one that will leave Apple with a shallower pool of talent. Apple at least partially acknowledged this by keeping Forstall on in an advisory capacity, though that move may have been designed to prevent Forstall from being immediately poached by Google or another competitor.
In many ways, the absence of Scott Forstall must result in a consolidation of power within Apple, placing more authority in fewer hands and particularly within the control of Tim Cook and Jonathan Ive, Apple's Senior Vice President of Industrial Design. Jony Ive, will now be responsible for the design of all Apple products, including its software. Ive's skill at industrial design is without question, largely advancing upon the design principles developed by former Braun designer Dieter Rams, and creating some of the best received and often imitated product designs of the past decade.
The hiring of Luca Maestri as well as the potential departure of Peter Oppenheimer would likely be seen as less transformative matters than those affecting the software or hardware design of Apple's products. Nonetheless, the importance of Apple's financial planning and use of its cash horde cannot be underestimated. When last reported, Apple's cash position had grown to $121.25 billion, which amounted to about a $40 billion increase in cash and cash equivalents from a year earlier.
Recent expenses likely cut into this sizable pile of cash, including marketing and production of its recent iPhone 5 and iPad mini models, as well as the expense of paying out its dividend and repurchasing shares. Nonetheless, Apple estimated that for its first fiscal quarter of 2013, or calendar Q4 of 2012, revenue would come in around $52 billion and diluted earnings would be about $11.75 per share, or roughly $11 billion. Apple is scheduled to report earnings on Wednesday, January 23.
All of this indicates that Apple may likely announce an increased repurchase plan at some point in the coming months, and possibly around the same time it announced the initiation of its present repurchase plan and dividend, which was on March 19 of last year. Given this recent hiring of Luca Maestri, if earnings later this month meet or beat expectations, the announcement of a dividend increase, share buyback increase, or both appear probable in before the end of the first quarter of 2013, or Apples second quarter of fiscal 2013.
Disclosure: I have no positions in any stocks mentioned, and no plans to initiate any positions within the next 72 hours. I wrote this article myself, and it expresses my own opinions. I am not receiving compensation for it (other than from Seeking Alpha). I have no business relationship with any company whose stock is mentioned in this article.