MLPs have an outstanding record of growth even though they are primarily thought of as yield securities. The Alerian MLP Index has quadrupled in 17 years and provides a 6.1% yield. Most MLP businesses are in gas and oil, and their future is very bright because of new technology that allows energy to be extracted from old formations. Demand for more infrastructure to deliver oil and gas is virtually unlimited.
Alerian MLP Index --- 10 years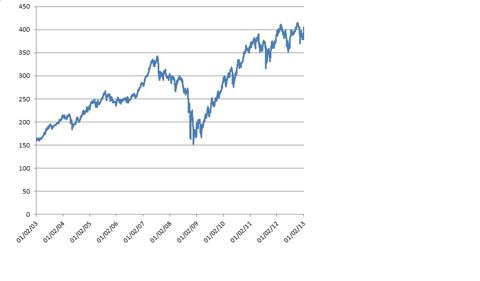 3 of the largest MLPs are Kinder Morgan (NYSE:KMP), Enbridge Energy (NYSE:EEP) and Linn Energy (LINE). What sets them apart from the others is that each has a companion corporation for ownership. Ownership in limited partners is measured in units; but they have a second company formed as a corporation with stock ownership that pays dividends (based on distributions paid to unit holders).
| | | | | |
| --- | --- | --- | --- | --- |
| MLP | Price | Dividend | Yield | Ownership |
| Enbridge Energy Partners (EEP) | $29.83 | $2.17 | 7.3% | units |
| Enbridge Energy Mgmt (NYSE:EEQ) | $30.32 | $2.17 | 7.2% | shares |
| Kinder Morgan Partners (KMP) | $87.29 | $5.04 | 5.8% | units |
| Kinder Morgan Mgmt (NYSE:KMR) | $80.57 | $5.04 | 6.3% | shares |
| Kinder Morgan Inc (NYSE:KMI) | $36.95 | $1.44 | 3.9% | shares |
| El Paso Pipeline Partners (NYSE:EPB) | $39.14 | $2.32 | 5.9% | units |
| Linn Energy (LINE) | $37.01 | $2.90 | 7.8% | units |
| Linn Co (LNCO) | $38.38 | $2.84 | 7.4% | shares |
The Enbridge Energy companies are Enbridge Energy Partners and Enbridge Energy Management (EEQ). EEP is a leader in energy transportation, delivering crude oil and natural gas in the Mid-Continent and Gulf Coast regions of the US. The Liquids Segment is conducted largely through the world's longest liquid petroleum pipeline that transports crude oil and natural gas liquids from western Canada to refining centers in the Midwest and Ontario, Canada. The Natural Gas Segment consists of transmission, processing and marketing operating in the Mid-Continent and Gulf Coast regions. EEQ is a corporation that manages the business. Enbridge Inc (NYSE:ENB), the general partner, based in Calgary, Alberta, holds a 26% interest in EEP.
Kinder Morgan has 4 companies. The MLPs are Kinder Morgan Partnership and El Paso Pipeline Partners (EPB). Kinder Morgan Management (KMR) manages the business, and Kinder Morgan, Inc. (KMI) is the general manager. KMP and EPB have the largest pipeline transportation and energy storage system in North America, with more than 87,000 miles of pipelines and 180 terminals. They transport and store petroleum, crude oil, gasoline, jet fuel, ethanol and coal.
Linn Energy is an upstream natural gas and crude oil producer that acquired $7 billion in acquisitions with 5.1 Tcfe (Trillion Cubic Feet Equivalent) of proven reserves. Assets are primarily in the Mid-Continent, Granite Wash, Permian Basin, Hugoton Basin, Rockies, Michigan, California and East Texas, with 15,000 oil and natural gas wells. LINE had its IPO 7 years ago. There was an IPO for a companion corporation LinnCo (LNCO0 in October 2012.
These MLPs have rewarded investors over the years. Yields are attractive at 6-7+%, but MLP units come with tax hassle and need additional record keeping. EEQ and KMR pay stock dividends based on distributions, and shares track price movements of the units. 1099's are not issued. LNCO pays dividends with money. The first dividend of 71¢ paid in November is slightly below 72½¢ paid by the unit. Up to 60% of the dividend will be taxable as a qualified dividend, and the balance will not be taxable. In addition, shares of corporations in tax deferred retirement accounts do not have tax hassle (which can be a problem for units).
The International Energy Agency forecast the US will become the world's largest oil producer and an exporter of natural gas by 2020, and could attain energy self-sufficiency by 2035. Investments by MLPs are needed to support this growth. There is added excitement for investments that extract energy from shale formations. These companies are investing billions of dollars in 2013, and that will be followed by more investments going forward.
After a difficult time last month, the Alerian Index roared back 35 to 413 since December 28, probably from relief that tax advantages for MLP distributions were not disturbed. The index is only 1 below the record reached last October, and few securities can make that claim. More lucrative times are ahead (unless the tax advantage is disturbed for distributions). Even if tax the advantage status is reduced, high current yields should limit selling, because absolute current yields are attractive. High yields with tax advantages, outstanding records of growth and companion stocks for these units should bring superior returns in 2013.
enbridgepartners.com
kindermorgan.com
linnenergy.com
Disclosure: I am long EEQ. I wrote this article myself, and it expresses my own opinions. I am not receiving compensation for it (other than from Seeking Alpha). I have no business relationship with any company whose stock is mentioned in this article.