By Serkan Unal
The Federated Strategic Value Dividend Fund (SVAAX, SVACX, SVAIX) "pursues income and long-term capital growth," and "seeks a substantially higher-than-market dividend yield and a growing stream of income to offset inflation." Investing in 39 large-cap value stocks, this Fund invests in solid, well-established companies with lower price volatility than non-dividend-paying stocks, and dividend payouts that serve as a cushion against the portfolio downside. The Fund's holdings include some of the most popular dividend stocks to protect against accelerating inflation. (Still, investors should realize that investment performance can vary and stocks' total returns may not succeed in beating the rate of inflation despite the high dividend yield.)
We recently wrote about three stocks that are part of the Federated Strategic Value Dividend Fund's top 10 holdings, including GlaxoSMithKline PLC (NYSE:GSK), ConocoPhillips (NYSE:COP) and Verizon Communications (NYSE:VZ). Here is a closer look at the seven remaining stocks among the Fund's ten largest positions, according to the portfolio structure as of November 30, 2012.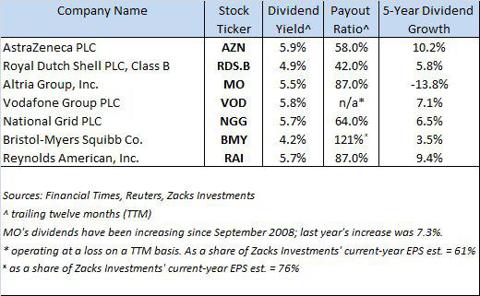 AstraZeneca PLC (NYSE:AZN), U.K. pharmaceutical company, is the Fund's largest holding and the highest-yielding company in the Fund's top ten holdings. The company's EPS grew 13.7% annually over the past five years; its long-term annualized EPS growth is forecasted at negative 3.5%. While the company's diabetes drug Forxiga was recently approved in the EU, AstraZeneca's pipeline of Phase III/registration drugs is relatively weak. However, the company looks inexpensive, with a forward P/E of 8.4x, almost half the industry average ratio. Given the stock's high yield, a below-industry price-to-cash flow, and manageable leverage, the stock may be viewed as a value play. Last quarter, billionaire Jim Simons boosted his stake in the company by nearly 34% to $120 million, while Two Sigma Advisors, Arrowstreet Capital, and Dreman Value Management reduced their respective, smaller stakes.
Royal Dutch Shell PLC (NYSE:RDS.B), an oil and natural gas company, is the Fund's fifth largest position. The company's annualized five-year EPS CAGR is forecasted at 3.5%. Without any major catalysts in the short-term, the company will see its long-term growth driven by a targeted 25% output boost by 2018. To achieve its planned output expansion, the company is making large outlays that subtract from free cash flow. Still, the company's free cash flow sufficiently covers the dividend, albeit the coverage is currently stretched. This situation will improve as Royal Dutch Shell's operating cash flows increase in the future. The company's shares are trading at a discount to its industry on a trailing basis, but are priced at a premium to their historical P/E and the industry averages. Still, the stock has a below-industry price-to-book. Fund managers Russell Hawkins, Michael Messner, Clint Carlson, and Jim Simons boosted their stakes in the company last quarter, while AQR Capital's Cliff Asness trimmed his position.
Altria Group (NYSE:MO), the cigarettes maker, is the Fund's sixth largest holding. The company was one of the best investments of the past century in terms of total returns. However, while it pays a high yield, Altria is operating in an industry exposed to high regulatory and litigation risks. Its EPS growth is expected to average 7.5% annually for the next five years, accelerating from a paltry average growth of 1.6% annually over the past five years. Cost cutting is a great part of that EPS expansion, with cost savings of about $400 million planned for 2013 alone. The company does have a strong brand and pricing power, but smoking trends in its core market, the United States, are not supportive of further growth. What may benefit the company's growth are its investments in the U.K. brewer SABMiller (OTCPK:SBMRY), a wine company Ste. Michelle Wine Estates Ltd., and a finance company Philip Morris Capital Corporation (PMCC). The stock is trading at 14.0x forward earnings, slightly below its peer group. Fund managers Tom Russo and Jim Simons are two biggest hedge fund investors in the stock.
Vodafone (NASDAQ:VOD) is the Fund's seventh largest position and the world's second largest mobile operator by connections count. Its annualized five-year EPS CAGR is forecasted at 6.2%. The company is an attractive income stock. After receiving a large cash dividend from its interest in Verizon Wireless in 2011, it paid a special dividend in 2012, boosting shareholder value. That trend could continue in the future, report the media citing Vodafone CFO. Still, the 2012 dividend from the Verizon Wireless stake will be mainly used for stock buybacks worth $2.4 billion at current prices. Vodafone operates a stable business model, generating sufficiently large free cash flow to cover its high dividend. Vodafone shares are trading at 14.4x forward earnings versus 14.2x for Verizon Communications and 23.9x for Deutsche Telecom (OTCQX:DTEGY). VOD's price-to-book value of 1.2 is lower than the industry average of 1.8. Last quarter, value investor Ken Fisher initiated a large new position in this stock.
National Grid (NYSE:NGG), a regulated power and gas utility with operations in the UK and U.S., is the Fund's eight largest position. The company increased dividends by 4% in the 2012/2013 period, following a policy of 8% dividend growth between 2008 and 2012. The utility expects to announce a new five-to-eight year dividend policy by April 2013, when it gets more clarity about the outcome of a regulatory review in the UK. The company is a defensive stock with a high and well-covered dividend. The utility is a stable business with a five-year annualized EPS CAGR forecasted at 3.8%. The stock is priced on a trailing P/E of 11.0x and a forward P/E of 12.6x. Last quarter, fund manager Charles Clough held the largest stake in the company among fund managers; however, he and several other prominent fund managers, including Jim Simons and John Levin, scaled down their NGG stakes.
Bristol-Myers Squibb (NYSE:BMY), another pharmaceutical giant, is the Fund's ninth largest holding. The company's revenues suffered a blow due to a patent expiration on its antiplatelet drug Plavix. In fact, the 2010-2013 period should represent the peak in the company's revenue erosion from generics. For the next five years, the company's EPS is forecasted to grow hardly, by 1.8% annually. The company's Phase II pipeline is rich, but it suffered a setback when the company halted trials of its new hepatitis C drug. Still, several new drugs may have a blockbuster potential, including diabetes treatment Onglyza, the recently EU-approved Forxiga, and Eliqius for stroke prevention. BMY is a good income play, but is rather expensive with a forward P/E of 19.0x versus 15.0x for the pharmaceutical industry. Billionaire Jim Simons held almost $423 million in BMY stock at the end of last quarter.
Reynolds American (NYSE:RAI), another cigarettes company, is the Fund's tenth largest position. The company has seen an eroding market share since 2008 due to weak sales growth. Its EPS growth is forecast to average 6.9% annually for the next half-decade, buttressed, in part, by share buybacks (a $2.5 billion program runs through mid-2014) and workforce restructuring. Typical for the tobacco industry, the company pays a high proportion of earnings in dividends, leading to an excessive payout ratio. The company is exposed to the same regulatory, legal, and trend risks as Altria (and other cigarettes manufacturers). This tobacco player is very expensive based on a sky-high price-to-free cash flow ratio. The stock's forward P/E is 13.9x, a small discount to its peer group, but appropriate given the company's PEG ratio of 3.6. This stock is popular with Jim Simons and Cliff Asness, both of whom boosted their stakes in RAI last quarter.
Disclosure: I have no positions in any stocks mentioned, and no plans to initiate any positions within the next 72 hours.
Business relationship disclosure: Dividendinvestr is a team of analysts. This article was written by Serkan Unal, one of our writers. We did not receive compensation for this article (other than from Seeking Alpha), and we have no business relationship with any company whose stock is mentioned in this article.