On November 13th we counseled:
If you like Apple (NASDAQ:AAPL), consider having some patience here and making a buy at the end of the day on Friday, January 18th, 2013.
The reason?
Apple had an enormous amount of call options speculation related to its

summer

surge
A huge share of this was calls with a strike of around the current price of $550 and higher that expire January

19, 20

13
The institutional money managers that wrote those call options and bought common stock to cover will make a lot of money if a) those options expire worthless, and then b) Apple runs after that expiration date

...Apple is getting a lot of buzz for being undervalued here, but there is an enormous amount of pressure on the price at these levels that will be lifted after options expiration.
We have been getting a lot of questions lately asking if this is still the case. Did the individuals that bought all those calls from the institutions close out their positions, removing the pressure? Let's look at the options chain. Here is what we saw on November 13th: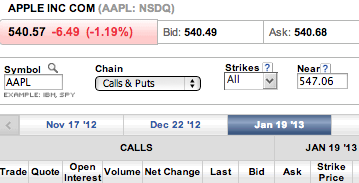 Here's how it looks as of the close on Friday, January 11th:


Let's take a sampling to get a comparison. We'll look at the open interest in calls with strikes of $550, $575, $600, $625, $650, $675, $700, $725, $750, $775, and $800.
In November the open interest was:
14,114, 5,329, 61,078, 9,930, 57,872, 16,795, 66,460, 7,582, 30,235, 1,892, 16,085
Now the open interest is:
27,614, 11,229, 70,168, 12,035, 59,519, 15,648, 51,005, 6,309, 25,877, 2,782, 13,269
There has been some shifting toward the lower strike prices, but if anything there have been more positions opened than closed!
Our counsel went unheeded (sigh).
Earnings
There is, of course, another caveat/catalyst to consider. Before we conclude that Apple's stock is headed for the moon starting on Monday the 21st, we should remember that Apple's business is going to have a lot to say about that with its earnings release on the 23rd. Regardless of the phenomenon of the calls expiring, a strong or weak report should have a powerful impact on Apple's near-term share price.
Conclusion
In November we noticed a phenomenon that could keep Apple bottled up until options expiration on January 19th. If anything that phenomenon looks stronger now than it did in November.
The enormous amount of open calls is putting a lot of pressure on Apple's share price, and that pressure will be lifted after Friday the 18th. Along with a bullish earnings report, this phenomenon could boost Apple, at long last, considerably higher.
If you like Apple, and are bullish on its earnings report, consider making a buy toward the end of the day on Friday, January 18th.
Disclosure: I have no positions in any stocks mentioned, and no plans to initiate any positions within the next 72 hours. I wrote this article myself, and it expresses my own opinions. I am not receiving compensation for it (other than from Seeking Alpha). I have no business relationship with any company whose stock is mentioned in this article.