Norfolk Southern Corp (NYSE:NSC) has retreated from a 52 week high, based on weakness in coal shipments. Low cost natural gas is driving a reset in coal demand. However, capex directed at increasing intermodal shipments, and a generally pro-active approach by management make the railroad attractive as a long term investment at recent prices around $64.
Overview
The company describes itself as follows, in press releases:
Norfolk Southern Corporation is one of the nation's premier transportation companies. Its Norfolk Southern Railway subsidiary operates approximately 20,000 route miles in 22 states and the District of Columbia, serves every major container port in the eastern United States, and provides efficient connections to other rail carriers. Norfolk Southern operates the most extensive intermodal network in the East and is a major transporter of coal and industrial products.
Diminishing Coal Traffic
As a major transporter of coal, NSC can't escape the results of reduced demand. Here a graphic from a November 2012 presentation at Goldman Sachs Global Industrials Conference: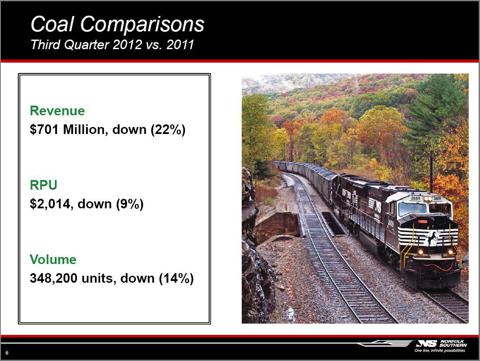 While some of the demand reduction reflects slowing exports and may reverse as the global economy recovers, much of it is driven by natural gas substitution, and will last as long as fracking continues to produce an abundant low-cost energy supply.
Intermodal and Capex
For 2011 and 2012 to date, capex has been proceeding at a $2 billion per year pace. Much of the investment has been directed at the Crescent Corridor. From the 10-K:
The Crescent Corridor consists of a planned program of projects for infrastructure and other facility improvements geared toward creating a seamless, high-capacity intermodal route spanning 11 states from New Jersey to Louisiana and offering truck-competitive service along several major interstate highway corridors, including I-81, I-85, I-20, I-40, I-59, I-78, and I-75.
Here's a graphic, from the previously linked presentation: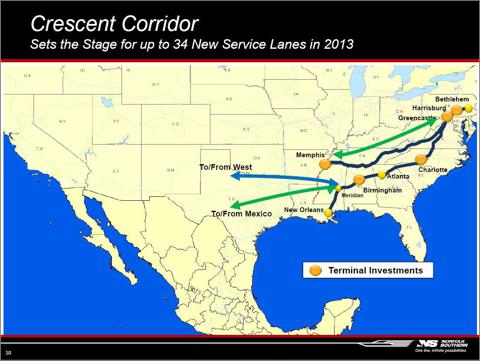 Over time, projects of this type will replace much of the lost revenue from decreasing coal shipments.
Business Development Efforts
The company works with state and local governments in an effort to promote growth in the customer base. Industry is dependent on transportation to move products, and the choice of sites for new development can be affected by access to rail.
From a recent press release:
NORFOLK, VA. - Norfolk Southern Corporation participated in the location of 64 new industries and the expansion of 30 existing industries along its rail lines in 2012.

New plants and expansions announced in 2012 represented an investment of $2.1 billion by Norfolk Southern customers and are expected to create more than 6,100 jobs in the railroad's territory, in future years potentially generating more than 141,000 carloads of new rail traffic annually.
Valuation
The analytical task here is to quantify the long-term effects of shifting traffic mix. My usual methods, which rely on applying a historical average multiple to projected 5 year average EPS, indicate a target price or fair value of $72 per share, the same as analyst consensus per FinViz.
NSC provides information on the revenue, units and revenue per unit for its market groups. Extending trends for the past year and assuming coal volume stabilizes at a lower level, revenue growth going forward would be 4.8%. The $72 target mentioned above relies on growth at 3.7%, the 5 year average.
A somewhat unconventional method is to capitalize what is being done for shareholders - the dividend and capex. The dividend has been increased consistently for the past 10 years, and stands at $2.00. Capex has been approximately $2 billion for each of the past 2 years, or $6.33 per share. Capitalizing the dividend at 5%, and the capex at 15%, the stock is worth $82.
The company also does buybacks: share counts have decreased an average 3% over the past five years. I leave that out of my computations, as a margin of error. 3% per year adds up.
Dividend
From 2002 to 2012, CAGR of the dividend was 22%. Over the years from 2006 to 3Q 2012, the company deployed approximately half of cash flow into capex, with the rest devoted to dividends and buybacks. The dividend is secure, and likely to increase on a regular basis.
Yield stands at 3.12%, based on a recent price of $64.04 per share.
Investment Implications
Investors who buy NSC at today's prices have a reasonable expectation of receiving an increasing flow of dividend income, and eventual share price appreciation. I'm investing on the basis that total return over the next 5 years will average 10% annually.
The market has been hitting 5 year highs, and it is possible that more bad news on coal volumes will materialize. Better entry points may be available.
Options
My position is a diagonal call spread, long Jan 18 2014 50.0 calls, against which Jun 22 2013 65.0 calls have been sold. The position is small size, and can be enlarged if share prices decline.
Disclosure: I am long NSC. I wrote this article myself, and it expresses my own opinions. I am not receiving compensation for it (other than from Seeking Alpha). I have no business relationship with any company whose stock is mentioned in this article.