The last several months have not been kind to shareholders of either Apple (NASDAQ:AAPL) or Microsoft (NASDAQ:MSFT). While the broader market, and in particular tech stocks, have been rallying like crazy, these two powerhouses have been relative laggards over the last several months.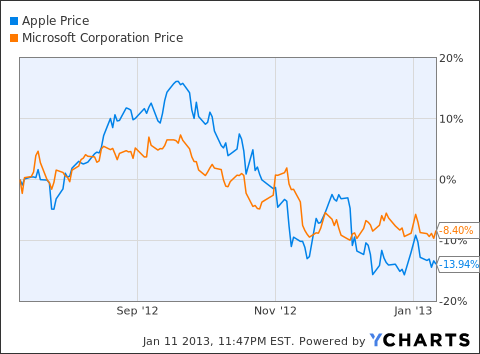 However, I believe that while looking for fundamentally solid companies to pick up on the cheap while everything gets more expensive, both of these cash-rich, field-dominating powerhouses should be seriously considered by investors. That being said, one of these investments has to be better than the other, right? Well, it truly depends on what you're looking for in an investment, so in this article, I hope to outline which play is better for which kind of investor.
For Large Growth...
A quick look at the numbers would lead investors to believe that Apple is a high-growth company and that this kind of growth can be continued indefinitely. A look at Microsoft's, on the other hand, show very modest, slow growth over the last several years. Microsoft is what it is: a solid blue chip software company that pays a healthy, increasing dividend, and has dominant market share positions in its core markets. The company is looking to expand into adjacent markets (smartphones and tablets), but the company is so large that even these efforts won't really move the needle. There will be growth, but those expecting small-cap-like growth will be disappointed.
The thing with Apple is that, right now, it commands very high ASPs and, subsequently, very high net income levels on high-end phones, tablets, and PCs. The growth over the last several years, especially as high-end luxury smartphones and tablets have come incredibly popular, has been quite nice, leading to rather substantial share price gains over the last 5 years. Apple's share price is not in any kind of "bubble" and it's certainly not overvalued at these levels - it has the net income to back it up.
But what has Wall Street concerned is that there are a lot of very credible players doing a lot of very interesting things in the smartphone space (Apple's bread-and-butter). While the iPhone has, up until fairly recently, had only poorly optimized versions of Google's (NASDAQ:GOOG) Android running on cheap-looking phones to fight. However, many established and new players in the smartphone space, coupled with Google's consistent refinement of the Android OS, has bred a whole host of very dangerous competitors such as:
HTC
Lenovo
Samsung
Motorola/Google
LG
Huawei
These companies now have an open, popular, and powerful operating system platform to use to build a whole range of ultra-high-end to super-low-budget phones.
While I believe that Apple will still continue to do quite well, especially in the US where it has significant brand equity, it will find that international expansion, especially with premium-priced smartphones without carrier subsidies, will be much more difficult than taking over the developed markets.
So for large growth? Don't buy either Apple or Microsoft. These are dividend growth plays at these market capitalizations and given their core businesses.
Shareholder Friendliness
Since I have been rather bold in claiming that neither Apple nor Microsoft represent particularly wild growth plays (although that doesn't mean that sales/profits won't grow at modest rates for the foreseeable future), how about return of cash to shareholders?
We look at these metrics:
Trends in share count.
Current dividend yield.
Payout Ratio.
Historical Dividend Increases.
Share Count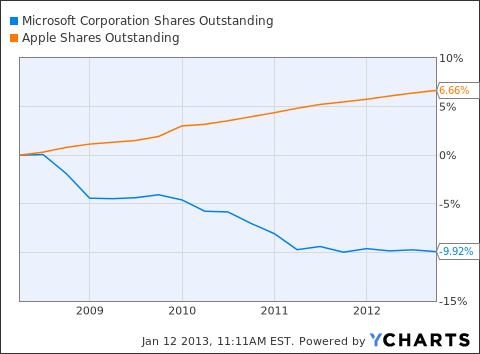 MSFT Shares Outstanding data by YCharts
While Microsoft has retired ~10% of its outstanding shares over the last 5 years, Apple's total share count has increased by 6.66%.
Keep in mind that Apple only recently announced its $10B share buyback program, good for 2% of the float at these prices, but it is unclear whether this buyback will actually retire shares or simply offset any further dilution.
The buyback star is Microsoft.
Dividend/Payout Ratio
As of today, Microsoft pays an annualized dividend of $0.92/share, or 3.43% yield at these levels. Apple, on the other hand, pays $10.6/share on an annualized basis or 2.04% yield at these levels. So far, Microsoft is winning handily against Apple.
How about payout ratio? Apple is sporting a 24% payout ratio while Microsoft's is ~34%. This means that at current earnings levels, Apple could afford to bump up the amount that it pays more easily than Microsoft could. However, both are at quite healthy levels (but Microsoft is a fair bit more generous).
Dividend Growth Rates
It's a little unfair to Apple to look at the dividend growth rate since this is the first year in which the company has actually been paying a dividend. Microsoft, on the other hand, has been paying a dividend and growing it consistently for years: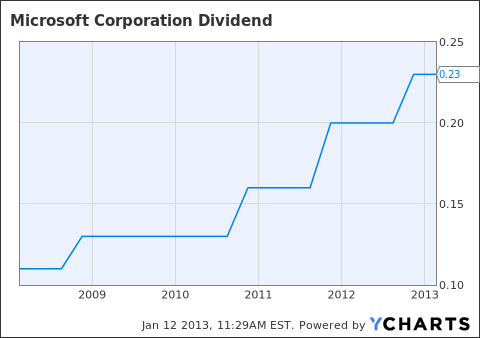 MSFT Dividend data by YCharts
Microsoft has done a superb job, but we can't really say much about the relative dividend growth rates of each company until we've seen the trend in Apple's dividend over time.
That being said, it looks like the shareholder friendliness winner for now is Microsoft because its yield is higher, and the continued buyback lowers share count, meaning that the dividend itself can be increased quite easily.
Conclusion
At this point, investors should have realistic expectations when looking to invest in both of these companies. These are mega-cap stocks that have seen wild growth since their IPOs. However, they are now mature companies that, quite frankly, need a lot to move the needle on the revenue and profit side.
Microsoft's problem is that in smartphones, it has to compete with Android and iOS, but with the release of Windows 8, it has the trump card of compatibility with legacy applications in the tablet space. In the PC space, it has been losing market share to Apple's MacOS, but there is hope that the "Ultrabook" initiative from Intel coupled with a recovery in enterprise spending, will help to help Microsoft stop the bleeding.
Apple, on the other hand, owns the smartphone market in the developed world, but will likely have a very tough time growing its brand and products elsewhere, especially as cost is a very real factor in developing nations. Android phones with cheaper hardware will do quite nicely in those areas, especially as they will be within reach of many more people than an iPhone will ever be.
Finally, Apple's stronghold in the tablet space is under siege by Android devices as well as Windows 8 devices. Windows 8 tablets will be supported by the wide variety of PC OEMs looking to get a part of the tablet pie, and they can sell full legacy Windows application compatibility to boot. These same OEMs are also happy to offer Android tablets, which have actually seen quite a bit of success with the 7" form factor, although the iPad Mini may help to turn the tides in Apple's favor.
Which stock is the better buy? It depends. If you want a safe, larger dividend and don't want to worry about the day-to-day fluctuations of the equity, Microsoft is probably the better buy. Apple, on the other hand, could always release the "next big thing" and unexpectedly catalyze outsized revenue/profit growth. Further, Apple has $120B in cash and no debt, giving it significant firepower to pay a bigger dividend, aggressively buy back shares, and even make some aggressive acquisitions.
Both are great companies, but don't expect crazy growth from either. With that in mind, it's hard to go wrong with either, but I personally like Microsoft's bigger dividend.
Disclosure: I am long MSFT. I wrote this article myself, and it expresses my own opinions. I am not receiving compensation for it (other than from Seeking Alpha). I have no business relationship with any company whose stock is mentioned in this article.