Zipcar hits its top speed
Avis (NASDAQ:CAR) recently announced its acquisition of Zipcar (NASDAQ:ZIP) for $490m, at a 49% premium to ZIP's previous close, and at a discount of over 50% to ZIP's initial public valuation.
On the one hand, this is a great success for venture-backed ZIP. It has made a great return for its investors, and is to be integrated into an industry stalwart, Avis. ZIP more or less created a market and a new business model, and paved the way for other sharing companies such as AirBNB. On the other hand, the agreed price is less than half the IPO value of $1.2B - Greylock, Benchmark and Case have paid a hefty price for holding on - and though it has lost about $55m since 2007, ZIP never turned a profit, and has about as much debt as cash today. In other words, the model never actually worked. ZIP could not create a viable stand-alone business; it failed as a public company. Presumably ZIP realized this and agreed to become a bolt-on to Avis, which is why they sold low. Some dramatize this as 'The Death of Entrepreneurship' (nonsense!), but this sale does appear to at least be a recognition of the limitations of Zipcar's entrepreneurial model; they built a great $500m service that fits nicely within Avis, not a great $1B standalone company.
Synergies on Cruise Control
So ZIP has saved itself by selling to Avis. The question then is: has Avis done something smart here? Time will tell. Let's look at the pros and cons. On the pro side, Zipcar and Avis appear to mesh very naturally. Avis rents cars by the day and week; Zipcar rents cars by the day and hour. Avis will, post-acquisition, be able to offer a full range of car rental services, and will have access to Zip's loyal customers and fleet. According to Reuters, the CAR-ZIP deal "is expected to produce $50 million to $70 million in annual synergies through lowering fleet costs, increasing utilization across the two companies, and increased incremental revenues…". Apparently, Avis' expertise in fleet financing can make Zipcar a whole lot more efficient and Avis-Zipcar can better meet Zipcar's demand than it could on its own. Well, if Avis can hit those synergy numbers, then this will have been an outstanding acquisition without a doubt.
An Uphill Drive
However, those numbers do seem a little fanciful. If Glassdoor reviews are anything to go by, Zipcar's culture is still pretty innovative, entrepreneurial and exciting. Avis is a big, stodgy corporation by comparison. Zipcar's talent is currently in Cambridge, MA, but Avis' is in NJ. Avis is a rental company; Zipcar is a sharing company. That difference reflects a whole other set of values that the companies probably don't share. Anecdotally, just compare these two images of the two companies:
Zipcar's homepage still touts the company as "the world's largest car sharing and car club service. It is an alternative to traditional car rental…" Yes, an alternative to Avis. As others have pointed out, the young, cool, green, demographic of Zipcar users may stay with Avis as they mature into middle-class Americans and Europeans, but for now at least, Avis and Zipcar have two very different user-base demographics. All these militate strongly against a deal like this one creating massive synergies of over $50m per annum. Just look at these two images - the Prius Zipcar in green grass, versus 'We Try Harder'. These two emotions and cultures are farther apart than MA and NJ. Still, the market didn't punish Avis shares, which - unless it shows New Year excitement and general enthusiasm for a fun looking deal - indicates that the crowd considers this deal has a fair chance.
What's the Model?
According to Harvard Business School professor Clayton Christensen (HBR Magazine 2011), M&A can be broken down into two main categories. One is an acquisition that supports and extends a company's business model. The other is an acquisition of a new business model. Things go wrong when the difference is not clear. What is Avis' plan for Zipcar? Are they using Zipcar's infrastructure, customers, brand and capabilities to extend the Avis model, or is Avis viewing this as a new business and a new business model? There are some indications that Avis is intent on the former, and one has to hope that they are at least aware of the distinction (which, amazingly, is far from obvious for most acquirers).
For more analysis on ZIP-CAR and other M&A, and thought provoking commentary and thought leadership on M&A, go to Merjerz, where such deals as KO-SODA, and FLWS-H. Bloom have been suggested and are being discussed. KO-SODA is a new business model M&A suggestion; FLWS-H Bloom is more an extension of FLWS' model: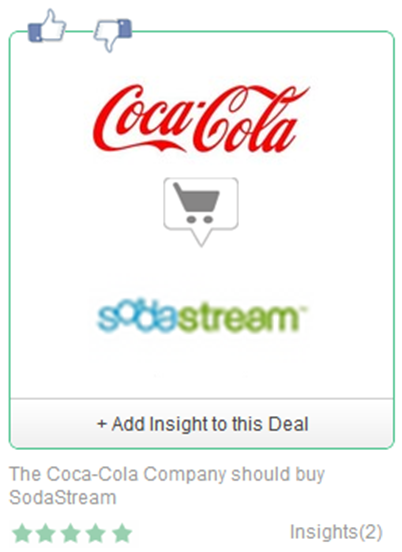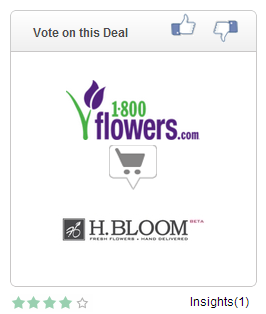 Good luck to the Avis and Zipcar teams, we hope they can pull this off, and particular congratulations to the Zipcar investors who can take their winnings and, say, buy a car.
Disclosure: I am long SODA. I wrote this article myself, and it expresses my own opinions. I am not receiving compensation for it. I have no business relationship with any company whose stock is mentioned in this article.