Despite a mixed outlook for GDP growth in 2013, global diversified chemical producers are expected to advance the pace of capital spending during the next few years.
A recent study by the American Chemical Council (ACC) estimates capex in the business of chemistry will reach $35.5 billion in 2012 and steadily rise to $51.5 billion by 2017. Overall, chemical output is expected to grow by 2.3 percent in 2012, 4.3 percent in 2013 and 4.7 percent in 2014.
Balchem Corp. (NASDAQ:BCPC) is a small-cap niche producer we believe offers a rare combination of earnings growth, rising dividend potential and exceptional takeover appeal. More compelling in our view is Balchem's superb quality-of-earnings, solid liquidity profile and consistency with cash-flow generation. Also, BCPC management has demonstrated adept skill at integrating accretive acquisitions.
Overview:
Balchem Corporation develops, manufactures, and sells specialty performance ingredients and products for the food, nutritional, feed, pharmaceutical, and medical sterilization industries in the United States and internationally. It operates in three segments: Specialty Products; Food, Pharma & Nutrition; and Animal Nutrition & Health. In addition, BCPC's solid footprint in choline, choline derivatives and oxides (ethylene and propylene) enhance the company's industrial products portfolio.

Specialty Products: ethylene oxide primarily for use in the health care industry; and single use canisters with ethylene oxide for use in medical device sterilization. It also sells propylene oxide as a fumigant to aid in the control of insects and microbiological spoilage; to reduce bacterial and mold contamination; to customers seeking smaller quantities and whose requirements include utilization in various chemical synthesis applications; and to make paints durable, as well as for manufacturing specialty starches and textile coatings.

The Food, Pharma & Nutrition segment provides micro-encapsulation solutions for applications in baked goods, refrigerated and frozen dough systems, processed meats, seasoning blends, confections, and nutritional supplements. The FPN unit also markets human grade choline nutrient products for wellness applications. In addition, this segment offers a novel smooth dissolve excipient technology primarily used in chewable tablets or stick-pack dosage forms for nutritional and pharmaceutical products.

The Animal Nutrition & Health segment offers REASHURE Choline, an encapsulated choline product; NITROSHURE, an encapsulated urea supplement; NIASHURE, a micro-encapsulated niacin product for dairy cows; and chelated mineral supplements. It also provides AMINOSHURE-L, rumen-protected lysine for use in dairy rations; basic choline chloride, a nutrient for animal health; and methylamines. The company sells its products through its sales force, independent distributors, and sales agents. Balchem Corporation was founded in 1967 and is headquartered in New Hampton, New York.

-Corporate description provided by Yahoo
Macro Thesis: The chemical industry is highly cyclical and heavily dependent on "commodities" to manufacture their products. A key driver to forward ROI and capex rationalization for BCPC will be the result of competitive price advantages and the abundance of "shale gas."
Brand awareness to chemical makers and their products tend to be muted by the fact that many chemicals are manufactured and sold to meet certain specifications. Reminiscent of the catchy marketing slogan created in the late 1980s for German chemical giant BASF (OTCQX:BASFY), smaller Balchem fits the BASF jingle like a glove: "We don't make a lot of the products you buy. We make a lot of the products you buy better."
We believe investors have yet to fully recognize the innovation, integrated diversity, and product commitment BCPC offers its customers and the markets it serves. While its $1.04 billion market cap and relatively small share float (29.3M outstanding as of September 2012) help to smooth price volatility, suitable entry points can be an exercise in patience.
However, we feel the opportunity to own shares of Balchem are at hand. Further weakness in general market conditions would in our view offer even more attractive entry points in BCPC. The primary thrust to our fundamental investment thesis is based on the company's history of operational efficiency, profitability and market penetration.
Further, we believe this success can be credited to management's impressive tactical execution. Compelling evidence to support our bullish argument can be observed in our analysis of the company's financial statements. The company's R&D collaborations offer a deep bench of resources to future product development.
Valuation: We consider cash-flow components/sources used to support earnings "construction" as the most critical aspect to the integrity and quality of reported earnings. Whereas discounted cash-flow methodologies require input variables and assumptions of the future, results from conventional CF analysis are subject to significant potential margins of error.
A more effective technique to determine cash-flow metrics can be discerned by analyzing key changes in historical financial statement composition. By observing the architecture between these relationships over consecutive multiple periods of time, we are able to detect more reliable clues to determine the quality of reported earnings.
Critical examination of these trends can be equally, if not more, effective in assessing future equity valuations. That said, any quantitative (gunk-in-gunk-out) model including the unconventional cash-flow analysis presented in this report is subject to deviation of their predictive capability and results.
However, our dual cash flow, accrual and capital productivity screen has been shown to be highly accurate in forecasting how changes in liquidity and financial conditions of a company impact future price movements in the underlying security. This analysis method often spots potential share price-change "catalysts" months before it is detected by traditional CF methods.
The high quality of earnings exhibited by BCPC is bolstered by rising levels of operational cash flows generated (as % of sales) and a decline in non-cash or balance sheet contributions to earnings. This can be seen in the dual cash flow ratio chart and OCF vs. BSCF graph below. Balchem displays both recent and confirmed bullish signals, an indication of increased levels of cash flows generated from actual operations.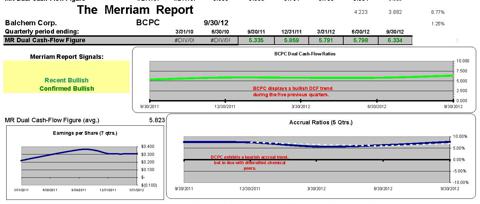 Observation of wide spreads between BCPC's "dual" cash-flow sources are a valuable step in determining the health of the company's liquidity and their quality-of-earnings.
Accruals: GAAP accounting principles are intended to be a framework for consistency to the financial reporting process. However, the practice and interpretations of GAAP guidelines allow financial managers considerable leeway in the judgment and presentation of business activities within the financial statements.
Analysis of the accruals help an investor detect anomalous or "messy" adjustments to net income, cash used or generated from operations, investments and financing activities. Accrual accounting practices vary by industry and comparing accrual trends to peers is helpful. Note: An interesting research study on the predictive ability of aggregated accrual analysis can be viewed here.
Companies which utilize accruals as a lever to boost earnings typically display a positive (+) accrual ratio figure. Capital intensive industries such as chemical producers often utilize accrual accounting measures, particularly during periods of restructuring or other cost-cutting initiatives. An accrual ratio figure of +5 or > is generally considered a bearish indicator, but as mentioned, should be viewed relative to peer comparisons.
The average accrual ratio for BCPC during the five previous quarterly periods is +7%. This compares favorably to the sector group as seen in the chart below.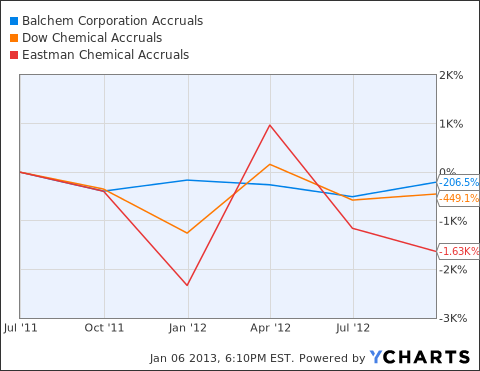 BCPC Accruals data by YCharts
Larger capitalized companies such as Eastman Chemical Co. (NYSE:EMN) and Dow (NYSE:DOW) exhibit big swings in accruals while BCPC displays a more consistent accrual trend.
A closer examination of the statement of cash flow reveals a mild spike in depreciation, a modest bump in non-cash items and a slight decline in working capital. We also note some capex and asset purchase adjustments related to "investment activities" in the recent period. While less reliance on accruals would be constructive to elevating BCPC's earnings quality, their accrual ratio trends are "stable" and in line with the sector.
Capital Productivity: Another useful metric for valuation and earnings quality measurement is determining how efficient management is with expense controls and asset deployment. In the image below, you can see BCPC improved on the expenses side of the ledger. In contrast, capital productivity (per each dollar of sales) declined modestly in each of the asset categories we track.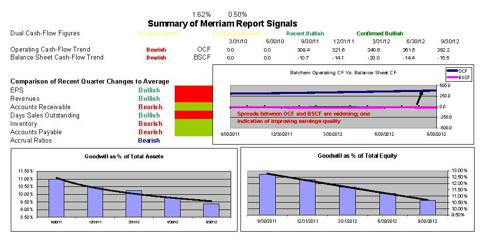 However, this is somewhat mitigated by the fact that production output in the diversified chemical group contracted slightly during fourth quarter of 2012.
Although return-on-assets (ROA) trends in the diversified chemical sector have declined in the past few years, BCPC is flattered by its 14% average five-year ROA. Assuming recent industry trends are a temporary phenomena, we are confident BCPC management can grow its asset returns going forward.
Goodwill: The amount of goodwill is by our definition the cost to make an acquisition in excess of fair market value of the tangible assets, the intangible assets that can be identified, and the liabilities obtained in the purchase. Over time, the amount in the Goodwill account will be adjusted to a smaller amount if there is impairment in the value of the acquired company as of a balance sheet date.
We view the declines in BCPC's levels of goodwill both (viewed in the graph above) as a percent of equity and total assets constructively. Between 2001 and 2010, Balchem made seven acquisitions with acquired sales valued at $108 million. As a result, declines in goodwill values reveal several potential or likely outcomes:
Significant impairment risk appears remote near term (thus not equity destructive).
The company was successful integrating the acquisitions (synergy benefit).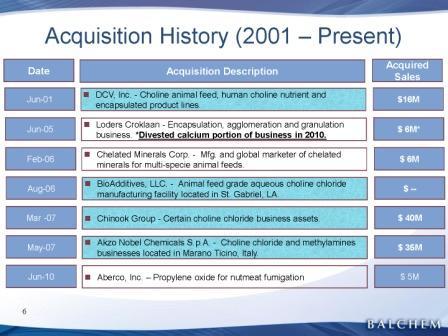 Assuming that acquisitions will continue to complement future organic growth drivers, investors will want to pay close attention to BCPC's deal flow strategies going forward.
Estimated Fair Value: Our model assigns an estimated FV of BCPC shares at $38.81. Based on 1-4-13 closing price of $36.82, shares are UNDERVALUED by -5.12%.
We anticipate consensus estimates for the broader chemical group will be tweaked during the first half of 2013. Analysts will attempt to determine who will benefit from cost cutting, improved feedstock (natural gas pricing for example), margin potential, etc. However, BCPC has light analyst coverage and we do not anticipate revisions to BCPC fiscal year 2013 growth estimates (currently +12.70%).
Assuming that consensus estimates for BCPC are not revised downward, the stock appears undervalued not only to our estimate FV, but also at a discount to forward earnings growth. Our confidence is further elevated by a superb management team devoted to growing the company carefully, a rare ethos we seldom see in small-cap growth stories these days.
Takeover Appeal: On a stand-alone entity, BCPC offers what we believe to be a better-than-average growth story in a commodity influenced sector.
There are numerous niche companies in the "specialty" chemical arena. While some producers remain in a perpetual restructuring mode, others stand to grow market share profitably and in some cases benefit from pricing power. We think Balchem will benefit from the latter.
With Balchem, you have the benefit of a basic materials company and the opportunity of a specialty chemical producer. We also expect BCPC to broaden its footprint in ancillary industrial markets. One opportunity with bright potential is the use of choline and choline derivatives as "environmentally friendly" components of fracking fluids used for extracting unconventional shale gas.
We view Balchem as a uniquely diversified small-cap gem capable of generating superior free cash flow (from actual operations). Also, it doesn't hurt that BCPC sports a solid balance sheet, $5 a share and no debt.
To a potential suitor, a $1 billion market cap with a healthy liquidity profile and a portfolio of products serving multiple end-market customers would be appealing. To any producer looking to broaden their presence in encapsulates, food, pharma, animal, and medical markets, acquiring BCPC might make strategic sense.
Risks: Obvious potential risks to any chemical story are demand cycles, raw material and input costs, quality control issues, product recalls, regulatory changes, etc. Further weakening in poultry markets or continued delays in getting their Lysine product back on track would also negatively impact BCPC earnings and the revenue outlook.
Although BCPC does have the characteristics of an appealing takeover candidate, there are potential deal risks to consider. BCPC's small market cap and thin share count open the door to stock price volatility. Management could also thwart any potential hostile bid with a poison-pill initiative. Targeted companies and their boards who are not compelled to tap shelf or secondary (equity) offerings may prefer to keep their dilutive weaponry as a last resort to repel unwanted bids.
Given the solid historical ROI, ROA, ROE returns generated by BCPC, it is safe to assume that current management thinks they are doing a good enough job. Also, management may not appreciate interlopers sniffing around camp. From this perspective, we think the fewer shares outstanding are better for an average investor wanting to own this stock.
Institutional investors currently hold almost ¾ of the outstanding 28.9 million shares. A hostile incursion would likely magnify price volatility, particularly if merger/arbitrage activity gets crowded. As for potential private equity interest, BCPC's healthy financial profile might be too "clean" for a LBO or debt-financed proposition.
How to Trade Balchem: Short-term trading opportunities look to be in the $35-37 area. Investors with a longer-term horizon might consider initiating partial positions on any pull-back to the $35 area (50-day SMA). We would consider taking full positions up to $33 (200-day SMA).
BCPC is slated to report Q4 and fiscal year 2012 results on February 25. The complete analysis and report for BCPC can be viewed here.
Disclosure: I have no positions in any stocks mentioned, and no plans to initiate any positions within the next 72 hours. I wrote this article myself, and it expresses my own opinions. I am not receiving compensation for it (other than from Seeking Alpha). I have no business relationship with any company whose stock is mentioned in this article.
Additional disclosure: Data sources used in this article include: Yahoo Finance, Y Charts, Reuters, merriamreport.com, Balchem Corp. investor relations