Amazon (NASDAQ:AMZN) is one of the few holdovers from the dot com era that continues to hold its promise. It has been called everything from dot bust to dot con but has demonstrated that it is anything but dot success. It is one of very few companies that count Apple (NASDAQ:AAPL), Google (NASDAQ:GOOG), Wal-Mart (NYSE:WMT), EBay (NASDAQ:EBAY), Netflix (NASDAQ:NFLX) and Groupon (NASDAQ:GRPN) amongst others as direct competitors. From its humble beginnings as a bookseller, Amazon's current size and status is a testament to an unmatched tenacity and execution capacity. Its path is littered with corpses of companies that tried unsuccessfully to accomplish tiny portions of what it has achieved.
Its growth has been fuelled by successfully challenging and changing established business models and beliefs. Its modus operandi is simple, a trenchant, sacrosanct, and uncompromising focus on the customer -convenience, price and assortment. This focus has not always worked for other companies because what is good for the customer is not always good for the bottom line of corporations. This truism is part of the reason why Amazon has not delivered the margins and net income levels for a company of its size. This has led many to question if its business approach is viable. In this article I am going to look at the promise/potential of Amazon, assess if it is really not delivering on its full potential, review some risk factors and then conclude with my opinion of how I see the company going forward.
Potential/Promise:
Amazon is the 41st ranked company by market capitalization at $120.41b, 2 spots above Pepsico (NYSE:PEP) at #43 and 3 below Citigroup (NYSE:C) at #38. Over the last year Amazon has outperformed most of its major competitors including the NASDAQ and the Dow.

Source: Google Finance
It trades at about 204 times 2012 EPS estimate of $1.31. YOY change in net sales from 2008 through 2011 was 28%, 40% and 41%, respectively. Over this same period of time it has averaged about 46% of its sales from international operations. An impressive number considering that international expansion has been very challenging for other U.S. retailers. Analysts sentiment, per below table, is relatively bullish on Amazon with overwhelming recommendations for Hold to Strong Buy.

Source: Yahoo Finance
Amazon's ability to dictate the competitive landscape in most sectors that it competes in has been the key ingredient to its staying power. This ability is evident in the willingness of competitors like Target, Best Buy, and Wal-Mart to bend to their pricing, shipping, and/or return policy strategies.
What Amazon does better than most, however, is its relentless, deliberate, tactical and systematic deconstruction of business models. Take the CD selling business for example. The evolution to digital music decimated CD sales and retailers who depended on it lost a lot of revenue in the advent of iTunes. Well, the decline of CD's affected Amazon too. So, Amazon sells digital music too with free backup of songs downloaded from its site. It now also provides a service called AutoRip which automatically provides a digital version of CD's bought via its store.
There is nothing genius or novel in Amazon's approach it just does a better job of insisting that the customer is #1. It uses technology to embrace challenges that competitors consider as non-contributing to their short term goals of profit. Michael Porter states that "sound strategy starts with having the right goal". Amazon has a clearly defined goal of customer satisfaction and works backwards from that as it expands into different areas. The strategy is easy and the rationale of the ecosystem obvious. That is why all its many businesses contribute to create synergies that create the goodwill around the Amazon brand. Competitors could replicate individual tactics but replication is a weakness not strength. Their structure and ecosystems are simply not built for the fluidity of Amazon. They cannot aggressively pursue the continuous and strategic realignment of their offerings to create the value that Amazon creates with innovation and disruption. Even when Amazon decides to cannibalize its own businesses as it did with the Kindle their competitors are still not in a position to take some market share from them.
Cost of Expansion
Amazon's Capex grew by 162% to from 2009 to 2010 and a further 84% from 2010 to 2011. Net income and sales have been going in different directions. From 2010 to 2011 Net sales grew by +40.56%, while net income dropped by -45%. EPS and free cash flow also declined as Net Sales grew.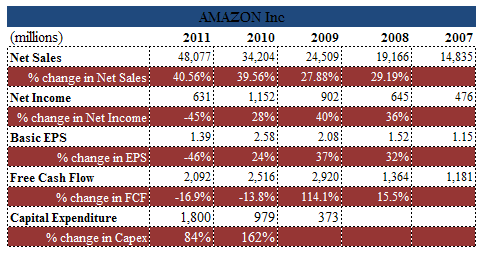 Source: Amazon's 10K
Comparing Amazon's numbers against other competitors on absolute terms does not paint the full picture. Most competitors compete only with portions of Amazon's total business hence do not capture the nuances of the total of Amazon. I am going to use EBay for reference only and to provide perspective to where Amazon is taking the biggest hits in its expansion process.
Amazon has a gross margin of 23.74% compared to peers at 26.04% and an industry average of 27.05%. It has an operating margin of 0.93% to 6.13% to peers and 5.24% industry average. Amazon posted Return on Assets and Return Equity numbers of 0.76% and 0.52% compared to 9.95% and 16.20% for the industry. Total Capex for Amazon was at $1.8b which was an 85% change from previous year and 3.8% of net sales. EBay's total Capex was $964M a 33% change from previous year and 8.3% of net sales. The percentage changes in SG&A and Net Income for Amazon have grown disproportionately to Net Income and in opposite directions. The short ratio of Amazon is 3.0 compared to 2.3 for its peers. These numbers are reflective of the squeeze on being a cost leader and the cost of expanding its infrastructure base.
While the above numbers show the drag that expansion is having on the company it is worth pointing out that there are some positive operational indicators in the numbers below. SG&A as a percentage of Net Sales is at about the same levels through the years and actually lower than that of EBay. Absolute numbers for capital expenditure are high but as a percentage of net sales they are at a lower level than EBay as well.

Structural Threats:
Technology - what is good for the goose is good for the gander. Technology worked for Amazon in the same way that it could work against it. It provided an opportunity for Amazon to challenge and deconstruct dominant players in the market. It has also flattened the global marketplace and reduced the barrier of the middle person that drives up cost. It is inevitable that success will attract new and innovative solutions to challenge Amazon as it becomes the dominant player. Let's take for example the opportunity that mobile platforms provide Amazon to sell products. What impact could the mobile platform wars have on Amazon? Google demonstrated this potential with limiting access to Google maps via internet explorer on Windows phones. Google competes directly with Amazon on many fronts and Apple does too. The ability to switch access on and off could be a real problem and might force Amazon to get into phones which will continue to stress its profits and margins like the Kindle has done.
Innovation: Innovation is double edged sword that is required to get to the top. At the top innovation forces companies to accept change and sometimes a willingness to fail which might mean moving on from successful products/services. Amazon has to remain innovative and it has to nurture innovation even when it means cannibalizing its own business. To stay on the cutting edge it also means that it will have to continue to organically and inorganically acquire innovation which may mean disproportionately higher costs for R&D and acquisitions. The Kindle, again, is a good demonstration of how Amazon used innovation to cannibalize a business which was its mainstay. In this case, even though Kindle is not sold for profit, it worked well. This is not always going to be the case but Amazon cannot shy away from it.
Regulations: Amazon is playing a game whose rules are being defined during the game. This is good in the sense that they are first movers and will probably develop a competency in this game. It is not so good because some of its more traditional brick-and-mortar competitors don't have to play the same game. The insatiable desire to find additional sources of revenue and lobbying by competitors can create a real difficult operating environment for Amazon.
Relationships: Amazon has this weird web of relationships that confound me even though I have no dog in the fight. They compete directly with third party vendors, provide fulfillment services and in some cases host the services of companies that they compete directly against. Netflix, for example, uses Amazon web service centers to host and stream movies. This service competes directly with Prime Instant videos. It could be coincidental but instances of Netflix services going down at key viewing periods while Prime Videos is available have been a bit too often. While this has not been an issue it is reasonable to suspect that companies like Netflix must explore their options and not open their cards to a competitor who would not mind taking them out of business.
Conclusion
The usage of technology in commerce is still in its infancy as evident in the rate at which it is changing. The cost of technology and rate of obsolescence is high and a significant barrier to entry for most companies. Amazon's insistence on having a long term approach to profitability and emphasizing on the attributes of convenience, low prices and assortment has staying power with customers. The challenge for Amazon and all the dot coms before it is to turn the promise of e-commerce into a viable and profitable business. Amazon has done better than most of its predecessors in creating viable brands and providing award winning customer service to support these brands.
Competition is always going to be tough and the threat of new entrants will increase with success and new technologies. The beauty of what Amazon has done and continues to do is that it's portfolio of assets competes directly and complements at the same time what others are doing. It has made its success not to be a zero sum game and put itself in a position where being #1 is not a necessary formula for it to win. As long as Amazon continues to create value in its ecosystem it will make it hard for customers, B2C and B2B, to stay away from its platforms. As the adoption of technology and technological tools that make the internet more potent become common Amazon will grow sales faster than any other company. Do not expect Amazon to stop innovating and to start pushing for higher margins or net income. This is the way it is going to be for Amazon- this is the Amazon way.
Disclosure: I have no positions in any stocks mentioned, and no plans to initiate any positions within the next 72 hours. I wrote this article myself, and it expresses my own opinions. I am not receiving compensation for it (other than from Seeking Alpha). I have no business relationship with any company whose stock is mentioned in this article.