For those who may not know, Abbott Labs (NYSE:ABT) has recently split off into two companies. One company will operate in medical diagnostics, medical devices, branded pharmaceuticals and nutrition. This company will keep the Abbott Labs name.
The other company, AbbVie (NYSE:ABBV), takes the legacy pharmaceutical research business. AbbVie has a market cap of just under $53 billion, a business that generates lots of cash, and was spun off with much a lower price to earnings ratio than the Abbott of old. As of today it provides a yield of over 4.7%. I believe that AbbVie, just after its spinoff, represents a bargain in this market where good value is hard to find.
Unfortunately, AbbVie thusfar does not seem to have been well-received by investors. Despite a marked discount to peers such as Pfizer, Merck, Bristol Myers and others, the stock hasn't had much upside action since the spinoff. This is probably because much of their revenue comes only from one drug: Humira. It's also because AbbVie is a newly independent company and has to rely strictly on its pipeline to thrive in the future.
Though AbbVie clearly carries more risk than its old parent, a diversified medical giant, I don't believe the market is being fair to this company. To me, the concerns seem over-hyped and value-minded dividend investors should give this new, yet proven company some serious consideration. As you'll see, the biggest risks are probably years away.
Main Concern is Overemphasis On Humira
The host of Goldman Sachs' Healthcare CEO's Unscripted conference on January 3rd, 2013, "cut right to the chase" with CEO Richard Gonzalez and very well summed up everyone's primary concern:
"Most investors see Abbvie as a cash flow story with a spectacular asset but one that will eventually go into decline."
This is, I believe, why AbbVie has thusfar hovered at a low valuation. And its true! Taking a look at its revenue in the first nine months of 2012, we can see that Humira, AbbVie's most popular drug, also generates a majority of the company's revenue.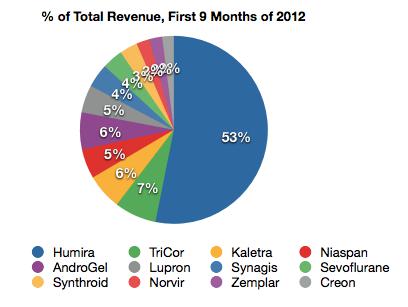 All charts created by author. Data from prospectus.
This is no by no means a recipe for disaster. In fact, AbbVie forecasts Humira will outpace markets for a few years due to low penetration in many countries. This is despite oncoming competition from Pfizer. In addition, it will not face generic competition until 2017. This gives AbbVie plenty of time to develop its pipeline.
In the meantime, AbbVie trades at a low valuation and will reward shareholders with generous dividends.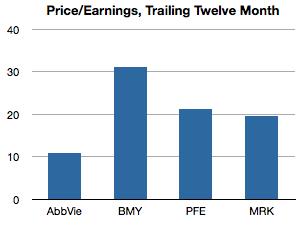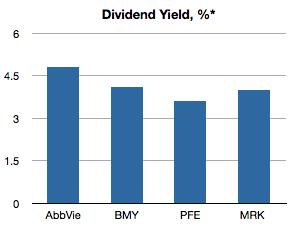 Charts by author, data from Google Finance
Safe Dividend, Plenty of Time
| | | |
| --- | --- | --- |
| Dividend Safety |   |   |
| Estimated 2013 Dividend | $2.53 billion |   |
| Full Year 2011 Free Cash Flow | $5.89 billion |   |
| Est. 2013 Dividend / Free Cash Flow Coverage |   | 43% |
"The investment thesis we offer is that we have a strong, sustainable base business that generates about 6 billion in cashflow. (...) We have a commitment to grow that dividend."
CEO Richard Gonzalez, Goldman Sachs Healthcare Unscripted, Jan 3rd 2013
Not only is this dividend safe for the intermediate future, CEO Richard Gonzalez has stated his interest in increasing it. This is exactly what dividend growth investors should be listening for.
Despite $15.7 billion in debt, AbbVie also has an initial cash balance of $7.2 billion, giving the company plenty of resources and room to manuver until Humira's patent expires.
Considering the amply-covered dividend and four years of no generic competition, AbbVie looks like a calculated risk worth taking.
Pipeline and Growth Prospects
In the first nine months of 2012, AbbVie has grown revenues by 8.1%. If this year's data was anything like last year's it would show Humira taking the lion's share of that growth, but with a bevy of smaller drugs adding to it. One particular bright spot is AndroGel, a testosterone replacement drug.
Chart by author. Data from Prospectus.
Most pharmaceuticals are only as good as their pipeline. Gonzalez has described AbbVie's as "solid." There are currently ten drugs in the "late stage" (Phase III) of development. Of those ten, five carry the name Humira. AbbVie expects another seven projects to advance to Phase III within two years.
Humira's patent expiration, while far off, will obviously be a real drag and very hard to replace. However, when we look at the revenue growth of other drugs, as well as the multiple projects in the late stage of the pipeline, we get some idea of how AbbVie might keep its earnings at least treading water past 2017.
Conclusion
AbbVie is no longer part of a diversified medical company, but is a pure pharmaceutical with one drug as its mainstay. The risk profile, therefore, has changed and this is likely the reason for its low valuation.
Though it may be a "new" company, they're certainly not an unproven one. Under Abbott Labs they did very well as a division. There's no reason to think they will do any worse now. If anything, they will perform better.
If Abbott's history is any indication, AbbVie will also be generous to shareholders. Even at this yield, the coverage rate is still fairly low. Don't be surprised to see the dividend increase if things continue smoothly.
Disclosure: I am long ABBV. I wrote this article myself, and it expresses my own opinions. I am not receiving compensation for it (other than from Seeking Alpha). I have no business relationship with any company whose stock is mentioned in this article.