It is our opinion that if the talk out of China is real and the country is in fact exploring the possibility of allowing more foreign capital into the country then this is bullish for the world economy as well as for commodities. The move would have far ranging effects on the economy and could help shield them from various 'popping bubbles' in the future as well as drive short-term growth. Commodities in premarket trading are higher, so that would seem to back up our thinking on this news.
Commodity prices this morning are as follows:
Gold: $1668.80/ounce up by $8.20/ounce
Silver: $30.77/ounce up by $0.362/ounce
Oil: $94.17/barrel up by $0.61/barrel
RBOB Gas: $2.7461/gallon up by $0.0066/gallon
Natural Gas: $3.355/MMbtu up by $0.028/MMbtu
Oil & Natural Gas
Friday's session saw Talisman Energy (NYSE:TLM) rising smartly on the back of an article by Bloomberg where a number of analysts discussed the potential for Talisman to get a takeover bid due to their underperformance. The share price performance has been weak, but so too has the company's operating results and that paired with the weak outlook as new management tries to right the ship has some thinking that the attractive assets on the company's balance sheet might be priced just right for a sale. The Asian players have been removed from any possible outright sale with Canada not wanting to sell anymore of their marquee names but some American and European names were mentioned as potential suitors. For those interested in reading the article, the link is located here.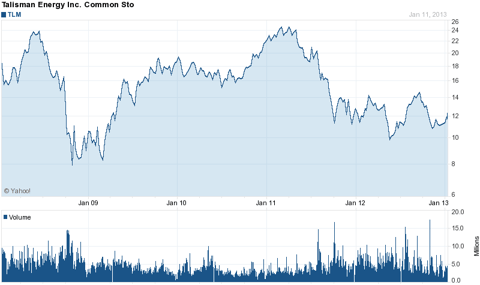 Chart courtesy of Yahoo Finance.
The past five years have been tough for Talisman shareholders. Many promises to drive growth have been made and all have fallen flat, now the question is how fed up are they and at what price would an offer need to be at in order to entice them to sell the company?
It has come to our attention that one of our recent articles was grammatically incorrect due to the fact we left 3 letters off of a word. We are referring to our recent comment on EV Energy Partners, LP (NASDAQ:EVEP-OLD) where our comments indicated that the partnership would be selling 100,000 contiguous acres in the Utica - which is most certainly not the case. That should have read noncontiguous as anyone who has looked at the company's presentations over the past year would notice the large uncolored spaces on their property map located between colored areas.
Oil Services
This weekend we saw where Carl Icahn has taken a 1.56% stake in Transocean (NYSE:RIG) and is seeking to gain regulatory approval to purchase a larger stake which would take his holdings to over 5% of the company. This move comes after the company settled their case over the Horizon oil spill in the Gulf of Mexico and should aid the company's stock price on its recovery now that one of the larger questions has been removed from the equation. There is still another case out there for the victims as well as the workers and survivors of those who passed but the situation is now understood. We would assume that Icahn simply sees value here as we are not sure what he would seek to change other than capital structure. It will be interesting to see what news comes out in the next few days concerning this move, and for those wanting to read the article from Reuters it is located here.
Precious Metals
We received some questions about our position in silver over the weekend and yes we are long-term holders of silver, owning the physical commodity and not the equity (via funds, etc). We thought we had made that clear, but apparently not. Although we are long physical silver via coins, we have recommended that readers look into the iShares Silver Trust (NYSEARCA:SLV) as a liquid way to play silver. We are less concerned about short-term ups and downs on the play and would use those movements to add to positions as we move higher.
Coal
Alpha Natural Resources (ANR) did not pop above $10/share and hold and did in fact begin a pullback towards $9.50/share starting last Thursday (the same day we wrote about the crossroads the stock was at - see here). As we mentioned, at these levels it becomes a play for long-term investors to step back in and those short-term traders to back off a bit, but this is all dependent upon the $9.50/share level holding. We are liking the news out of China recently and that coupled with the news from Japan and today's news could create a situation where more capital finds its way to China and helps re-inflate the growth rate there. It will be interesting to see how the market interprets that news out of China this morning and if it views it the same way we do then we could see coal names pop.
Disclosure: I am long EVEP-OLD. I wrote this article myself, and it expresses my own opinions. I am not receiving compensation for it (other than from Seeking Alpha). I have no business relationship with any company whose stock is mentioned in this article.
Additional disclosure: I also own physical silver.