Asian shares finished sharply higher after comments out of China indicated that the country may be open to allowing long-term investors into their markets in a much bigger way than they currently allow. Nothing is for certain yet, however the Chairman of the China Securities Regulation Committee stated that it could be on a level 9 to 10 times higher than currently allowed. That would obviously add demand in the market and help inflate equity prices. It may also have the added benefit of softening any blow to other areas of the economy in a bubble as local investors are able to reallocate capital and step in before bubbles pop. This will be a story to follow in 2013.
We have economic news due out today, and it is as follows (these are the consensus estimates):
There really is not any economic news per se, however after the market closes Ben Bernanke will speak at the University of Michigan.
Asian markets finished higher today:
All Ordinaries - up 0.25%
Shanghai Composite - up 3.06%
Nikkei 225 - CLOSED
NZSE 50 - up 0.54%
Seoul Composite - up 0.52%
In Europe markets are higher this morning:
CAC 40 - up 0.50%
DAX - up 0.81%
FTSE 100 - up 0.16%
OSE - up 0.36%
Technology
We wanted to highlight Unwired Planet (UPIP) this morning after an impressive end to the week last week. Shares finished Friday at $1.87/share after rising $0.56 (42.75%) during Friday's session on above normal volume of 3.7 million shares. The company received an upgrade from Northland Securities to 'Outperform' from 'Market Perform' and the company announced a deal whereby they would acquire patents from Ericson and receive 100 patents annually from 2014-2018 to add to the portfolio. This will give the company more firepower to use moving forward and should position them to make a move on some of the big boys, at least that is our take away from the transaction.
Retail
Investors saw shares of Best Buy (NYSE:BBY) rise $2.00 (16.38%) to close at $14.21/share on Friday after the company announced holiday sales which were much better than anticipated. Same store sales were still down by 1.4% for the holiday period, with overall US sales flat overall. It is somewhat humorous how bad news not being as bad as expected is good news, but then again that is how most turnarounds take hold. The only problem we have with the rally is the fact that much of the attention quickly shifted from the operating results to whether this provided enough good news to allow the founder of the company to line up financing in order to mount his bid. If the market is still counting on that avenue as an exit strategy we would still stay on the sidelines then.
Biotechnology
We noticed that shares in BioCryst (NASDAQ:BCRX) have been climbing as the flu season in the United States has kicked into high gear. Last we saw 48 of the 50 states were seriously impacted and large cities are beginning to get large inflows to their hospitals. This season deaths are up and the vaccine is apparently only effective in 60-70% of those who received the shot. Worse still, many have not received the shot and the vaccines which are left are actually being rationed in some places. The company has a drug used in other countries successfully, but the US trials did not go successfully so it is hard to imagine the government buying a stockpile or allowing the drug to be used in hospitals as a last line of defense. Regardless the stock still gets mentioned as a flu play, but we just wanted to point out the lack of a market here in the US.
Dendreon (NASDAQ:DNDN) was a big winner on Friday after Sanford C. Bernstein upgraded the shares from a 'Market Perform' to an 'Outperform'. Investors latched on to the portion of their report where they stated that the stock could be a big winner in 2013 as the company reverses course and sees moderate growth in sales of Provenge. The company has made some big changes, including in management, since the launch of the drug and the poor performance which followed. Based on the research done by the brokerage for their report they stated that many medical professionals indicated that they planned to use the drug more rather than less and that competition fears of investors may be misplaced. This goes along with what we have read from industry experts, so it will be interesting to see exactly how this translates into growth in the next quarter or two.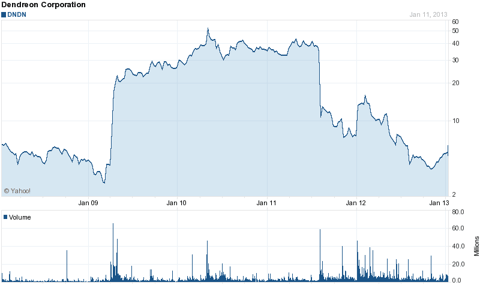 Chart courtesy of Yahoo Finance.
The stock had a nice pop after approval, however it also had a healthy drop after poor initial sales. For the year ahead it will be about correcting past mistakes and executing. Otherwise a sale of the company is in order.
Financials
We noticed last week that American Express (NYSE:AXP) announced that they would be cutting 5,400 jobs, or roughly 1 in 10 employees at the company. Either way you look at that number it is a big move and simply adds to the total that the financial sector has cut since the 'Great Recession'. Also last week we saw Morgan Stanley cut 1,600 jobs and rumor is that Bank of America is not yet done trimming their ranks. With all the jobs the industry has already shed, paired with those planned, it seems that the financial sector is going to continue to be an impediment to job growth and shall continue to pump up the numbers for jobless claims in the weeks and months ahead.
Chart of the Day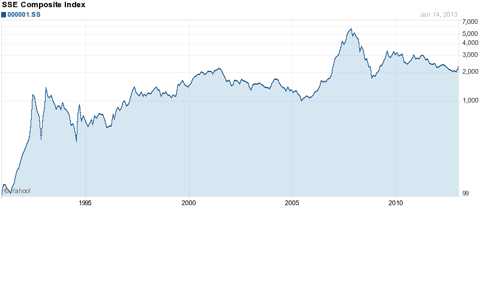 Chart courtesy of Yahoo Finance.
It appears that we are now bouncing off of some support in China, but are we breaking out for another bull run? It is not confirmed, however that is our bet for 2013.
Disclosure: I have no positions in any stocks mentioned, and no plans to initiate any positions within the next 72 hours. I wrote this article myself, and it expresses my own opinions. I am not receiving compensation for it (other than from Seeking Alpha). I have no business relationship with any company whose stock is mentioned in this article.