After CES 2013, the reflective article by Ashraf Eassa on why Nvidia (NVDA) share price is not performing, took my attention. I thought I would share some of my views on the technical pattern and why we monitor Nvidia but have yet to commit to a position. Here, I will discuss some fundamental reasons and technical reasons behind the moves and why I have thus far avoided Nvidia. I am sharing this, as it may prove useful to other private investors looking at Nvidia.
The technical pattern
In that article, Ashraf was correct in identifying a rising channel in Nvidia's (NASDAQ:NVDA) share price since late November. However, this channel is not very secure, since it is the second time that the channel borders are being tested on one side. This indicates a potential breakout pattern to the lows, thus from a risk/reward ratio (10% upside, 8% downside) it does not look particularly attractive compared to peers in this sector. Unless you really buy into the long term story. The best way to visualize this is the potential breakout pattern which was almost realised. It is prudent to watch carefully if the bounce from 12.09 intraday is temporary or permanent. 12.09 is outside the channel and increases the risk of a breakout. That is bar any intervention by the company executive revealing more details or surprising to the top side in the next quarter.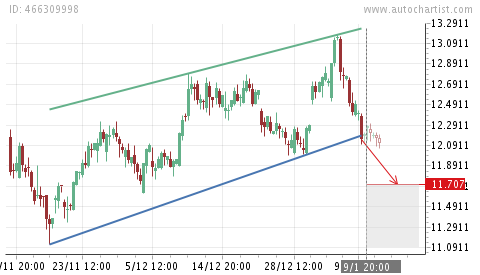 Another way of seeing NVIDIA is through the lens of comparative semiconductor stocks. For instance, when you look at Intel versus Nvidia over the last 3 months, it is clear that it is highly news-event driven. As it became more evident that Nvidia is not currently able to eat into QualComm's (NASDAQ:QCOM) share of smartphone processors, while going head to head with Intel in HPC accelerators, some of Nvidia's long term shareholders have started to bail out. Nvidia's long term performance, over 5 years, has been worse than Intel since 2007. Even though Intel and Nvidia share prices are highly correlated, they are also now competitors. It is my opinion that further decoupling of the positive correlation will only increase throughout 2013.
If you bought Intel three months ago you would be marginally better off today, with a capital gain of almost zero and a dividend gain of a few percent (see below), while with Nvidia you would be down 5% with lower dividend to boot.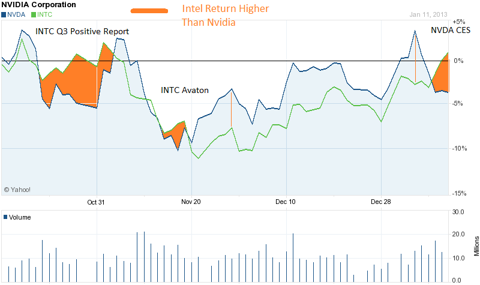 The events that drove the relative return higher, as I see them, are marked on the above chart. Longer term, over five years, Nvidia like its peers, AMD (NASDAQ:AMD), and Intel (NASDAQ:INTC), have been trading sideways. Now why do I say that for Nvidia, when it clearly had a Tegra fueled bump (rise) along the road? Because if you take out the massive rises to $20+ on the back of Tegra hype, you will see exactly an Intel like sideways range bound trading. By itself this is not so bad, because you can invest in non growing mature companies and profit by this range bound channel as long as there is no downside breakouts. The problem is that the downside risks are now much higher.
My History With Nvidia
Before I start to explain my fundamental view, I would like to let readers know I am very aware of Nvidia's history as a consumer, much more so than other authors. I bought an NVDIA Riva 128 long before 3D had become mainstream. I was also a customer of Geforce 2, Geforce 3 and Geforce 4 Ti. In the first Riva days (1997) Nvidia trailed the performance of 3DFX but beat the performance from rival cards from ATI or STG. The reason I bought into the card was outlets; the Riva was not particularly successful so it went on sale at pretty cheap prices. However, even in those days, Nvidia had a clear technological lead which allowed it to survive all other competitors. They had amazing tunneling demos for the Riva but a lot of the libraries were proprietary as the DirectX standard from Microsoft had not taken hold yet, and 3Dfx GLIDE was the most popular 3D library for PC games. Only exceptional private financing and engineering allowed Nvidia to stay in the game long enough to overcome the hurdles of integrating 3D processing onto the video chip; with that they nearly terminated every other competitor including 3Dfx. 3Dfx in those days argued much like Nvidia and AMD's ATI division now argue relative to IGP (integrated graphics onto the CPU); they said the GPU+Video processing integrated unit was never going to be good enough compared to the Voodoo dedicated 3d coprocessors. The 3d accelerator cards from 3dfx were much better than "built in 3d". 3Dfx could not be more wrong. Nvidia, with the TNT2 and then the GeForce had a hit product that integrated video and 3D acceleration coprocessors onto one chip and outperformed 3Dfx. Other than ATI (now part of AMD) which came from behind to catch up to the GeForce GPU's 3D capability, no one else managed to challenge Nvidia in graphics. Today, that duopoly still holds, but the real problem is Intel and the reduced demand for PC's.
The Fundamental Hazards
If you want, in fact, a good explanation of the hazards that Nvidia is going to face in the immediate future, you can take a look at my article on Intel and niche markets. Intel is moving head on, into Nvidia's highest margin markets (Professional GPU, GPGU, and cluster/cloud acceleration via Tesla). Now, if Nvidia management was confident they would use some of their cash pile to invest back in their business. By keeping a large amount of cash on the books while having lots of FCF, this signals to investors like myself, management sees the threat from Intel as dire and thus is not sure of continued large FCF generation into 2014. A year ago, Huang said he had already invested $2 billion in Tegra; that total has certainly climbed higher by now. The trouble with Tegra is that it is finding it difficult to break even or make a profit, and its success is not a forgone conclusion. Sinking more cash into a Android portable gaming machine does not seem wise. Otherwise, I would have plenty of suggestions on how to use the money other than waste it on a gaming handheld that is unlikely to make money or even to succeed.
Conclusion
Historically, Nvidia has always been on the leading edge of graphics technology, and has outmaneuvered every competitor that was of a smaller or equal size. This is a formidable company but is now facing very tough challenges. It is taking on both Intel, and QualComm as competitors; a very tough situation to be in. Intel is the foremost semiconductor winner that has always come back from behind to be the ultimate winner. This fact alone makes investors like myself cautious and until I see evidence that Intel's products cannot compete or Nvidia can outmaneuver Intel, I would be inclined not to invest any significant capital into Nvidia. With a trading pattern indicating potential breakout to the lows, unless management gives out a surprise to the topside like Nokia, the risk reward at $12, to me, do not seem that enticing. However, Nvidia is certainly a buy if any merger deals happen. Whether it is AMD, Samsung, or Intel, consolidation in PC hardware is inevitable unless the market starts growing again.
Disclaimer: Unless stated otherwise these views are not the opinion of any of my present or past employers. In addition we take no responsibility for your gains or losses if you follow our advice. Please speak to a financial advisor if you are unaware of the risks inherent in algorithmically traded markets.
Our company as a separate business is now providing quantitative modeling reports. Please contact reports@technoorconsulting.co.uk for details and pricing if you are interested in a more quantitative angle to your investments.
Disclosure: I am long INTC, AMD. I wrote this article myself, and it expresses my own opinions. I am not receiving compensation for it (other than from Seeking Alpha). I have no business relationship with any company whose stock is mentioned in this article.