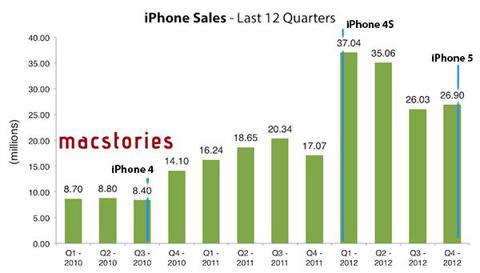 Look out, run, PANIC!!!
Apple's (NASDAQ:AAPL) stock has dropped 4%, all the way down to $497 pre-market as Reuters is reporting that the Nikkei is reporting that AAPL has slashed orders for new iPhone displays by 50% as well as other components. Of course, AAPL never comments on rumors and today is a holiday in Japan so no comments from the suppliers either but the MSM is running with the rumor and the thinly-traded AAPL futures are taking a pounding, and dragging the Nasdaq futures down with them and that's dragging down our other indices and giving us a generally crappy open.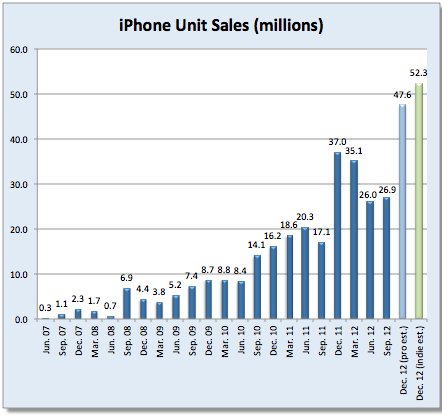 The chart on the right is from MacStories, with a nice write-up on the 2013 outlook, while the chart on the left was in Fortune this week and indicates actual sales (or actual projected sales) for Q4 of about 50M phones and, if you take the Nikkie article at face value, Q1 sales will drop off as fast as Q4 took off - despite the fact that the iPhone 5 only rolled out in late November.
Also a very important point made by Forbes is that Q1 2012 was a rare 14 weeks and Q1 2013 has only 13 so AAPL has a 7% handicap out of the gate. We will, of course, be BUYBUYBUYing more AAPL at $500 as there is no news here and perhaps there is a kernel of truth in the rumor (there is in all the good ones) but likely it's related to AAPL selecting another supplier or shifting their focus to the also-rumored new iPhones that also haven't been confirmed yet or perhaps even this is just a misinterpretation of AAPL's normal business cycle, in which Q4 is the big sales quarter and Q1 and Q2 are simply lighter.
What we can do right now (8:15) is to go long on the Nasdaq Futures (/NQ) off that 2,725 line - as that's where AAPL is bouncing at $500 and makes an easy signal to get out if it doesn't hold. AAPL's 4% drop is a 0.8% drag on the Nasdaq and there's no other reason for the index to be dropping as the other news this weekend has been fairly benign.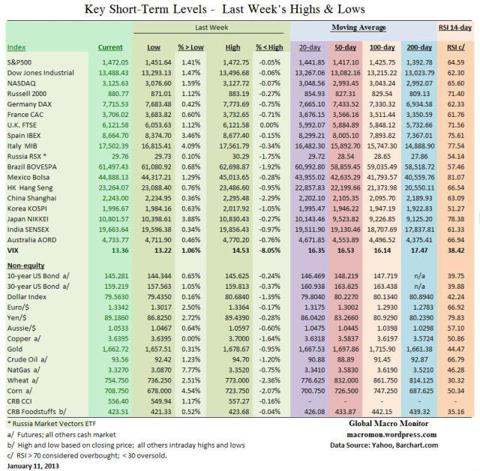 The Shanghai, in fact, popped 3% this morning and India's Sensex was up 1.23% and the Hang Seng was up 0.64% and the Nikkei, as I mentioned, is closed for rumor-mongering. It's good to take a vacation after last week's whopping 3.88% gain and Europe is also kicking off this week with a bang, with Germany and France up 0.4% and the UK flat-lining, despite another dreadful report on Industrial Output - which was down 0.3% but old news as that was November and much better than October's 1% decline.
Chicago Fed President Charles Evans says the Fed could end its bond-buying if the economy creates another 1-1.5M jobs over the next six months to a year. "That would be indicative that we could stop," says Evans. HOWEVER, he forecasts that unemployment won't drop to 6.5% until mid-2015, which would mean that under the Fed's plan of linking monetary policy to the jobless and inflation rates, the bank could keep interest rates close to zero for another 2.5 years.
It's going to be that kind of week, with a lot of "howevers" as we wait for earnings but don't let these rumors fool you - facts are coming...
Disclosure: I am long AAPL, HPQ, SCO, IMAX, GDX, TZA, CIM, F, GLD, ALU, AA, BA. I wrote this article myself, and it expresses my own opinions. I am not receiving compensation for it. I have no business relationship with any company whose stock is mentioned in this article.
Additional disclosure: Positions as indicated but subject to change (fairly bullish mix of long and short positions - see previous posts for other trade ideas).