Goldman Sachs Shares Look To Have Priced In A Strong Quarter
By: Brendan Gilmartin
Goldman Sachs (NYSE:GS) is scheduled to report 4Q 2012 earnings before the opening bell on Wednesday, January 16. The firm indicated it would provide a press release at 7:30 a.m. EST and follow with a conference call at 9:30 a.m. Please note that, in past reporting periods, Goldman Sachs reported earnings approximately 15 minutes ahead of the scheduled release time. Goldman's results also have the potential to impact the financial sector as well as the broader market gauges, particularly the index futures, given the investment bank's influence.

Outliers And Strategy
Key Measures:
Earnings Per Share: The current Street estimate is $3.70 (up from $3.15 90 days earlier; Range: $2.95 - $4.80) (Source:

Yahoo

Finance).
Revenues are seen coming in at $7.91 bln, up nearly 30% y/y.
At a recent $137.13, Goldman Sachs shares are up 15% since mid-December, but trade at just 10.7x forward profits and a slight premium to tangible book value of $129.69.
Technically, Goldman Sachs shares look overbought near-term, with the Relative Strength Index (RSI) hovering above the key 70-level and the shares up 15% in just the past month (see Technical Review below). With that being said, look for earnings to handily top consensus estimates of $3.70 per share in order to push the shares higher. An EPS figure at or below consensus would be seen as a meaningful disappointment.
Keep an eye on the following as sympathy plays: Morgan Stanley (MS) (reports earnings on Friday, 01/18), Jefferies (JEF), Lazard (LAZ), and Barclay's (BCS).
Recent News
01/02: According to a post on StreetInsider.com, Credit Suisse raised its 4Q 2012 earnings estimate from $2.50 to $4.60, well above the current Street forecasts. The positive view was based on expense controls and strength in the equity and investment banking divisions. The firm carries an Outperform rating and $145 price target.
12/18: Susquehanna upgraded Goldman Sachs form Neutral to Positive and raised the price target from $127 to $149, according to a report on StreetInsider.com. The firm cited current staff levels and strength in fixed income trading.
Technical Review
Goldman Sachs shares are up about 15% over the past 30 days, en route to the highest level since July, 2011. Given the magnitude of the recent run-up, the Relative Strength Index (RSI) is now hovering above 70 - a level considered overbought, while the MACD is also over-extended. On a long-term basis, there is little resistance until $160 in the event that earnings surge past analyst expectations. Conversely, there is support at $130, with downside risk to $125, followed by $120. (Chart courtesy of StockCharts.com.)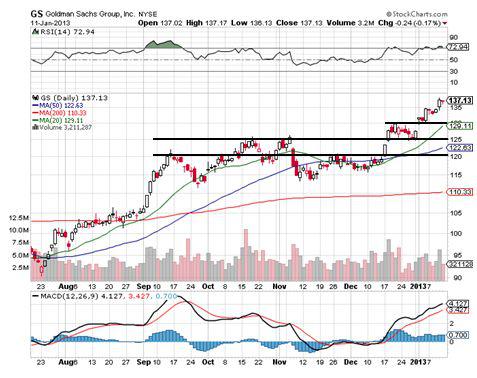 Summary
Goldman Sachs shares have been rallying in recent weeks, following the near-term resolution of the fiscal cliff negotiations, an improving economic backdrop in North America, and widespread reports of a pickup in investment banking activity. Improving expense controls and a diminished competitive threat also bode well for Goldman. But given the recent strength, the bar is now set quite high headed into the 4Q earnings release, with the Street betting that results would handily top consensus estimates. Therefore, look for EPS at the upper end of the projected range in order to push the shares higher. Conversely, in-line or slightly disappointing numbers relative to consensus are likely to trigger steep losses in this "sell the news" scenario.
DISCLAIMER: By using this report, you acknowledge that Selerity, Inc. is in no way liable for losses or gains arising out of commentary, analysis, and or data in this report. Your investment decisions and recommendations are made entirely at your discretion. Selerity does not own securities in companies that they write about, is not an investment adviser, and the content contained herein is not an endorsement to buy or sell any securities. No content published as part of this report constitutes a recommendation that any particular investment, security, portfolio of securities, transaction or investment strategy is suitable for any specific person.
Disclosure: I have no positions in any stocks mentioned, and no plans to initiate any positions within the next 72 hours. I wrote this article myself, and it expresses my own opinions. I am not receiving compensation for it (other than from Seeking Alpha). I have no business relationship with any company whose stock is mentioned in this article.
This article was written by
Selerity Research is a proprietary commentary & research service for financial professionals. Our team of highly experienced event analysts provide timely and relevant commentary and analysis on market-moving events related to everything from corporate earnings to key economic data announcements.