Apple (AAPL) is entering a critical year for the company. The stock started 2012 with significant appreciation but slumped for the last few months of the year. Optimism surrounding the company seemed to vanish overnight. Analysts and the media are very critical of every news article involving Apple so it is important to monitor developments for the company and its competitors. Below I will layout the reason why I continue to recommend Apple and, as a supplement, present complementary option approaches.
I have been long Apple for years and I utilize conservative covered calls to simultaneously generate income and reduce your effective cost basis. Selling out-of-the-money options to generate weekly income is ideal for long-term investors because if you are comfortable owning the stock, there is no potential for additional loss versus outright ownership. Options may sound complicated but the risk/reward profile for covered calls is simple: relative to a long position, selling a covered call means that you are willing to sacrifice some capital gains if the stock appreciates considerably in return for guaranteed income. Essentially this means you are willing to trade-off potential upside for a reduced downside.
This is not a strategy based on speculation or complex technical indicators - this is a strategy for long-term investors to capitalize on volatility. For reference, please view the first and other articles in the series to understand the strategy and its potential returns Even if you have no plans to engage in the options market this is your one-stop primer for the critical Apple developments. Options may not be suitable for many investors but I believe owning Apple stock is. Even if Apple is one of your core holdings you should understand the various legal, product, and competitive developments that could materially impact the stock's future performance.

(Source: Yahoo! Finance)
Key Recent Headlines:
UPDATE - 10:30AM: The Wall Street Journal reported this morning that Apple slashed iPhone 5 orders by 50% due to weak demand and the stock has declined more than three percent and even briefly dipped below $500. The rumor states that iPhone 5 component orders were slashed from 65M to approximately 60M. Quite frankly, the math does not add up. The Wall Street Journal article no longer includes the 65M number since I first read it last night, a very interesting development.
In the past fiscal year Apple sold 127M iPhones. If Apple ordered 65M of components for the quarter and sold maybe 50M iPhones, that would be the best quarter for iPhone sales in its history. A reduction to 30M in subsequent quarters would be in-line with its historical averages and represent bullish activity given the ~15M in extra inventory components ordered previously. Furthermore, the report does not address the fact that Apple uses the core iPhone 5 display in multiple devices. I highly question the validity of such a rumor given that January 2013 expiration and earnings report are so close. If you are currently long Apple I see no reason to sell into the rumor. Even if you believe the rumor, the insinuation that demand for the iPhone 5 dropped by 50% due to competition is false and inaccurate.
Apple jumped significantly on December 31, 2012, but has lagged over five percent in the first eight trading days of the year. I have argued ad nauseum about the stock's strong fundamentals so this week I want to focus almost exclusively on the stock's competitive position. Specifically I will focus on recent developments in the tablet sector and see whether Apple's tablet crown is in danger. Apple has enjoyed almost unmitigated success with its iPad but competitors are always knocking on the gates.
Microsoft has been facing an uphill battle with its new tablet operating system platform, Windows RT (aka Windows on ARM), and the storm clouds continue to gather. The first big blow was the announcement that few hardware manufacturers would create Windows RT tablets. To date there have been only four tablets released that use Windows RT (an Asus, Dell, Lenovo, and the Microsoft Surface) as companies may be leery of competing directly with Microsoft's own tablet. In June 2012 Hewlett-Packard (NYSE:HPQ) also announced that it would not be releasing a Windows RT device, leaving Microsoft with precious few hardware partners to develop its devices. Companies are still developing traditional Windows 8 tablets but Windows RT was developed specifically to be lighter-weight and be designed specifically with tablets in mind. Essentially all Windows 8 tablets are substandard by default as they do not meet Microsoft's own tablet standards.
In November 2012 it was reported that Microsoft had to slash orders for the Surface from four to two million due to poor sales. Various research reports and sales analytics have validated the reports that Surface sales are slowing and consumer enthusiasm is just not present. Just this weekend Microsoft lost another critical partner: Samsung. Mike Abary, Samsung Senior VP of PCs and tablets, recently stated that the company has no plans to release a Windows RT device in the United States. He elaborated on Samsung's reasoning:
There wasn't really a very clear positioning of what Windows RT meant in the marketplace, what it stood for relative to Windows 8, that was being done in an effective manner to the consumer. When we did some tests and studies on how we could go to market with a Windows RT device, we determined there was a lot of heavy lifting we still needed to do to educate the customer on what Windows RT was. And that heavy lifting was going to require pretty heavy investment. When we added those two things up, the investments necessary to educate the consumer on the difference between RT and Windows 8, plus the modest feedback that we got regarding how successful could this be at retail from our retail partners, we decided maybe we ought to wait."
When Microsoft announced its Surface in June 2012 I asked, "Should Apple Be Worried About Microsoft's Tablet?" and concluded that "I do not believe that a Microsoft tablet will present any real threat to Apple's dominance." The events in the past seven months only strengthen my opinion. Apple still faces substantial competition in the smartphone area from Samsung but Apple continues to have a stranglehold on the tablet market. The only competitor selling tablets in large numbers is Amazon (NASDAQ:AMZN) with its Kindle line. The new iPad Mini should be very successful at slowing Kindle Fire sales as the largest selling point was the Fire's low price point. Google's (NASDAQ:GOOG) Nexus 7 has seen lots of favorable reviews but the tablet only had about one million rumored sales as of December. In comparison, the iPad Mini is rumored to have around twenty million sales to date: I know which horse I want to bet on.
Before I close I wanted to touch on a piece of Apple news that shockingly has seen minimal press coverage, at least in comparison to the standard Apple rumors. Apple hired Xerox's (NYSE:XRX) CFO, Luca Maestri, to be their new controller and possible 'CFO in waiting'. Zvi Bar has a great article on the hire that focuses on the controller's reputation as being shareholder friendly. I agree that the hiring of Maestri could lead to Apple boosting its total payout (dividends and repurchases) but I would not expect a dramatic change as the result of hiring an external controller.
As Apple's competitors continue to struggle, now is a prime opportunity to buy the stock. There are risks of margin compression but Apple is still growing at a phenomenal rate and still generates substantial amounts of cash. The stock currently trades at a forward P/E of 9.1 and Price/FCF of 11.8. I still strongly believe that you are getting a bargain on buying Apple below $600 and the $500 price floor has held remarkably well. I continue to be bullish on Apple's prospects and I challenge investors to find another company with Apple's combination of growth and attractive valuation.
Below I present three possible scenarios and the potential returns for the Apple options. The first scenario represents a negative outlook for Apple while the final two scenarios are more reasonable. These scenarios are forecasts and there is no guarantee that they will come to fruition. Even if you are optimistic it is important to consider both positive and negative circumstances in order to stress your assumptions. As a general rule, selling calls with higher strike prices has greater potential return but additional risk of loss due to the lower (or lack of) downside protection. For more information on the fundamentals of covered calls, consult Investopedia.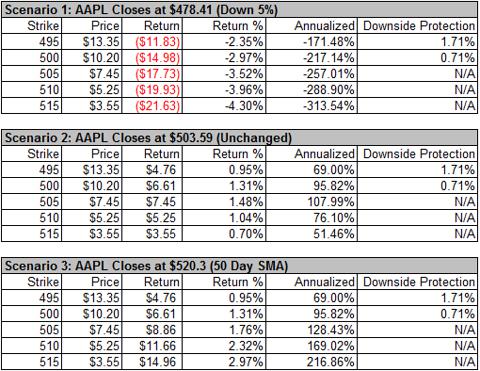 Additionally, if you would like even more information, I have prepared a sensitivity analysis for absolute return and percent returns, respectively. After studying the information above, these two charts make it easy to pick a strike price based on where you believe Apple will close at the end of the week. Estimate where you believe Apple will close and select the strike price with the highest return.

With this information, executing a buy-write on AAPL January 19 $495s is the optimal risk-return strategy as an opening Apple transaction. This is a more conservative covered call than I typically recommend as it is already in-the-money by eight dollars. The option has a potential return of $4.76 (time value) and should provide adequate coverage against a moderate drop.
A more aggressive approach would be to sell the slightly out-the-money $505 calls for $7.45. This would ordinarily be my preferred call but I want to exercise caution with the recent weakness in Apple's stock. This strategy is excellent for long-term Apple investors who want to generate income while still staying long the stock. An alternative approach is to sell out-of-the-money $500 puts and collect the premium without having to purchase the stock outright. The $500s are currently trading around $6.75 and appear to offer the best risk-reward profile for the week. Note that if the stock declines to the strike price, you are obligated to buy the stock (or closeout the position). You should always consider the risks (particularly with naked calls or puts) raised in this article in light of your personal circumstances (including financial and taxation issues) in consultation with your professional financial adviser.
Disclosure: I am long AAPL, GOOG. I wrote this article myself, and it expresses my own opinions. I am not receiving compensation for it (other than from Seeking Alpha). I have no business relationship with any company whose stock is mentioned in this article.
Disclaimer: Please refer to profile page for disclaimers.