Leadership is an important moat for eking out margins in tech. Through CES financiers can see who is leading the next product cycles. Intel (NASDAQ:INTC) stole the show with natural interfaces. From MIT TR:
Intel led the charge
Intel led the charge in UI with a humanized alternative for mouse/keyboard/touch. A combination of the following generates accurate instruction sets for manipulating software powerfully:
movements seen by webcam
speech heard by microphone
What is the significance of this? Intel is offending.
It's attacking Apple (NASDAQ:AAPL) in cable. Now it's leading the charge to natural interfaces.
That tells us the company is not just nerds trying to squeeze Moore's Law for a few more years before someone figures out quantum. It is nerds making gaming more fun (and non-gaming more efficient).
At Intel's booth it was possible to try the technology out with a version of the game Portal modified to be controlled by hand gestures. Objects in the game could be manipulated using grasping motions in space and moving a hand relative to the screen. The experience was smooth and easy even the first time. Researchers from Intel's perceptual computing research group say that the facial tracking functions could be used to infer emotions from a person's expression, and that its infrared capabilities can measure heart rate by observing blood flow in a person's face.
At first glance, Microsoft (NASDAQ:MSFT) will ride on the coattails of Intel's leadership. Not so fast! The era of the Operating System moat is ending abruptly. Effectively speaking, a strong Windows OS moat (including enterprise) is the only thing keeping MSFT out of the low teens. Here's what I'm thinking.
With cloud computing, an OS floats beyond the device. Subscriptions and in-app purchases are the central revenue model. Everyone has an API now.
Apps compete in functional verticals which are more "zoomed in"; interests of the consumers are more granularly aligned with incentives of the producers.
There are two big companies making Linux-based "open-source" device systems.
Software is getting very liquid, and very cheap for consumers. In highly efficient markets, what happens to middlemen like Microsoft?
Everything is going mobile
A hedgie friend weighing in via Gmail:
msft is losing on almost all fronts: PCs, tablets, gaming (with the whole industry), office (vs. google (NASDAQ:GOOG) office app)
Remember, Microsoft is mostly an enterprise company and Google is targeting everything except 10% of its enterprise customers.
That said, XBOX 360 has been a bright spot for Microsoft; maybe if they can do that right they can do other things right? Not so fast: Mobile is coming back with a vengeance. Nvidia (NASDAQ:NVDA) is doing the XBOX 180 that Microsoft should have done and yes, Project Shield is powered by Android.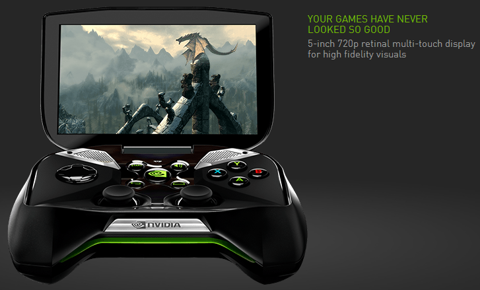 If you think Microsoft is cheap, you probably think Intel is cheap too. Their fundamental valuation metrics look great if you know nothing about the businesses they are in or if you are wearing dividend goggles.
Intel is demonstrating leadership. It has a strong enough R&D moat in mobile. Whereas, Microsoft is copying competitors (Apple, Google) who have leaner business models. This is the opposite of a winning strategy for copying competitors; if you are producing knockoffs they should be cheap to make.
Wintel could decouple, quite violently. I'm not banging a table for Intel, but I think Microsoft stock might fail the test of its bottom range occuring right now. Short Microsoft, long Intel. I am not creative enough to imagine how such a bet fails to break even.
Disclosure: I have no positions in any stocks mentioned, and no plans to initiate any positions within the next 72 hours. I wrote this article myself, and it expresses my own opinions. I am not receiving compensation for it (other than from Seeking Alpha). I have no business relationship with any company whose stock is mentioned in this article.
Additional disclosure: While Modernist has no plans to initiate any positions, plans can change in rare occasions. Family, friends, associates, and/or acquaintances of Modernist may or may not have positions related directly or indirectly to the contents of this article. Modernist may have unnamed positions related indirectly to the contents of this article.This article, like every article written by Modernist, does not constitute advice. The unexpected can and does happen in the stock market. Please utilize independent judgement in investment decisions.