National Fuel Gas (NYSE:NFG) operates in the two of the worst performing groups for 2012 - Natural Gas Exploration and Production and Natural Gas Distribution. According to the Barron's performance listing of 98 S&P's Dow Jones Total Market Industry Groups, E&Ps ranked #90 and Gas Distribution clocked in at #75 for share performance over the trailing 12 months. This is where the value and opportunity lay for NFG investors, as investors have focused more on the top two groups of mortgage finance (#1) and home construction (#2). NFG's current valuation reflects this lack of interest and not the catalysts that will drive this unique company's fortunes over the next few years.
Below are one and three year price charts comparing NFG with S&P's Dow Jones Total Market Groups of E&Ps (DJUSOS) and Gas Distribution (DJUSGU):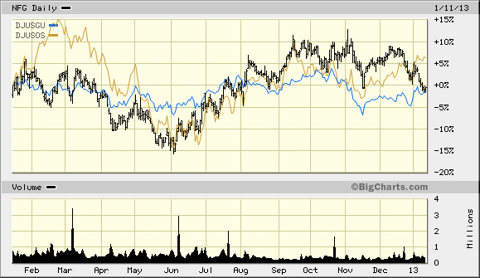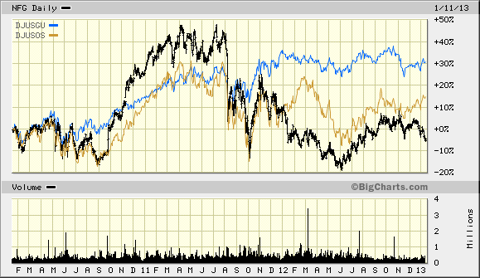 As a follow-up to an article published in mid-September last year, NFG announced fiscal year September 2012 year-end results and were in line with expectations. Earnings per share came in at $2.59 and dividends paid were $1.46.
National Fuel Gas operates a regulated gas distribution system serving 730,000 customers in Buffalo, NY, Erie, PA and Sharon PA. In addition to itsregulated service, NFG operates 3,000 miles of pipeline and a storage network of 34 facilities along with an oil/gas exploration and production company. The crown jewel is about 750,000 fee acres in the Marcellus shale, upwards of 200 drilling locations on a 5-acre spacing in California, new acreage in the Mississippi Lime and acreage in the Utica shale.
Fourth quarter gas production increased both sequentially by 10% and y/y by 46%. Total production for year-end 2012 was 83.4 Bcfe, with 24.5 coming in the 4th quarter. The company anticipates total production for FY2013 to be between 95 and 107 Bcfe, for production growth of between 11% and 23%. For FY2012, proved reserves increased by 33% to 1,246 Bcfe, of which 67% was proved developed. Most importantly, reserve replacement of the year was 473% of production. NFG has doubled its proven reserves since 2009 while maintaining a high percentage of proved developed.
The current investor presentation is here and the latest conference call transcript here.
For FY2012, adjusted EBITDA by operating segment was:
E&P - $396 million ($226 million from Western operations and $170 million from Eastern operations)
Utility - $163 million
Pipeline - $136 million
Other - $11 million
Total - $704 million
Management expects earnings to increase this year to $2.95 a share based on natural gas prices averaging $3.50. However, these estimates are above consensus earnings of $2.75. FY2014 consensus earnings are estimated to come in at $3.00.
Mutual funds and institutions have been adding to their positions in NFG. Gabelli Utilities Fund has increased its holdings by 4.8% for the quarter ending 9/30 and now owns 2.7% of outstanding shares. Neuberger Berman, Tortoise MLP and Pipeline, Cutter & Co, and FMT/Miller Howard also increased their share counts by 20%, 42%, 18%, and 32% respectively. OZ Management reduced its holdings by 12% during the same timeframe.
Several catalysts could unlock shareholder value. EQT Corp (NYSE:EQT) is a very similar company in structure. Prior to last summer, EQT owned midstream assets, a regulated utility, and an E&P segment. Since the summer, EQT has been remaking itself by first spinning off 15% of its midstream assets into EQT Midstream (NYSE:EQM) while retaining an 85% ownership. Share prices for EQM have increased about 40% since the spinoff, rising from $24 to $34.
Recently, EQT announced it was selling its regulated gas utility to Peoples Gas, owned by privately held SteelRiver Infrastructure Partners. The deal was inked at a price equal to 9.5 times the utility's EBITDA.
In addition, Laclede Gas (LG) agreed to buy Southern Union's Missouri Gas and New England Gas for 10.8 times EBITDA.
Management believes they can increase production by 20% in FY2013 and by 20 Bcfe annually in FY2014 and beyond. A rising natural gas price will add earnings power to NFG's E&P, Seneca Resources.
Based on both the spinoff of EQM and the purchase by People's at 9.5 times EBITDA, these segments of NFG could be worth about $35 a share. Seneca Resources' proved reserves could be valued at $1.60 per Bcfe, or $24 a share. Combined, these assets could be worth about $59 a share, or about 20% higher than NFG's current market price.
The remaining assets would be their immense acreage in the Marcellus and Utica shale gas fields, beginning acreage in the Mississippi Lime, and their California acreage. Current share prices do not include valuations for these assets, and this is where the potential lies. New investors are in essence buying the utility, pipeline and proved reserves assets at a 20% discount and getting the acreage free.
Unlike many of its E&P competitors, NFG owns the Marcellus acreage and is not subject to the usual "use it or lose it" drilling clauses found in many mineral leases. Expansion plans from the Marcellus to gas-hungry New York City area and points northeast will put NFG in a preferred position to move product from both the Marcellus and Utica to these markets.
NFG was founded in 1902 and has paid a dividend for the past 110 years. Dividends have increased every year for over forty years. The next dividend increase should be in March of this year. At the current dividend rate and share price, NFG yields 3.0%.
Energy investors should review mid-cap National Fuel Gas as a potential addition to portfolios. While patience may be needed for the market to fully appreciate the assets, NFG could be considered substantially undervalued at its current price, but will not stay that way once natural gas pricing starts to climb out of its existing funk.
Author's Note: Please review important disclaimer in author's profile.
Disclosure: I am long NFG. I wrote this article myself, and it expresses my own opinions. I am not receiving compensation for it (other than from Seeking Alpha). I have no business relationship with any company whose stock is mentioned in this article.