Goldman Sachs (NYSE:GS) reports their calendar 4th quarter 2012 earnings on Wednesday morning, January 16th, 2013.
Analyst consensus is expecting $3.70 in earnings per share on $7.9 billion in revenues for year-over-year growth of 100% and 30%, respectively.
For the banks and brokers, the back half of 2011 was marked by the debt ceiling talks, slower earnings forecasts, and the market bottom in early October 2011. Q4 2012 was a little better, but the S&P 500 still had a negative return for the 4th quarter 2012, marked by the sell-off after the Presidential election, and Apple (NASDAQ:AAPL) falling 30% from its mid-September all-time high.
The 4th quarter 2012 likely came in better than expected for the brokers, given the bounce in stocks in December, and the strong corporate high-grade and high-yield credit issuance we saw through the last 3 months of the year. High yield credit issuance was thought to be stronger than high-grade for the last quarter and that is higher-margin business.
In the 3rd quarter, against easy compares from 2011, GS reported a 34% upside surprise in earnings per share on a 17% upside surprise in revenues.
With the death of proprietary trading, GS is now more slave than ever to banking, asset management and the trading desk and the business continues to be in a state of flux thanks to ever-evolving capital standards and requirements.
Goldman's earnings peaked at almost $25 per share in 2007, and the stock topped out at $250 per share (roughly) in late 2007, so the one thing that caught our eye in prepping for this report was that the 2013 consensus estimate of $12.79 was just 5% growth over 2012's expected $12.14 (assuming the Q4 EPS estimate is met). Revenue growth for this calendar year of 2013 is expected at just 1%.
With the death of prop trading, while GS will have more stable and less volatile earnings, but the broker will also have fewer opportunities to utilize partner capital and make money when the markets are a favorable tailwind.
With current analyst consensus expecting just 5% and 11% earnings growth in 2013 and 2014, on revenue growth of 1% and 6%, expectations are currently pretty subdued, particularly around return on equity, which analysts expect to be just 10% in 2012, after low single digits for quite awhile.
Tangible book value for Goldman Sachs is around $130, while book value is roughly $142, so the stock is still trading cheaply.
Bottom line, while the stock is short-term overbought technically, and bumping against longer-term resistance, we would add to Goldman Sachs on a pullback to the high $120s and continue to acquire shares in the premier broker. We've had 12 years of flat equity returns, marked by 2 horrific bear markets, so if an investor can be patient, we think Goldman's business model represents more reward than risk at 10(x) conservatively estimated earnings.
According to one of our research services, 100% of the financial services stocks are trading above their 50-day moving averages, a very high value, and an indication of the short-term overbought nature of the sector. We are waiting on GS to pull back with the sector, as earnings get reported this week.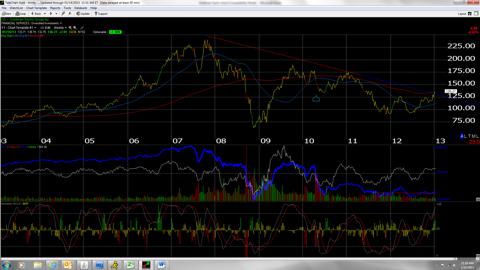 Disclosure: I am long GS, AAPL. I wrote this article myself, and it expresses my own opinions. I am not receiving compensation for it (other than from Seeking Alpha). I have no business relationship with any company whose stock is mentioned in this article.