Travelzoo (NASDAQ:TZOO) is a good business run by capable insiders who have loaded up on shares this year. The market values Travelzoo's international startup operations materially below zero even though the company has a proven model and management knows Europe well (founder Ralph Bartel was educated in Germany and Switzerland). The downside appears limited as the Bartel brothers are heavily incentivized to create shareholder value. If international operations do not achieve desired profitability, management may shut them down and sell the U.S. business to a competitor such as Priceline.com. We value Travelzoo at $25-26 per share, based on a probability-weighted scenario analysis that includes estimated ranges of annualized EBIT for North America and the rest of the world.
BUSINESS OVERVIEW
Travelzoo's free Internet media properties reach 12 million consumers in the U.S., Europe and Asia. The properties include the Travelzoo website, the Top 20 list of weekly deals, email alerts, and a travel search engine. Travelzoo publishes offers from 900 advertisers, with Travelzoo deal experts reviewing offers to find the best travel deals.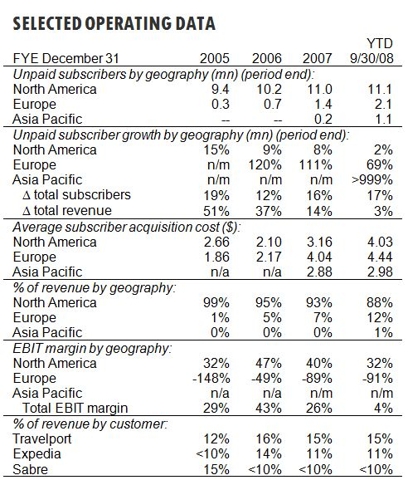 INVESTMENT HIGHLIGHTS
$1.3 billion in newspaper advertising by travel companies is moving to Internet.

Travelzoo is well-positioned to benefit from this transition. The company's revenue increased from $18 million in 2003 to $79 million in 2007, a 34% CAGR.

Profitable, non-capital-intensive U.S. business.

Travelzoo generated EBIT of $17 million in North America YTD, while employing minimal capital.

Large global opportunity.

Travelzoo is attempting to replicate worldwide the success it has had in the U.S. Travelzoo entered the U.K. in 2005; Canada, Germany and Spain in 2006; Australia, China, France, Hong Kong, Japan, and Taiwan in 2007.

Founded and managed by Bartel brothers.

Chairman Ralph Bartel (42) founded Travelzoo in 1998 and served as CEO until September 2008 when Holger Bartel (41) assumed the role. Previously, Holger oversaw Travelzoo's operations in North America and worked at McKinsey.

Repurchased 1 million shares for $20 million in 2007, a

nd 1 million shares for $29 million in 2006.

Material insider buying above current price.
INVESTMENT RISKS & CONCERNS
Global expansion may not work.

Travelzoo is losing money overseas as it attempts to scale. The company's model may not succeed abroad.

North America EBIT margin has declined from 47% in 2006 to 40% in 2007 and 32% YTD.

Dependent on ad revenue.

Travelzoo may suffer if travel declines due to economic weakness, high oil prices, terrorist threats or other factors.

High ROIC has attracted new entrants,

while Google AdWords has lowered barriers to entry. Sherman's Travel is the #2 travel deals email distribution company, with four million subscribers.
WHAT ARE THE SHARES WORTH?
We value Travelzoo at $25-26 per share,

based on a probability-weighted scenario analysis that includes estimated ranges of annualized EBIT for North America and the rest of the world.

Normalized EBIT for North America and rest of the world (ROW) are key valuation drivers.

As Travelzoo generates strong EBIT in North America while investing heavily in global expansion, we value the company on a sum-of-the-parts basis. Travezoo is a non-capital-intensive business with few excess assets, and the value of the enterprise depends on profit generation. While Travelzoo's 12 million-strong subscriber base and brand name may have strategic value to an acquirer, we have not used M&A transaction multiples in our analysis, as such a valuation might be too speculative.

In North America,

our most likely scenario (50% probability) has Travelzoo roughly maintaining normalized EBIT at approximately $25 million per year. We assign a fair value multiple of 10x in such a scenario. If EBIT declines, we anticipate multiple contraction due to likely business model concerns. If EBIT increases, we anticipate multiple expansion due to likely renewed optimism regarding growth. Our analysis conservatively assumes that EBIT deterioration is more likely than EBIT growth.

In the rest of the world,

our most likely scenario (40% probability) has Travelzoo earning normalized EBIT of $10 million, less than half the current North American EBIT run rate. This may be a fairly conservative assumption, as we see little reason why Travelzoo's international business, particularly in Europe, could not emulate the success achieved in the U.S. We have assigned a 5% probability to the scenario that Travelzoo continues to suffer an annualized operating loss of roughly $20 million internationally. The company is highly likely to take decisive action to eliminate the operating loss even if international growth does not materialize, as the Bartel brothers own ~60% of Travelzoo shares.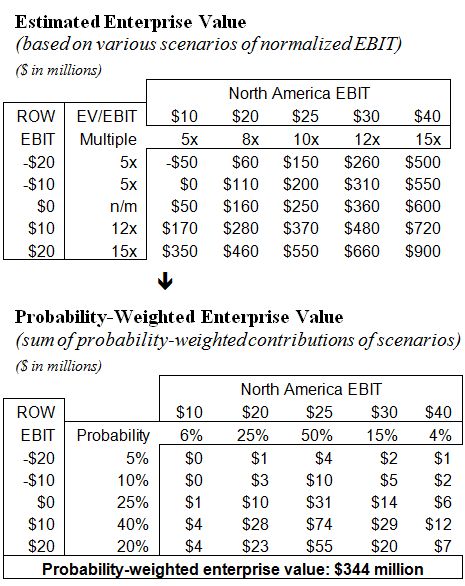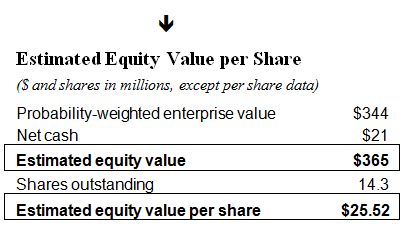 WHY THE SHARES MAY BE MISPRICED
Steady-state EBIT materially understated.

Startup losses in Europe and Asia mask continued strong U.S. profitability.

High taxes lower net income yield.

As U.S. income is fully taxed and foreign losses generate no current tax benefit, effective tax rate is temporarily elevated, lowering the after-tax earnings yield.
COMMENTS ON BUSINESS MODEL
Travelzoo employs virtually no capital in running the business.

The company has no inventory cost, as its services are entirely web-based. No elaborate infrastructure is required to create the services, resulting in minimal PP&E investment. The only major input is the time and effort of Travelzoo employees, yet the company does not depend on specific employees to maintain current operations (we do believe that the services of the Bartel brothers are crucial to growing value over time). Enterprise value is embedded primarily in the Travelzoo consumer brand, an online distribution channel (including email), and a 12 million-strong subscriber base. With this infrastructure in place, Travelzoo can maintain current operations at low cost, creating a quasi-recurring business model.

Per-employee performance metrics are quite impressive,

as the following table shows. Per-employee results have declined primarily due to the startup of international operations. The company could boost per-employee performance substantially if it opted to maintain rather than grow operations. However, we believe investment in new country-specific Travelzoo websites will earn favorable risk-adjusted returns for shareholders.

Advertiser-supported model,

while highly profitable, creates perceived and real conflicts of interest. Travelzoo makes money not from the consumers who rely on its media properties, but from travel companies who pay for inclusion in the company's Top 20 list and other properties. While Travelzoo claims that Top 20 deals are selected exclusively based on merit, there is a perceived and real risk that editorial decisions may be influenced by advertising revenue prospects. Most consumers appear to be unaware that Travelzoo relies heavily on payments for deals included in the Top 20. However, it is conceivable that existing competitors or new entrants could expose this fact over time, perhaps lessening the consumer appeal of Travelzoo's media properties.

Top 20 list may be less scalable than it appears.

The Travelzoo model appears almost infinitely scalable: once the Top 20 list is created, there is no marginal cost of emailing the list to incremental subscribers (leaving aside the cost of subscriber acquisition). However, the model contains a limit to scalability: Consumers must be able to book the deals presented on the Top 20 list; if too many consumers subscribe, too few may be able to benefit from the deals presented. This may force the company to forgo deals with low capacity in favor of large-scale but potentially less-favorable deals. For example, as the Top 20 list has grown to more than 10 million subscribers in the U.S., the company has been forced to limit small deals on the list. As the deals get bigger in terms of capacity, however, they may become less appealing. This dynamic puts a natural limit on the size of the Top 20 subscriber base in each country. An interesting way in which the company appears to be trying to address this is by customizing the Top 20 list for different types of subscribers (e.g., by residence location or travel preference). This customization happens largely behind the scenes, with users not explicitly asked to state their preferences. Of course, the (potential) existence of customized Top 20 lists means that an aggregate of more than 20 deals are selected each week, which may in turn dilute the quality of deals.

A corollary of the previous point is that Travelzoo is in a strong position to grow new-country Top 20 lists from a low base.

As the company launches new Top 20 lists, it has the luxury of including deals without much regard for capacity. As a result, the quality of the deals in startup countries may be higher than the quality of deals presented in the U.S. This quality advantage may make it easier for Travelzoo to grow by word of mouth in new countries, potentially helping to keep subscriber acquisition costs low. As a result, investors may overestimate the difficulty Travelzoo will encounter in scaling up new markets.
Disclaimer: Copyright 2008 by BeyondProxy LLC. BeyondProxy and its affiliates may have positions in and may make purchases or sales of the securities discussed in this report. It is the policy of all Related Persons to allow a full trading day to elapse after the publication of this report before purchases or sales of any securities discussed herein are made. No Related Person held a position in securities discussed in this report as of the date of publication. Use of this report and its content is governed by the Terms of Use described in detail here.