With the recent spike in iron ore prices, there is growing interest in iron ore mining companies, particularly as they were sold off when their prices plunged along with the spot price for iron ore in August 2012. Having recently reviewed my outlook for Vale (VALE) in light of the spike in iron ore prices, it seemed only logical to take a closer look at what is possibly the sector's most under-valued play - Cliffs Natural Resources (NYSE:CLF).
Over the last year Cliffs' share price is down by almost 50% despite the recent surge in the spot price for iron ore to $160 per metric ton (PMT). This significant fall in the share price can be attributed to a slowdown in China's economic growth and pessimism among some analysts regarding the outlook for iron ore. Particularly with Cliffs being one of the purest iron ore plays in the sector. In this article I will analyze Cliffs by examining the key catalysts that impact its share price in order to determine whether it now represents an opportunity for value investors.
Financial Performance Continues to Disappoint
Despite the spot price for iron ore rebounding by around 79% to $160 PMT since it touched a 3 year low of $89.50 PMT on 7 September 2012, Cliffs' financial performance has continued to disappoint. The company has seen revenue decline significantly since the third quarter 2011 as the financial snapshot below illustrates.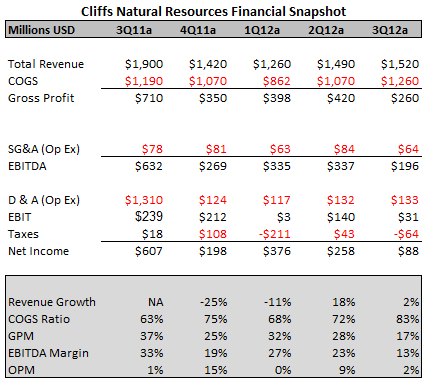 Source data: Cliffs Natural Resources Financial Filings 3Q11 to 3Q12.
For the third quarter 2012 the company reported a 2% increase in revenue, in comparison to the previous quarter (QoQ), to $1.5 billion. But in comparison to the same quarter in the previous year (YoY) this represents a 20% fall in revenue. Net income has also continued to decline significantly, having fallen by 66% QoQ and 86% YoY to $88 million.
Even when EBITDA is considered, which I believe is a better measure for comparing a company's historical financial performance, the financial performance is still disappointing. For the third quarter 2012, EBITDA fell by 42% QoQ and 69% YoY to $196 million. This has also had an impact on the company's margins, with its gross profit margin (GPM) down by 11% QoQ and 20% YoY to 17% and its EBITDA margin down by 10% QoQ and 20% YoY to 13%. Cliffs' margins are also significantly lower than Vale's, which for the same period had a GPM of 44% and an EBITDA margin of 39%, as the chart below illustrates.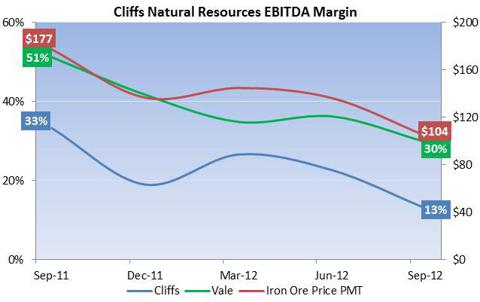 Source data: Cliffs Natural Resources, Vale 3Q11 to 3Q12 Quarterly Financial Filings, Bloomberg and Index Mundi.
As the chart above highlights the decline in EBITDA margin and financial performance in general directly correlates to the fall in the iron ore price. With iron ore prices having significantly spiked in value since the end of the third quarter 2012 I would expect to see Cliffs' financial results improve significantly in the fourth quarter and continue to improve through 2013 if the rally in iron ore prices is sustained.
Key Catalyst: The Spot Iron Ore Price
Since hitting an October 2009 high of $187 PMT, the spot price for iron ore declined to an early September 2012 low of $89.40 PMT. But since then it has rebounded by 79% to around $160 PMT as the chart below illustrates.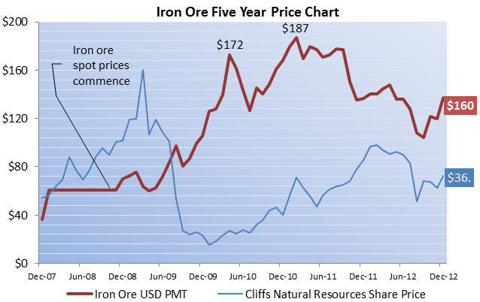 Source data: Index Mundi, Bloomberg, Yahoo Finance, Fidelity.
As the chart also indicates, this rally in the price of iron ore is the key catalyst for the recovery in Cliffs' share price. This is because the company has historically derived more than 80% of its revenue from iron ore and for the third quarter 2012 iron ore sales made up 90% of its revenue. This essentially makes Cliffs a leveraged play on the spot price for iron ore. Therefore, should the spot price for iron ore continue to rally I would expect Cliffs' share price to continue to rise.
However, in an article from early October 2012, I predicted that the long-term price for iron ore would settle at around $80 PMT. I formed this view on the basis of declining demand for iron ore because of contracting industrial activity and lower economic growth in China, combined with high iron ore and steel inventories. This lower demand is also being exacerbated by the European financial crisis, which was causing the economies of many of China's key export partners to contract.
This lower global demand for China's exports is having a significant impact on industrial activity and economic growth, because China, like many major emerging economies including Brazil, is an export driven economy. This essentially means that economic growth is dependent upon the consumption of those countries' key exports, which in the case of China are semi-manufactured and manufactured goods.
However since my earlier article, there has been an uptick in China's industrial activity. This is evidenced by the Chinese Purchasing Manufactures Index (PMI), which as the chart below shows has had three successive quarters above the critical 50% mark, indicating that industrial activity is expanding.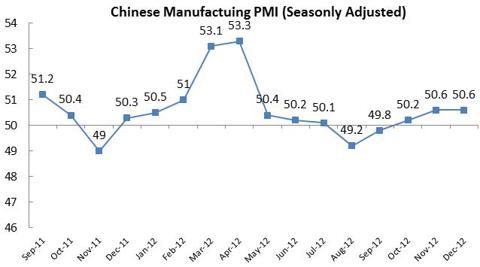 Source data: National Bureau of Statistics of China.
However, for December 2012, China's PMI remained at the same level reported for November 2012, which does not bode well for ongoing increased economic activity. This could be due to seasonal lags in production and the Chinese PMI for first two months of 2013 will prove to be crucial indicators as to the direction of Chinese industrial activity.
There has also been further good news regarding China's economic growth with full year 2012 GDP growth estimated to be at around 7.7%, which is 20 basis points (BPS) above the government's forecast target of 7.5%. It has also been estimated that fourth quarter 2012 GDP growth will be around 7.8%, which is a 40 basis point increase on reported third quarter GDP of 7.4%. Overall, in combination with the PMI being reported above the critical 50% mark, this bodes well for an uptick in China's economic activity. This should assist in sustaining short-term spot prices for iron ore.
At the time of reviewing my outlook for Vale in late December 2012, I took the view that any sustained increase in the spot price above $130 PMT would indicate a sustained rally. With the spot price now at $160 since then, it would seem the rally has grown legs and this should then see the share price of the major iron ore miners continue to rise. But, I still hold the view that in order to see a sustained long-term rally in iron ore prices it would take evidence of a sustained economic recovery in China, along with clear indicators of a recovery in Europe and the global economy as a whole.
Despite economic indicators that bode well for a sustained short-term rally in iron ore prices, I still hold the view that over the long-term (post 2014) the spot price will settle in the $80-$90 PMT range. This accords with a recent report from Roskill, which forecast that iron ore prices would remain volatile and from 2016 to 2020 would settle in the $85 PMT to $95 PMT range. While this would certainly impact the revenue of the major iron ore miners, it would still see them remain profitable, but at reduced levels. I have therefore factored this outlook for iron ore prices into my valuation of Cliffs in this article.
Key Risk: High Cost Operator with a Leveraged Balance Sheet
An important aspect of Cliffs' that I do not like is that it is one of the highest cost operators among the major iron ore miners with a COGS to revenue ratio of 83%. This as illustrated by the chart below is significantly inferior to its peers such as BHP Billiton (NYSE:BHP), Rio Tinto (NYSE:RIO) and Vale.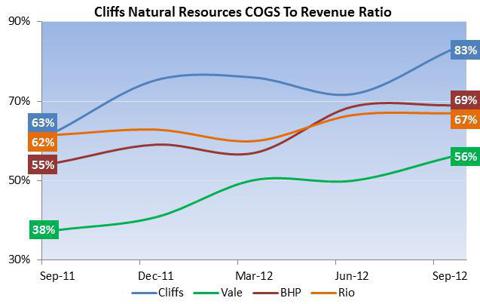 Source data: Cliff Natural Resources, Vale, BHP and Rio Tinto 3Q11 to 3Q12 Quarterly Financial Reports.
For the third quarter 2012, cash costs increased by 8% per ton and were driven primarily by higher stripping and maintenance costs, as well as idle costs attributed to the temporary production curtailment at Empire Mine.
This makes Cliffs particularly vulnerable to any fall in the iron ore price and will see its margins continue to be squeezed unless it is able to implement a significant cost reduction program. In fact, as already discussed earlier in this article, Cliffs has seen its margins fall considerably over the last year as the price of iron ore fell, as illustrated by the chart below.

Source data: Cliffs Natural Resources Financial Filings 3Q11 to 3Q12 and Fidelity.
This illustrates that along with its high cost of production Cliffs' margins are particularly volatile, which leaves investors particularly exposed to movements in the iron ore price. A reason for this is that Cliffs in comparison to the other major iron ore miners is more heavily leveraged with a long-term debt to equity ratio of just over 62%, as the chart below illustrates.

Source data: Fidelity.
This also makes Cliffs' profitability more vulnerable than many of its peers as it is also subject to the vagaries of credit markets and movements in interest rates in a global environment where credit has become more expensive and in lower supply. This increases the degree of risk for investors and indicates that it is a riskier investment than its four major peers.
Key Catalyst: Lower Political and Economic Risk than Its Peers
One of the key catalysts that sets Cliffs apart from its peers and in particular Vale is that there is significantly lower economic and political risk attached to making an investment in the company. It is domiciled in the U.S. and the majority of the company's operations are in the stable developed markets of Australia, the U.S. and Canada. This is in stark comparison to Vale, which is currently locked in a royalties and a taxation dispute with the Brazilian government with a potential worst case quantum of around $17 billion. In addition, both BHP and Rio Tinto have also experienced their fair share of problems relating to government intervention, opaque regulation, commercial instability and legal disputes in a range of emerging markets where they have operations.
But Cliffs does hold a 30% ownership interest in the Amapa, an iron ore operation in Brazil. The remaining 70% ownership interest in that project was held by Anglo American (OTCPK:AAUKY), which recently sold that interest to Zammin Ferrous Ltd. The issues associated with these types of projects can be seen with Cliffs recording an equity loss of $14 million for the third quarter against its equity share in the operation. This equity loss was driven by a settlement charge for the termination of a transportation contract and lower year-over-year pricing for seaborne iron ore.
Another risk facing Cliffs is that the company has diversified its operations through the acquisition of a number of coal mines that it operates in North America, along with a 45% ownership stake in the Sonoma Coal operation in northern Australia. For the third quarter 2012 Cliffs derived 16% of its revenue from its North American coal operations and disposed of its interest in Sonoma Coal. The company expects to collect around $148 million in cash proceeds for that sale and for the third quarter reported a net loss of $2.7 million from these discontinued operations.
The overall softness in the thermal coal market, which I believe will continue for some time, combined with increasing government and regulatory pressure globally to move to cleaner energy sources, I believe makes these particularly unattractive assets. The outlook for metallurgical coal is also negative; with it expected that Chinese crude steel production will fall in 2013, therefore reducing the demand for metallurgical coal. Accordingly, I don't predict any significant improvement in the profitability of these operations and see them as a long-term risk for Cliffs. But, with the divestment of the interest in Sonoma it is clear the company is reducing this risk and focusing on its core iron ore business.
Shareholder Remuneration Attractive
Cliffs commenced paying a dividend in 1972 and currently pays a quarterly dividend, which at the time of writing has a TTM dividend yield of 7%. This is one of the best dividend yields in the iron ore mining industry and is superior to Vale's 5% yield, as well as both BHP's and Rio's yield of around 3%. This in combination with the company's solid dividend payment history, with its 10-year dividend payment history set out in the chart below; make it on face value a particularly compelling investment.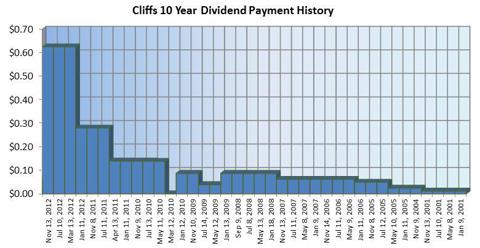 Source data: Cliffs Natural Resources Investor Relations.
However, despite Cliffs having a conservative dividend payout ratio of around 29% should there be a sustained fall in the iron ore price, thus significantly impacting Cliffs' revenues and profitability I would expect to see the dividend cut.
Valuing Cliffs
In past articles on iron ore and other commodities such as thermal and metallurgical coal I have taken a bearish view on the future prices of those materials. Accordingly, I have taken this bearish view into account when valuing other mining companies such as Vale. Overall as the chart below illustrates, despite iron ore prices having recovered by around 79% since the bottom witnessed in September 2012, Cliffs and its peers are trading with some particularly attractive metrics.

Source data: Y Charts, Yahoo Finance and Fidelity.
In fact as the chart shows, Cliffs on a purely metrics only basis presents as the best value of its peers. However, I generally do not like to rely exclusively upon ratios to determine whether a company is a worthwhile investment, because of their simplistic and backward looking nature. As a result I have valued Cliffs using a discounted cash flow methodology taking into account each of the catalysts discussed above. Furthermore, with over 80% of the company's revenue being derived from iron ore, the outlook for the spot price of iron ore has formed the key focus of the valuation.
When valuing Cliffs I have also applied the following assumptions:
Cost of goods sold (COGS) over the long-term has been calculated at an average ratio of 73% of revenue, which is the company's five year historical average. While Cliffs' COGS to revenue ratio has risen significantly in the third quarter 2012, with the company divesting itself of some loss making operations I am expecting this to fall back to its historical average.
Capital expenditure has been calculated as an average of the previous five years outlay, giving a capital expenditure to revenue ratio of 8%.
An industry average weighted cost of capital (WACC) of 10% has been applied to all calculations.
A revenue growth rate in perpetuity of 0% has been applied, in order to reflect that Cliffs' mines are limited resources and the company does not engage in the same level of capital expenditure to boost its mine life or bring online new mines like its larger peers such as Vale, BHP and Rio.
Using this methodology and accounting for the catalysts discussed and the assumptions listed above I have determined an indicative fair value for Cliffs of $47 per share as set out in the chart below.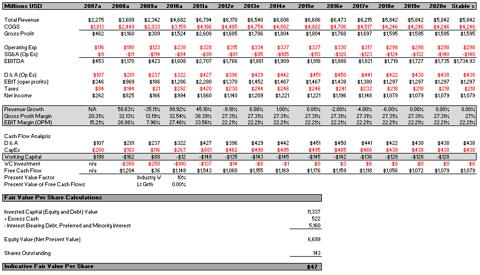 This valuation takes into account the spike in iron ore prices over the fourth quarter 2012, which will help to boost Cliffs' full year earnings. I have also increased the average iron ore price for 2013 to around $100 - $120 PMT, to represent the time it will take for this price to taper off to the forecast level. For the remaining years in the valuation I have used an average spot price of $90 PMT.
Obviously, if there is a sustained rally in the spot price for iron ore, then valuation would increase, with Cliffs being heavily leveraged to the price of iron ore. However, for the reasons discussed above and in my earlier article on Vale I do not believe that this will be the case. At the time of writing Cliffs is trading at around $36, which means this indicative valuation represents potential upside of 31%, which while not being a considerable margin of safety, does make it a compelling buy for investors.
Bottom line
With the recovery in iron ore prices, combined with Cliffs management now working divest the company of its less profitable operations, the company has become an appealing investment for the short to medium-term. However, when China's demand for iron ore again declines and the expected volatility in the spot price continues to emerge over the next seven years, I do not believe that it makes Cliffs a good long-term investment. This is particularly the case when its high level of debt in comparison to its peers, its direct correlation to the price of iron ore and its exposure to thermal and metallurgical coal is considered.
Essentially, Cliffs is a leveraged play on the price of iron ore and for those investors who have taken a long-term bullish view on its price then it would be an opportune long-term investment. But, I believe for the prudent investor this presents as a short-term opportunity to take advantage of the delay in Cliffs' share price correlating with the spike in iron ore prices.
Disclosure: I have no positions in any stocks mentioned, but may initiate a long position in CLF over the next 72 hours. I wrote this article myself, and it expresses my own opinions. I am not receiving compensation for it (other than from Seeking Alpha). I have no business relationship with any company whose stock is mentioned in this article.