3SBio (NASDAQ:SSRX) remains subject to a $15.00 per share buyout offer. A China based private equity firm launched the all cash offer in September. That group is believed to report to the Central Government, which provides some or all of its funding. 3SBio's chief executive officer is part of the buyout group, as well. One purpose for the transaction is to leave the U.S. stock market. Several Chinese companies have been pursued by short selling groups. Even the Securities and Exchange Commission has given greater scrutiny to Chinese accounting practices. Many of those challenges have proven correct. But valuations of China based companies have declined across the board. There's no evidence 3SBio is involved with any shady practices. Yet its shares trade at an unusually low valuation due to the cloud cast over Chinese stocks in general.
A two thirds majority of shareholders is required to accept the offer. Several funds that own the stock have been reluctant to agree to the $15.00 a share price. The bone of contention is that 3SBio would be worth $25-$30 a share under normal circumstances. The company holds $7.00 a share in cash. It earns about $1.00 a share. It has a leading position in a high growth industry, suggesting a P/E multiple of 18x-25x plus the cash value.
That valuation might be too high considering 3SBio is subject to price controls. The Chinese government sets the price 3SBio can sell its products at. Those prices have been regularly lowered in the past. And another round of cuts is slated for 2013. 3-S Bio already prices its products well below the legal maximum. So it won't have to go down as much percentage wise as the new rules suggest. But there will be some pressure on margins over the next few quarters. 3-S Bio expanded capacity 200% a few years ago. So margins are likely to rebound in the future as volume expands. Income growth may moderate in 2013 but the long term outlook remains positive.
3SBio also is engaged in a joint venture with U.S. based Davita, the world's leading dialysis provider. 3SBio will deliver some of the drugs used by Davita in China. The U.S. company is creating a national network of dialysis centers. While the Central Government could harass 3SBio if it turns down the buyout offer, doing so might raise concerns at Davita. That might be especially true if the government singled out 3SBio for special treatment.
The chief executive officer is in an awkward position. Right now he is part of the buyout group. But he still has a fiduciary responsibility to his existing shareholders. How everything plays out remains to be seen. Our guess is that the share price will hold up even if the deal falls through.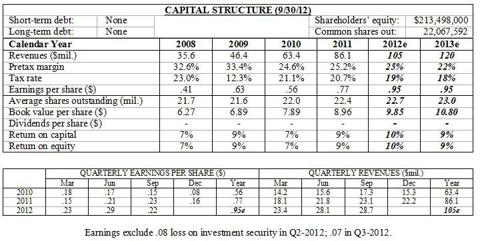 Disclosure: I am long SSRX. I wrote this article myself, and it expresses my own opinions. I am not receiving compensation for it. I have no business relationship with any company whose stock is mentioned in this article.