Dole Food Company, Inc. (NYSE:DOLE) is one of the most recognized brands in the world and most consumers know it for the fresh fruits and vegetables as well as the canned and pre-packaged foods that it sells globally. However, the company also is in the shipping business as it has a fleet of transport ships and it owns some very valuable land in Hawaii, Ecuador, Honduras, and Costa Rica. The company also has an upcoming catalyst as it is planning to sell one of its divisions. This stock was trading around $12 in December, but recently dropped to around $10, so it's a good time to take another look at this stock.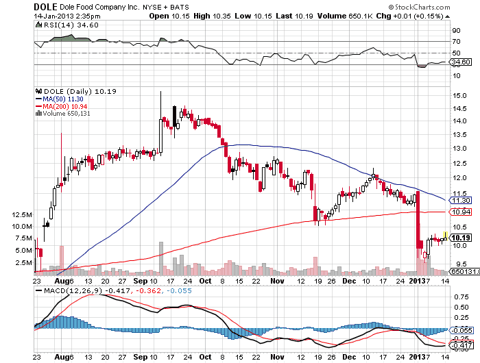 Dole shares plunged in the first week of January when the company announced that the $1.685 billion cash sale of its worldwide packaged foods and Asia fresh businesses to ITOCHU Corporation would be completed later than expected, now in early 2013. This transaction is still waiting for regulatory approval in China, however, the required regulatory approvals from the other six countries have already been received. The shares were also impacted when the company said it was expecting margin pressures in the fresh fruit business for 2013.
While the news on the fresh fruit margins is not great, the delay in closing the business deal with ITOCHU seems to be a just a minor setback that will ultimately result in a closing. This deal appears to be an important catalyst because it will give the company a significant amount of cash. Dole has annual revenues of about $7 billion. It carries about $1.7 billion in debt and just around $82 million in cash. Since the deal is valued at about $1.685 billion in cash, that transaction will transform Dole's balance sheet and create significant strength. Furthermore, it will free up the company to focus on possibly unlocking value in other assets it has that could create more shareholder value.
One major asset that does not seem to be recognized by investors is the real estate that Dole owns. It has significant land holdings in Hawaii and in other areas that appear to be worth hundreds of millions of dollars. One recent article discusses the land holdings and it estimates the value could be worth as much as $400 million. That is significant for a company with a current market capitalization of just around $900 million.
Analysts expect the company to earn nearly $1 per share in 2013. That puts the price to earnings ratio at just about 10 times, while the average stock in the S&P 500 Index (NYSEARCA:SPY) trades for around 14 times. After the recent selloff, this stock looks undervalued and with valuable real estate assets, and a major deal looming, it looks like a solid buying opportunity for at least an initial position. I think it makes sense to buy a little now and more on any pullbacks that could come if the company misses earnings due to the margin pressures in the fresh fruit business. I also think that once the ITOCHU deal closes, the company will have enough balance sheet strength to consider initiating a dividend and that could be another upside catalyst later this year.
The downside risk is that the margin pressures on the fresh fruit business will be worse than what analysts currently expect and that the company will do nothing to unlock the value of its real estate holdings. However, even without the real estate, Dole looks too cheap to pass up now when you consider that many food stocks have much higher price to earnings ratios. Whether you look at a major and well established company like Kellogg (NYSE:K) which trades at about 16 times earnings or a faster growing company like Hain Celestial Group (NASDAQ:HAIN) which trades for around 22 times earnings, Dole looks like a deal at just 10 times earnings estimates.
Here are some key points for DOLE:
Current share price: $10.18
The 52 week range is $8.02 to $15.19
Earnings estimates for 2012: 95 cents per share
Earnings estimates for 2013: 99 cents per share
Annual dividend: n/a
Data is sourced from Yahoo Finance. No guarantees or representations
are made. Hawkinvest is not a registered investment advisor and does
not provide specific investment advice. The information is for
informational purposes only. You should always consult a financial
advisor.
Disclosure: I am long DOLE. I wrote this article myself, and it expresses my own opinions. I am not receiving compensation for it (other than from Seeking Alpha). I have no business relationship with any company whose stock is mentioned in this article.