Card companies are benefiting from a global consumer shift from cash to plastic payments. They are also trying to grow further and monetize online and mobile payments. Visa Inc. (NYSE:V) is enjoying those trends, and trying to take advantage of them. The company has achieved sustained and above average growth in a weak economic environment.
Earnings and valuation
Visa has reported an 21% increase of adjusted earnings, on a 14.6% increase in revenue in fourth quarter. Analysts expect a 20% and 10.7% growth in earnings and revenue in the first fiscal quarter of 2013. The company achieved a 27.96% EPS growth rate in the last five years, and revenue growth was 23.76%. Projected 5-year earnings growth rate is 18.35%, according to Yahoo Finance. Analyst earnings estimates trends are up over the last 90 days, from 7.16 to 7.28 for the current year, and from 8.25 to 8.42 for the next fiscal year. Visa has increased the annual dividend by 50%, and forward dividend yield stands at 0.8%.

Source: Earnings.com, Ycharts
Visa has an adjusted PE of 26.03, and forward PE is 19.21, with a 1.21 PEG ratio.
Joseph W. Saunders, the Executive Chairman said in the latest conference call that revenue growth was driven by particularly strong payments volume growth for credit products in the U.S. and by expansion of core business and growth of payment transactions in international markets.
Volume growth in international markets was somewhat lower in the fourth quarter, but revenue growth was still strong at 13%, and the company is advancing on its goal of generating 50% of revenue outside the United States.
Visa is continuing its efforts in the e-commerce, with V.me, which is one of the fastest growing channels for the company. The company has signed 34 agreements with leading U.S. issuers, which include 4 out of 10 largest institutions in the United States. On the merchant front, the company expects to have more than 1,000 online merchants using V.me, including 20 of the 50 largest e-commerce merchants in the country by middle of 2013.
CyberSource is also delivering significant growth, with a 25% growth in billable transactions over the same period last year, and continues to spread internationally, from 4 countries when it was bought by Visa to 12 that it has today, and more to come. Byron H. Pollitt - Chief Financial Officer and Principal Accounting Officer noted in the fourth quarter conference call:
1. The company expects free cash flow of about $5 billion, with the priorities for use of the cash: reinvesting in the business, appropriate acquisition and distribution to shareholders in the form of dividends and share repurchases.
2. Company's operating margin has increased from 46% in 2008 to 60% today
3. Tax rate was lowered from 41% to 33%.
4. Dividend rate was tripled since the IPO.
5. Common share count was reduced by 118 million shares, with $9 billion being returned to shareholders through litigation escrow funding and open market purchases.
6. The board has recently announced a new $1.5 billion share repurchase program, and has about $800 million from the previous buyback program that were not used. The company bought 2.5 million shares in the fourth quarter at an average price of $127.
Competition
MasterCard (NYSE:MA) is delivering much of the same regarding fundamentals, and its valuation is close to Visa's. It has a trailing adjusted PE of 24.93, forward PE of 20.62, and a PEG ratio of 1.31. Earnings and revenue growth slowed down in recent quarters, with a 9.6% increase in EPS and 5.5% increase in revenue. It has a 0.2% dividend yield, quite lower than Visa's.

Source: Earnings.com, Ycharts.
eBay (NASDAQ:EBAY) has entered the point-of-sale transactions business this year, signing agreements with big U.S. retailers, and taking on Visa and MasterCard.
Mobile payments field is getting more crowded by the minute. Wal-Mart (NYSE:WMT), Target (NYSE:TGT) and other big U.S. retailers unveiled a joint-venture called the Merchant Customer Exchange, as they want to take advantage of mobile payments. Bank Of America (NYSE:BAC) started a pilot program, with a technology that allows a customer to pay at the store by scanning an image with a smartphone, such as Apple's (NASDAQ:AAPL) iPhone or Google's (NASDAQ:GOOG) android devices.
Price action
The chart looks great, and the stock price has increased significantly over 2012. The uptrend remains intact, but the price is extended at the moment. The stock is above the 10 week moving average since mid-June, as it served as support in the last 7 months.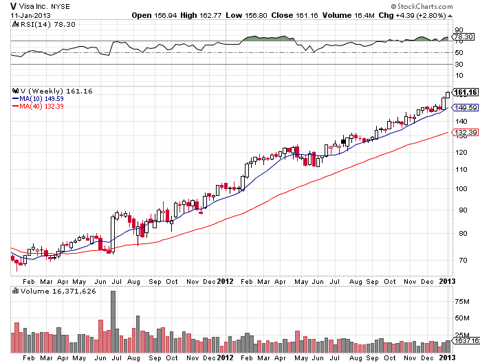 Source: Stockcharts
Summation
Sustained, above average and stable growth of earnings and revenue, especially achieved in weak economic environment, serves well for Visa's future prospects. The company continues to push for international growth, and is aiming at mobile payments and e-commerce to provide further growth. They are also increasing the dividend, and using a significant amount of free cash flow to repurchase shares on the open market. Technical action is extremely positive (although price is extended at the moment), with a 7-month uptrend, showing relative strength when compared to the general market performance.
Disclosure: I have no positions in any stocks mentioned, and no plans to initiate any positions within the next 72 hours. I wrote this article myself, and it expresses my own opinions. I am not receiving compensation for it (other than from Seeking Alpha). I have no business relationship with any company whose stock is mentioned in this article.