Today, NASDAQ updated its short interest report for Herbalife (NYSE:HLF). Between December 14, 2012 and December 31, 2012, short interest soared over 11 million shares, from 26,221,112 to 37,298,384. Since there are 108 million shares outstanding, the short interest works out to 34.4% of the total number of shares.
At today's stock price ($43.75), those extra 11 million shares works out to a huge bet of about $440 million against HLF. Between those two dates, on December 20th, Bill Ackman opened his attack on the company. There is obviously some questions as to when he sold his shares short, but he has stated that he has sold short a billion dollars worth - Bill Ackman's Hedge Fund Looks To Be Off To A Tough 2013.
Check out the short interest numbers: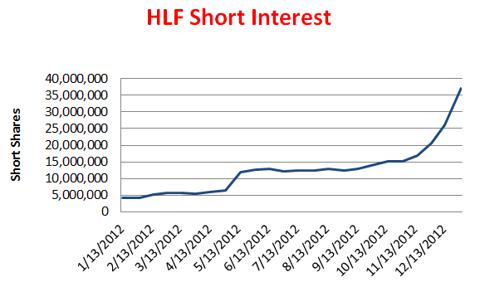 Short interest in HLF more than doubled in May 2012 when Greenlight Capital's David Einhorn mentioned concerns about Herbalife's multi-level-marketing programs in a conference call. This rather innocuous negative statement caused short interest to rise from just over 6 million to nearly 12 million shares, and the stock price collapsed from about $70 to $45, knocking about $1.6 billion off the value of the company.
On the day after the conference call, at the very public Ira Sohn Investment Conference Einhorn did not even mention the company, but the damage had apparently been done (although the stock rallied 16.7% on that day. The chart shows that the stock has traded consistently lower since the conference call: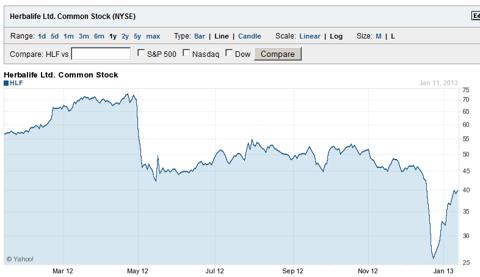 Let's fast-forward to what happened when Bill Ackman started his selling and negative publicity campaign in December. The stock initially fell about 50% but then reversed itself and has recovered most of its lost ground. Bottom line, Einhorn's conference call knocked a third off the company's value (while short interest rose about 6 million) and Ackman's efforts (short interest rose about 11 million) resulted in only a 10% drop in the company's value.
Presumably, today there exists a huge number of shares sold short, and it should be scary for those people who have shorted the stock. When someone shorts stock in a non-dividend paying stock, the cost is relatively minor, just the cost of capital tied up in the short sale. However, when a dividend-paying stock is sold short, the seller is responsible for paying the dividend on those shares.
As I have reported earlier - More Reasons Why Herbalife Is Headed Higher, if Bill Ackman has indeed sold short a billion dollars worth of HLF, he is on the hook for $32 million in dividend payments each year on those positions. At the latest short interest numbers, there is approximately $1.5 billion sold short all together, and a $48 million liability exists (assuming HLF continues its dividend).
On February 8th, 24 days from now, the stock will probably go ex-dividend. If the $.30 dividend is continued, these short sellers will have to cough up a collective $12 million.
I suspect that many of them will not want to shell out that money and might just buy back their shares. We might then see a huge short squeeze taking place, and a much higher price for the stock.
A couple of months ago, I warned that a similar thing might happen with another company - A Dynamite Options Strategy To Play The Green Mountain Coffee Roasters Earnings Announcement. The short interest was almost identical for Green Mountain Coffee Roasters (GMCR) at that time as it is for HLF today. A month after the announcement, GMCR was trading 40% higher. And that company does not pay a dividend.
I have expressed other thoughts why I believe HLF is headed higher - Why Herbalife Should Move Higher From Here - written a week ago when HLF was at $36.57 (it has moved 12.5% higher since then).
The fear-mongers have bandied about the FTC and the SEC as possible regulators who might close down the company. Both agencies have had 32 years to check out what they are doing, and it is difficult to believe that they would act because an avowed short-seller has brought their attention to the company. I really don't understand why the SEC would get involved (this would normally be an FTC issue) - SEC involvement most likely would be at the request of the company itself who might have legitimate questions about Ackman's publicity campaign after making his short sales.
I don't much like the MLM selling model. I have never participated in one nor would I in the future. But they seem to work, and about 3 million new people in the United States alone become adults every year, so there are probably lots of new prospects coming along every day. As Mr. Barnum reminded us, "there's a sucker born every day."
If I were a short seller in HLF right now, I wouldn't be sleeping very well.
At the risk of making this article too long, I would like to share how I am playing this in one of my Terry s Tips portfolios. I have bought calendar spreads at the 40, 42.5, 45, and 47.5 strike prices, buying either February or May options and selling January options. I have a little over $5000 invested in this portfolio, and this is the risk profile graph for this week:

These are my positions:

If HLF closes between $42 and $47.50 on Friday (current price $43.75), I should make about 40% for the week. I like my chances. If you were not as sanguine as me, you might buy more spreads at lower strikes, such as those at 37.5. That would give you more downside protection in case the stock moves lower from here. Obviously, I think the likely direction will be higher rather than lower.
Disclosure: I am long HLF. I wrote this article myself, and it expresses my own opinions. I am not receiving compensation for it (other than from Seeking Alpha). I have no business relationship with any company whose stock is mentioned in this article.